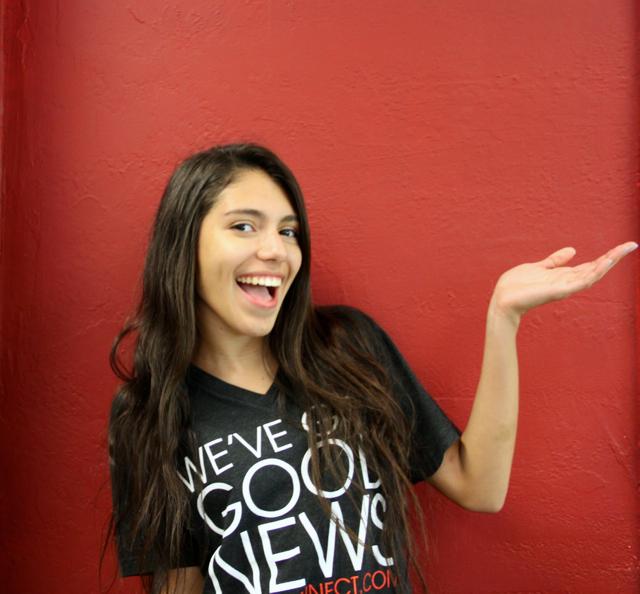 Albany Muria is a senior in the IB Program at Coral Gables Senior High. She couldn't be any happier to be a Cavalier and a part of the CavsConnect staff once again. Aside from being an Editor for CavsConnect, she gladly holds the position of Student Council President and IBHS Adopt-a-Freshman Secretary.  Not only does she take commitment to being involved very seriously, but maintaining high grades is also at the top of her priority list.
Born in Venezuela, Albany is very proud of her Hispanic heritage. She is extremely grateful to have a family that supports her through every one of the goals she wishes to accomplish. When she isn't doing school-related work, you will find her spending time with her family and friends. Albany has a passion for helping people in every little way possible; she truly enjoys volunteering in her community as much as she can.
Albany can be described as a fun, loving, and energetic girl. She enjoys listening to music,  doing arts and crafts, and hanging out with her friends.
Albany hopes to make her last year at Gables as memorable and intriguing as possible.
Albany Muria, Editor
Apr 24, 2017

Surviving the Last Stretch

(Story)

Mar 14, 2017

2017 Prom King/Queen Application

(Story)

Feb 24, 2017

Prom 2017 Guest Application!

(Story)

Feb 15, 2017

SECME Rocks it at their Competition

(Story)

Feb 15, 2017

Bad Hair Day? Try These Braids!

(Story/Media)

Feb 07, 2017

Gablettes & Co. are Kickin' it!

(Story)

Jan 24, 2017

Gables Alumnus Cole Scanlon Makes It in Forbes 30 Under 30 Education List

(Story)

Oct 27, 2016

Should I Stay or Should I Go?

(Story)

Sep 16, 2016

Homecoming Spirit Week

(Media)

Aug 31, 2016

Homecoming Court Applications

(Story)

Aug 30, 2016

Get Your Groove on at HOMECOMING 2016!

(Story)

Apr 20, 2016

Florida's West Coast Beaches

(Story/Media)

Apr 08, 2016

A Change for Cuban-American Relations

(Story)

Mar 18, 2016
Feb 21, 2016

Congrats to the Girls Tennis team!

(Story)

Feb 21, 2016

The Academy of Finance's Fundraiser at McDonald's

(Story)

Jan 20, 2016

Hope for Cubans Stranded in Latin American Border

(Story)

Jan 06, 2016

Winter Break Around the World

(Story)

Dec 19, 2015

Miami-Dade County Public Schools Receive Bomb Threat

(Story)

Nov 23, 2015

Perry Ellis Fashion Designer Visits Gables

(Story/Media)

Nov 09, 2015

College Tour 2015

(Story)

Oct 28, 2015
Oct 08, 2015

Amir Rasul's Passion for Football

(Story)

Sep 19, 2015

@CavCompliments Makes a Positive Impact

(Story/Media)

Sep 15, 2015

Cross Country King of the Hill Invitational

(Story)

Sep 13, 2015
Sep 01, 2015

Eleonor Bauwens Runs Effortlessly

(Story)

Jul 16, 2015

New Horizon Spacecraft's Successful Mission

(Story)

Jul 04, 2015

A Teacher's Summer

(Story)

May 05, 2015

Chanelle 'Coco' Wilson signs with Miami-Dade College Softball!

(Story)

May 05, 2015

The Museum Project

(Story)

Apr 28, 2015

Athlete of the Week: Jose Padron

(Story)

Apr 24, 2015

Isabella Gonzalez Does it All

(Story)

Apr 12, 2015

Testing a Little Too Much?

(Story)

Mar 31, 2015

2015 iHeart Radio Music Awards

(Story)

Mar 09, 2015

Class of 2017 visits Islands of Adventure

(Story)

Mar 02, 2015

Gables' Model UN Goes to Miami-Dade

(Story/Media)

Feb 28, 2015

Kayla Mueller Kiwanis member killed by ISIS

(Story)

Feb 16, 2015

Superintendent's Visit

(Story/Media)

Feb 16, 2015

The Mighty Ricardo

(Story)

Feb 07, 2015

Greg Terp, Police Law Enforcement Officer

(Story/Media)

Jan 10, 2015

Spring 2015 Fashion Expectations

(Story)

Jan 05, 2015

Best and Worst Foods for the Post-Holiday Season

(Story)

Dec 19, 2014

Gables's Interact Service Club

(Story)

Dec 17, 2014

Get Involved: Contact a Club

(Story)

Nov 18, 2014

Is 'I Love You' Overused?

(Story)

Nov 10, 2014

CAFDM Publications Take D.C.

(Story)

Oct 23, 2014

FLVS: Is It a Path Worth Taking?

(Story)

Oct 14, 2014

PSAT: Is It Worth It?

(Story/Media)

Oct 12, 2014

How to NOT Procrastinate

(Story/Media)

Sep 10, 2014

The UPS Fifth Annual 5K

(Story)

Sep 04, 2014

Showing off Your Cavalier Pride

(Story)

Aug 12, 2014

Daniel Pedreira Book Signing

(Story)

Jul 20, 2014

Ambition Is All That Is Needed for Success

(Story)

Jul 11, 2014

Quick Summer Recipes

(Story)

Jul 07, 2014

Swimsuits for your Body Type

(Story)

Jun 27, 2014

9 Ideas for an Endless Summer

(Story)

May 08, 2014

The Realities of Fake Beauty

(Story/Media)

May 05, 2014

Get To Know Mary Snow

(Story)

Apr 22, 2014

Go Clean! Go Green!

(Story/Media)

Apr 18, 2014

Hoppin' Into an Easter Family Day

(Story)

Apr 13, 2014

It's Time for School!

(Story)

Apr 11, 2014

Bringing in the New School Year

(Media)

Apr 08, 2014

Crushing Hard or Hardly Crushing?

(Story/Media)

Apr 06, 2014

Learning the Law

(Story/Media)

Mar 20, 2014

The Secret to Straight A's

(Story/Media)

Mar 18, 2014
Mar 10, 2014

Journey to the Unknown

(Story)

Mar 05, 2014

Support for Venezuela

(Story)

Mar 04, 2014
Feb 28, 2014

But First, Let Me Take a Selfie

(Story)

Feb 22, 2014

Learning the Law Firmly!

(Story)

Feb 15, 2014

A Teacher's Love for her Job and Family

(Story)

Feb 11, 2014
Feb 09, 2014

Cavalier Career Fair

(Story)

Feb 03, 2014

All the Single Ladies…. or Guys

(Story/Media)

Jan 24, 2014

FBLA Awards Ceremony

(Story/Media)

Jan 12, 2014
Jan 12, 2014

Spring Your Way Into Fashion

(Story)

Jan 05, 2014

Born for the Waters

(Story)

Dec 20, 2013

DOs and DON'Ts of a First Date

(Story)

Dec 19, 2013
Dec 16, 2013

Actividades a lo máximo, Melissa Pérez

(Story/Media)

Dec 08, 2013

Giving to All Ages

(Story/Media)

Dec 02, 2013

Transitioning Your Fall Wardrobe for the Winter

(Story/Media)

Nov 26, 2013

Cross Country, Soccer, Badminton, and IB?!

(Story)

Nov 22, 2013

Parlez- vous Français? Do you Speak French?

(Story)

Oct 30, 2013

How To: The Perfect Halloween Costume

(Story/Media)