Should I Stay or Should I Go?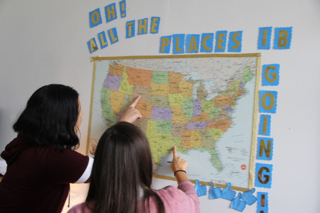 As college applications take over seniors' lives during the first few months of the school year, many of them find themselves contemplating whether staying home or going away for college is the best option. Some might feel the pressure of their families longing for their stay or even find out-of-state colleges to be financially impossible. However, its crucial to realize that an out-of-state education can provide opportunities that wouldn't be readily available at home.
Some say that going away for college is one the most live-changing experiences ever. Its when a student finally reaches the independence they've always wanted and the opportunity to live the unknown is right in front of them. Its the best way to explore outside of your comfort zone and find things about yourself you didn't think possible. There's not a better chance for leaving behind all the overdue drama and gossip. Going away for college is also the best way to meet new people from all-over the country without the worry of running into your 7th grade crush.
"I plan on going away for college because I think it's what's rights for me. I personally have grown up with the idea that college is the time to go away and to learn independence and freedom. My parents are right there with me, and they've always said that they've done their job when we both know that I'm ready to go. i also think expanding my social and geographic circle is something that's important for college; I want to learn more than what I can in a classroom," senior Katherine Elwell said.
Although many students yearn to leave for college, most of them don't realize that an education out-of-state is extremely expensive and can result in the accumulation of debts, which is unnecessary for an undergrad degree. Sometimes its a better 'option to stay at a community college and then transfer to a university once financial stability is established.
Staying at home for college is also detrimental for a student that is seeking independence, however, their family may be too attached and won't let them go. These are the types of students that definitely should consider going out of their hometown for college. Its overall the best chance to be who you want to be without anyone watching your every step and making decisions for you. There are also ways to afford an out-of-state education if you have financial constraints. Applying to a ton of small scholarships is most likely the way to go if you're considering going away.