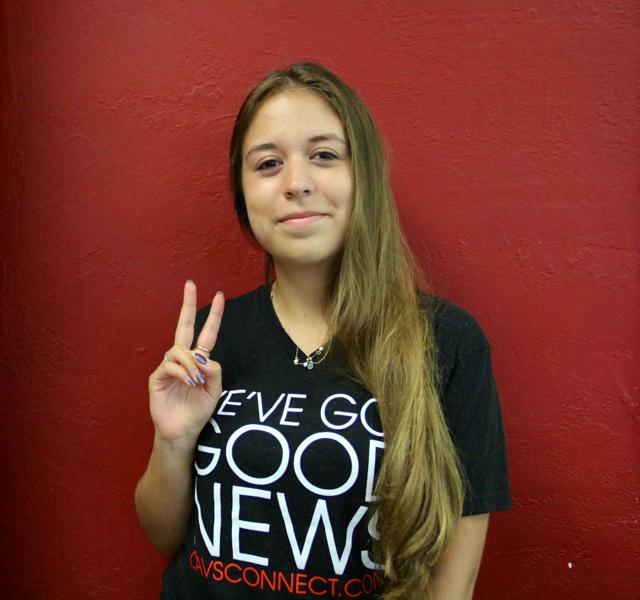 Daniela Quijano, or "Dani" as you may know her, is a junior who is proud to be a CavsConnect editor. Originally from Medellin, Colombia, she has lived in Miami for 5 years now and couldn't be happier to be a Cavalier. Hoping to be as involved as possible, Daniela does not only take part in CavsConnect, but she is also historian for Mu Alpha Theta, Chair Of Fundraising for Blood Drive, and Social Media Secretary for the Junior class.
She wants to pursue a career in the field of Biochemistry, since she is extremely passionate about science and math. At school, you are most likely to find her studying for an upcoming test or simply hanging out with friends.
Daniela also enjoys reading and  listening to music. Outside school, Daniela enjoys doing archery and yoga. If you ever need help with homework or you simply need to talk, don't hesitate to give her a call!
Daniela Quijano, Managing Editor
Feb 29, 2016

Cheap Ways to Become a Yogi

(Story)

Feb 23, 2016

Scoring Scholarships

(Story)

Feb 02, 2016

Zika Virus: An Imminent Danger

(Story)

Feb 02, 2016

Gator Model United Nations: The Experience

(Story/Media)

Jan 28, 2016

Hawaii: Is it Wise to Raise the Smoking Age?

(Story)

Jan 03, 2016

Recap: December 28 – January 3

(Story)

Jan 01, 2016

2015 Climate Summit

(Story)

Dec 18, 2015

Winter Break: How to Get Back in the Game

(Story)

Nov 03, 2015

Make it Rain With Snapcash!

(Story)

Sep 29, 2015

Recap: September 21- September 27

(Story)

Sep 29, 2015

10 Life Hacks To Blow Your Mind

(Story/Media)

Sep 22, 2015

Recap: September 14-September 21

(Story)

Sep 14, 2015

Recap: September 7-September 13

(Story)

Sep 09, 2015

Science Tutoring Now Available!

(Story/Media)

Jul 12, 2015

Recap: July 6-July 12

(Story)

Jul 07, 2015

Recap: June 29- July 6

(Story)

Jun 29, 2015

Recap: June 22-June 28

(Story)

Jun 26, 2015

Everything You Need To Know About The Summer Solstice!

(Story/Media)

Jun 21, 2015

Recap: June 15-June 21

(Story)

Jun 15, 2015

Recap: June 8-June 14

(Story)

Jun 08, 2015

Recap: June 1- June 7

(Story)

Jun 01, 2015

Recap: May 25-May 31

(Story)

May 24, 2015

Recap: May 18-May 24

(Story)

May 18, 2015

Interested in science? Join SNHS!

(Story)

May 18, 2015

Recap: May 11-May 17

(Story)

May 12, 2015

Science Honor Society at Gables!

(Story/Media)

May 10, 2015

Recap: May 4-May 10

(Story)

May 05, 2015

Chanelle 'Coco' Wilson signs with Miami-Dade College Softball!

(Story)

May 05, 2015

Junior Zack Walsh Places 3rd in eMerge America's Conference!

(Story)

May 05, 2015

Gables Earth Commemorates Arbor Day

(Story)

May 02, 2015

Recap: April 27-May 3

(Story)

Apr 30, 2015

Academy of Finance Raises Funds at McDonald's on Bird

(Story)

Apr 28, 2015

Congratulations to our 2014-2015 Student Athletes!

(Story)

Apr 27, 2015

Recap: April 20-26

(Story)

Apr 22, 2015
Apr 22, 2015

Should Marijuana be Legalized in Florida?

(Story)

Apr 21, 2015

Girls' Tennis Team Wins Districts For Second Year in a Row!

(Story)

Apr 19, 2015

Recap: April 13-19

(Story)

Apr 17, 2015

Gables Softball Wins Districts For Second Year in a Row!

(Story)

Apr 11, 2015

Recap: April 6-April 12

(Story)

Apr 05, 2015

Recap: March 31-April 5

(Story)

Mar 29, 2015

Recap: March 23-March 29

(Story)

Mar 21, 2015

Recap: March 16-March 22

(Story)

Mar 21, 2015

Cavalier Baseball Defeats The Columbus Explorers!

(Story)

Mar 18, 2015

Prom Guest Approvals 2015

(Story)

Mar 14, 2015

Recap: March 9 – March 15

(Story)

Mar 07, 2015

Recap: March 2-March 8

(Story)

Mar 02, 2015

Gables' Model UN Goes to Miami-Dade

(Story)

Feb 28, 2015

Recap: Feb. 23 – March 1

(Story)

Feb 24, 2015

A Successful CAF&DM Week

(Story)

Feb 22, 2015

Recap: Week of Feb.16 – Feb.22

(Story)

Feb 22, 2015

Engineering Success

(Story)

Feb 16, 2015

Recap: Week of Feb. 9 – Feb. 15

(Story)

Feb 12, 2015
Feb 12, 2015

Gables Earned an 'A' but Received a 'B'

(Story)

Feb 08, 2015

Recap: Week of Feb. 2 – Feb. 8

(Story)

Feb 01, 2015

The Sushi Controversy

(Story)

Jan 02, 2015

Is Winter Break Really a Break?

(Story/Media)

Dec 04, 2014

The College Tour Experience: Sophomore Expectations

(Story)

Nov 19, 2014

The Mystery of The Extended Essay Anxiety

(Story/Media)

Nov 14, 2014

The Evos Craze: Early Release Day Special

(Story/Media)

Nov 12, 2014

Coming Soon: The Brickell City Centre

(Story)

Oct 24, 2014

Getting To Know Pooh Bear

(Story/Media)

Oct 24, 2014
Oct 06, 2014

Mu Alpha Theta 'Integrated' for the 2014-2015 School Year

(Story)

Oct 05, 2014

Internship at The Cavalier Credit Union

(Story)

Sep 20, 2014

Polo Shirt Frenzy!

(Story/Media)

Sep 18, 2014

FBLA Plans for the Upcoming Year

(Story/Media)

Sep 05, 2014

No Car? No Problem!

(Story/Media)

Jul 31, 2014

The Hobby Hunt

(Story/Media)

Jul 19, 2014

The Dual Enrollment Craze

(Story)

Jul 11, 2014

Connecting with your roots

(Story)

Jun 29, 2014

Red, White and Blue!

(Story)

Jun 24, 2014

Your Summer Survival Guide to the Perfect Tan

(Story)

Feb 23, 2014

PERT Testing Confusion

(Story)

Feb 19, 2014
Feb 04, 2014

La maratón de Miami: una dedicación admirable

(Story)

Feb 01, 2014

The Flappy Bird Frenzy

(Story/Media)