10 Life Hacks To Blow Your Mind
There are always new ways to do everyday tasks. With this article, you will learn 10 new ways to perform your daily routines that you would not have thought of before:
Predict the weather with a cup of coffee. Rather than checking the weather on your phone, you can tell whether it will rain or shine with your morning cup of coffee. Simply stir the coffee with a

(Source: www.nomnompaleo.com)


Peeling eggs becomes much easier when they boil in water with baking soda!

spoon in order to produce bubbles. If the bubbles settle around the center of the cup, it indicates low atmospheric pressure which forecasts cloudy or rainy weather. If the bubbles

(Source: http://images.skymetweather.com)


If your coffee looks like this, a sunny day lies ahead!

arrange themselves around the edge of the cup it suggests high atmospheric pressure, which calls for a sunny day!

Easily peel eggs with baking soda. In order to peel your boiled eggs in a heartbeat, place a teaspoon of baking soda in the same container you boil eggs in. Once they are done, the shell will be loosen enough to peel easily.
Use dark blue ink to replace black ink. Need to print an essay with urgency and your black ink ran out? No problem! Simply change the text to the darkest shade of blue you can find and it will look almost the same.

(Source: http://lifehacker.com)


Watching videos at a faster speed can save time!

Watch Youtube lectures in half the time. Are you in a rush and need to cram for an exam? Go to settings and click on 2X speed. The video will play twice as fast, at first it will sound too fast, but you will quickly get used to it and you will save time!

Recipes with your available food with Myfridgefood.com. If you are short on food and don't know what to make for dinner, use Myfridgefood.com to input the food you have in your fridge and it will give a list of recipes you can make with the food you have.

Daniela Quijano
Even the weirdest combination of ingredients can be interesting!

Apply toothpaste on itchy bug-bites. The mint in the toothpaste will reduce inflammation and provide a cool relaxing sensation. Wash with water after 10 minutes, and your bite will become itch free!
Make a drink ice-cold in 15 minutes. Wrap your drink in a wet paper towel and place in the freezer and it should be extremely cold in about 15 minutes.

(Source: http://cdn.honestlyyum.com)


Coffee ice cubes will ensure you coffee isn't watered down!

Make iced coffee with coffee ice cubes. If you are tired of watering down your coffee with melted ice cubes, simply pour some coffee into an ice-tray and add these ice cubes to your coffee to cool it down.

(Source:http://physics.stackexchange.com)


Depending on how batteries land, you can know if they are drained or not!

Check batteries by making them bounce. If you are unsure whether a battery is used up or not, drop it six inches above a table. If it bounces more than once, the battery is drained.
Hold your breath if you are sleepy. Need to wake up but you cant help but fall asleep? Hold your breath for as long as you can and then breathe out slowly, this will wake you up by increasing your heart rate.
It seems odd that simple things in life can prove to be extremely useful. Next time you have a problem you should try to life hack it!
About the Contributor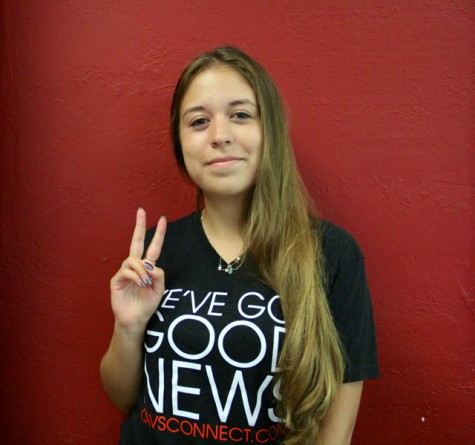 Daniela Quijano, Managing Editor
Daniela Quijano, or "Dani" as you may know her, is a junior who is proud to be a CavsConnect editor. Originally from Medellin, Colombia, she has lived...