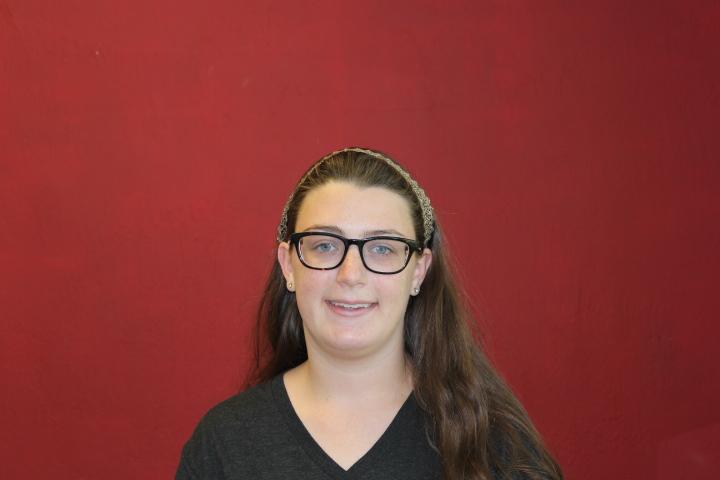 Sophie Feinberg is an IB senior excited to be a part of the hardworking team that is CavsConnect. Though soft spoken, she enjoys putting her words onto paper, or in this case onto the computer, and dreams of a career in journalism. As a part of CavsConnect, Sophie hopes to sharpen her writing skills and investigate whether or not she belongs in that career area.
Sophie tries to remain involved in the Gables community and is currently a part of the English Honor Society, Interact, National Honor Society, and Quill and Scroll. Her hobbies include reading, writing and crafting. She also enjoys volunteering at her synagogue and running.
While her underclassmen years were years of exploration and learning the ropes of high school, Sophie hopes to make senior year her best year yet. Sophie is eager to continue writing and looks forward to discovering her own writing style as a member of CavsConnect.
Sophie Feinberg, Editor
May 29, 2016

Recap: May 23 – 29

(Story)

May 22, 2016

Recap: May 16 – 22

(Story)

May 15, 2016

Recap: May 9 – 15

(Story)

May 08, 2016
May 01, 2016

Recap: April 25 – May 1

(Story)

Apr 24, 2016

Recap: April 18 – 24

(Story)

Apr 17, 2016

Recap: April 11 – 17

(Story)

Apr 10, 2016

Recap: April 4 – 10

(Story)

Apr 06, 2016

How To: Prepare for Exam Season

(Story)

Apr 03, 2016

Recap: March 28 – April 3

(Story)

Mar 27, 2016

Recap: March 21 – 27

(Story)

Mar 26, 2016
Mar 20, 2016

Recap: March 14 – 20

(Story)

Mar 13, 2016

Recap: March 7 – 13

(Story)

Mar 07, 2016

The Ocean Cleanup: How One Young Man Aims to Change the World

(Story)

Mar 06, 2016

Recap: February 29 – March 6

(Story)

Feb 28, 2016

Recap: February 22 – 28

(Story)

Feb 21, 2016

Recap: February 15 – 21

(Story)

Feb 18, 2016

Freddie's Extra Teeth

(Story)

Feb 14, 2016

Recap: February 8 – 14

(Story)

Feb 08, 2016

5 Ways to Spread the Love This Valentine's Day

(Story)

Feb 07, 2016

Recap: February 1 – 7

(Story)

Feb 01, 2016

CAF&DM Celebrates Journalism Week 2016

(Story/Media)

Jan 31, 2016

Recap: January 25 – 31

(Story)

Jan 24, 2016

Recap: January 18 – 24

(Story)

Jan 17, 2016

Recap: January 11 – 17

(Story)

Jan 10, 2016

Recap: January 4 – 10

(Story)

Jan 03, 2016

Recap: December 28 – January 3

(Story)

Dec 28, 2015

Start off a New Year of Movie Going Right

(Story)

Dec 27, 2015

Recap: December 21 – 27

(Story)

Dec 20, 2015

Recap: December 14 – 20

(Story)

Dec 13, 2015

Recap: December 7 – 13

(Story)

Dec 09, 2015

The Other Side of Sports

(Story)

Dec 06, 2015

Recap: November 30 – December 6

(Story)

Nov 29, 2015

Recap: November 23 – 29

(Story)

Nov 22, 2015

Recap: November 16 – 22

(Story)

Nov 15, 2015

Recap: November 9 – 15

(Story)

Nov 08, 2015

Recap: November 2 – 8

(Story)

Nov 01, 2015

Recap: October 26 – November 1

(Story)

Oct 25, 2015

Recap: October 19 – 25

(Story)

Oct 18, 2015

Recap: October 12 – 18

(Story)

Oct 11, 2015

Recap: October 5 – 11

(Story)

Oct 04, 2015

Recap: September 28 – October 4

(Story)

Sep 29, 2015

Where Should You Eat Next?

(Story/Media)

Sep 18, 2015

The Holiest Days of the Year

(Story/Media)

Aug 28, 2015

Fall into Fall Sports

(Story)

Jul 15, 2015

CavsConnect's 2015 Summer Bucket List

(Story)

May 28, 2015

Senior Pranks: A Last Laugh or a Threat to Graduation?

(Story)

May 01, 2015

Senior Gablettes Take Final Bow

(Story/Media)

Apr 19, 2015

TBT: Throw Back TV

(Story)

Apr 16, 2015

The Review Book for You

(Story/Media)

Apr 07, 2015

Paper Towns: Pin Point a New Way to Look at Love and Life

(Story)

Apr 06, 2015

Stressed for Success

(Story)

Mar 09, 2015

10 for Your $10 Weekend

(Story)

Feb 21, 2015

Prochat: David Landsberg

(Story)

Feb 11, 2015

Bridging the Generational Gap: 57th Grammy Awards Show

(Story)

Feb 02, 2015

Five Events and Five Banners: The Gablettes' Road to States

(Story)

Jan 07, 2015

Chihuly at Fairchild: A Garden of Glass

(Story)

Dec 16, 2014

8 Ways to Celebrate Hanukkah

(Story)

Dec 10, 2014

Stocking Stuffers for Everyone

(Story)

Nov 27, 2014

For a Love of Literacy: NEHS

(Story)

Nov 10, 2014

NHS at Light the Night

(Story)

Oct 25, 2014

pHantastic Tansel

(Story)

Sep 30, 2014

Seven Things You Should Know as a Freshman

(Story/Media)

Sep 18, 2014

Phase One Complete: Posse Scholarships

(Story)

Aug 29, 2014
Aug 19, 2014

I Haven't Been Everywhere, but it's on my List: Claire Shillington

(Story)

Jul 08, 2014

It's Beach Time! Here's What You Need!

(Story/Media)

Jul 04, 2014

How to Plan a BBQ

(Story/Media)

Jun 23, 2014

The New Love Story

(Story)

Mar 28, 2014

An Abundance of Awesome

(Story)

Mar 03, 2014

Mission Accomplished

(Story)

Feb 28, 2014

Follow the Yellow Brick Road… to Success

(Story)

Jan 27, 2014

At Peace in Africa

(Story)