Recap: May 16 – 22
Hang on for a minute...we're trying to find some more stories you might like.
International Affairs
"When Amina Ali Nkeki was kidnapped by the Nigerian terrorist group Boko Haram more than two years ago, she was a mere schoolgirl. On Tuesday night, she apparently wandered out of a forest, asking for help, accompanied by a baby and a man who claimed to be her husband, according to witnesses. The man is being investigated by Nigeria's joint intelligence center, according to a military statement. Amina Ali is the first of the more than 200 Chibok schoolgirls kidnapped by Boko Haram to be freed after the two years in captivity, Nigerian military officials say."
Update: Another Chibok schoolgirl found, military says: "At least one more former Chibok schoolgirl abducted by Boko Haram militants in 2014 has been found, Nigerian army Col. Sani Usman said. Serah Luka was rescued about 5 p.m. local time Thursday during a military operation against the ISIS-affiliated militants, Usman said. A total of 97 women and children were freed, he said. At least 35 Boko Haram fighters were killed, he added."
"Heavy rains Thursday pounded the central Sri Lankan region where at least three villages have already been swallowed by mountains of mud, forcing soldiers and police to suspend rescue work. At least 18 people are known to have been killed and hundreds are reported missing in the landslides so far. Rescue work had resumed early in morning before fresh rains began in the area. Military spokesman Brigadier Jayanath Jayaweera told reporters in the capital, Colombo, that the army was assessing the situation and would deploy more troops in the worst-hit Kegalle district if needed."
"An Egyptair flight with 66 people on board crashed while en route from Paris to Cairo on Thursday, the French president confirmed. Flight MS804 left Charles de Gaulle Airport at 11:09 p.m. Paris time (5:09 p.m. ET) and vanished over the Mediterranean Sea. French President Francois Hollande told a press conference that the plane had crashed, but said it was too soon to speculate as to the cause."
Update: EgyptAir plane wreckage found, military says: "Egypt says it has found wreckage from an EgyptAir flight that crashed in the Mediterranean with 66 people aboard, the military said. Parts of the aircraft and passenger belongings were also discovered Friday near the coastal city of Alexandria, the Egyptian military said in a statement. 'The searching, sweeping and the retrieval process is underway,' military spokesman Brig. Gen. Mohammad Samir said. The plane was carrying 56 passengers and 10 crew members when it left Paris' Charles de Gaulle Airport for Cairo late Wednesday night. It disappeared from radar early Thursday as it flew to Cairo — what should have been about a 3½-hour flight. The military said the wreckage was 290 kilometers (180 miles) north of Alexandria."
"Beijing demanded an end to U.S. surveillance near China on Thursday after two of its fighter jets carried out what the Pentagon said was an "unsafe" intercept of a U.S. military reconnaissance aircraft over the South China Sea. The incident, likely to increase tension in and around the contested waterway, took place in international airspace on Tuesday as the plane carried out "a routine U.S. patrol," a Pentagon statement said. A U.S. Defense official said two Chinese J-11 fighter jets flew within 50 feet (15 meters) of the U.S. EP-3 aircraft. The official said the incident took place east of Hainan island."
"Taliban leader Mullah Akhtar Mohammad Mansour was killed in an airstrike Saturday in Pakistan, sources within al Qaeda and the Taliban, reached through an intermediary by CNN, confirmed Sunday. A U.S. official said the drone strike occurred around 6 a.m. ET Saturday in a remote area of the Pakistan-Afghanistan border, southwest of the town of Ahmad Wal."
Domestic Affairs
"Living on the "other side of the tracks" isn't just a cheap idiom in Cleveland, Mississippi. Court documents show that 62 years after the U.S. Supreme Court ruled school segregation unconstitutional, the schools in this west Mississippi town of 12,000 are still divided, black and white — and the abandoned Illinois Central Railroad tracks that run through town serve as the line of demarcation."
"Bernie Sanders has won Oregon's presidential primary and battled Hillary Clinton to a razor-thin margin in Kentucky, vowing to stay in the race until the end as Clinton aimed to blunt his momentum and prepare for a fall campaign against Republican Donald Trump. Tuesday's primary in Kentucky was too close to call with Clinton leading Sanders by less than one-half of 1 percent. Closing in on the Democratic nomination, Clinton declared victory in Kentucky nonetheless […] Trump won the GOP's Oregon primary, the only Republican contest on Tuesday."
"Marking a major shift in California water policy, state regulators Wednesday voted to lift the statewide conservation targets that for the past year have required dramatic cutbacks in irrigation and household water use for the Sacramento region and urban communities across the state. The new rules adopted by the State Water Resources Control Board allow individual water agencies to propose their own conservation standards, based on the health of their water supplies and anticipated local demand."
"In an attempt to head off an ugly conflict at its convention this summer, the Democratic National Committee plans to offer a concession to Sen. Bernie Sanders — seats on a key convention platform committee — but it may not be enough to stop Sanders from picking a fight over the party's policy positions. Allies of both Clinton and Sanders have urged Democratic leaders to meet some of Sanders's more mundane demands for greater inclusion at the Philadelphia convention. Their decision to do so is expected to be finalized by the end of the week, according to two people familiar with the discussions. But growing mistrust between Sanders supporters and party leaders have threatened to undermine that effort."
"A 5-year-old girl died in Louisiana on Saturday after she apparently shot herself with a handgun, authorities said. St. John the Baptist Parish sheriff's deputies were called to the home in LaPlace at around 9:44 a.m. and the child's father said she shot herself while playing with the gun, the sheriff's office said in a statement."

About the Contributors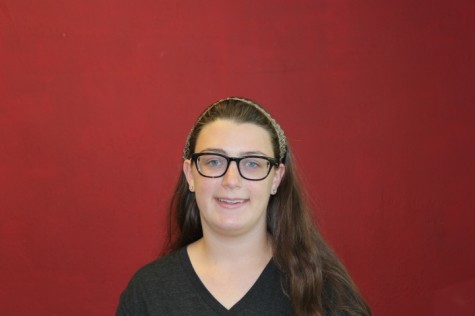 Sophie Feinberg, Editor
Sophie Feinberg is an IB senior excited to be a part of the hardworking team that is CavsConnect. Though soft spoken, she enjoys putting her words...