Recap: March 7 – 13
Hang on for a minute...we're trying to find some more stories you might like.
International Affairs
"An American student from Vanderbilt University was stabbed to death in one of three bloody terror attacks that  rocked Israel Tuesday, just as Vice President Biden arrived in Tel Aviv to meet with leaders in an effort to stem Palestinian violence and mend frayed relations with the Jewish state."
"The EU and Turkey say they have agreed the broad principles of a plan to ease the migration crisis. Under the plan discussed in Brussels, all migrants arriving in Greece from Turkey would be returned."
"Iran test-fired two ballistic missiles Wednesday, state media reported, just a day after other missile tests that Washington suggests were in violation of a U.N. resolution. The missiles, capable of reaching Iran's archenemy Israel, were marked with a statement in Hebrew reading "Israel must be wiped off the Earth," Iran's semiofficial Fars News Agency reported."
"North Korea fired two short-range ballistic missiles into the sea on Thursday in defiance of U.N. Security Council resolutions, as South Korean and U.S. forces conducted massive war games. The North also announced it had scrapped all agreements with the South on commercial exchange projects and would "liquidate" South Korean assets left behind in its territory."
"President Obama on Thursday said the United States and Canada were more closely aligned than ever, using a meeting with Prime Minister Justin Trudeau to announce joint efforts to curb emissions of planet-warming gases and to promote his personal rapport with the leader of a pivotal neighbor. Mr. Obama played the older, more experienced host to Mr. Trudeau's fresh-faced newcomer during the visit, the first official one by a Canadian leader in 19 years, as the two announced that they were teaming up to reduce the release of methane, a chemical contained in natural gas."
Domestic Affairs
"Donald J. Trump easily dispatched his Republican rivals in the Michigan and Mississippi presidential primaries Tuesday and won the Hawaii caucuses, regaining momentum in the face of intensifying resistance to his campaign among party leaders. Senator Bernie Sanders scored an upset win in the Michigan Democratic primary, threatening to prolong a Democratic campaign that Hillary Clinton appeared to have all but locked up last week."
"An FBI agent is suspected of lying about firing twice at Robert "LaVoy" Finicum and may have gotten help from four other FBI agents in covering up afterward, authorities revealed Tuesday. The bullets didn't hit Finicum and didn't contribute to his death, but now all five unnamed agents, part of an elite national unit, are under criminal investigation by the U.S. Justice Department."
"Nearly two dozen kids — ages 8½ to 19 — appeared in federal court here on Wednesday morning. […] But these plaintiffs, however young and small, united behind a massive cause that should inspire any of us old folk: They're suing the U.S. government — and President Barack Obama — for failing to act rapidly to stop climate change. It's the future suing the present. The climate kids versus the feds."
"Police in Allegheny County, Pa., say five people are dead after unidentified shooters attacked what appeared to be a backyard party in the borough of Wilkinsburg late Wednesday night. Four people — three women and a man — died at the scene. A female victim died at the hospital. Two men are in critical condition and a woman is in stable condition."
"With thousands of people already packed into stands and music blaring to warm up the crowd, Donald J. Trump's campaign abruptly canceled his rally here on Friday night over security concerns as protesters clashed with his supporters inside an arena where he was to speak. Minutes after Mr. Trump was to have taken to a podium on the campus of a large, diverse public university just west of downtown, an announcer suddenly pronounced the event over before it had begun. Hundreds of protesters, who had promised to be a visible presence here and filled several sections of the arena, let out an elated, unstopping cheer."
UPDATE: Trump ends wild day on campaign trail by calling for protesters' arrests: "Donald Trump on Saturday called for protesters who disrupt his rallies to be arrested, one day after altercations and protests forced him to cancel a campaign rally in Chicago. […] Trump also accused Bernie Sanders' supporters of sowing unrest at his events and the GOP front-runner refused to back down from his rhetoric that some have cited as the cause of heightened tension at his rallies."
About the Contributors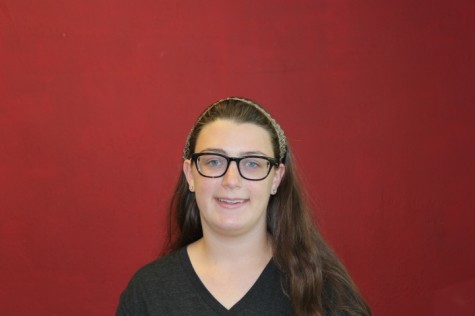 Sophie Feinberg, Editor
Sophie Feinberg is an IB senior excited to be a part of the hardworking team that is CavsConnect. Though soft spoken, she enjoys putting her words...