Stressed for Success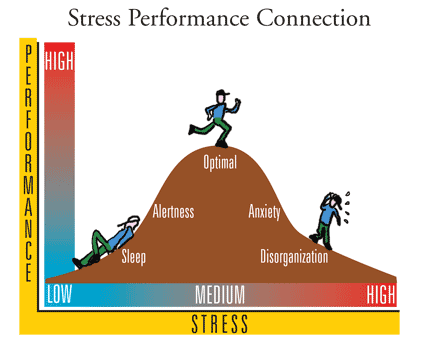 High school is the culmination of years of primary and elementary education. After learning the basics of life and learning, teens are released out of their sheltered cocoon to the big world of high school where they are expected to be social butterflies, fitness fanatics, fledgling Mother Teresas, whiz kids in all subject areas, and still find time to sleep. Seemingly, junior and senior years are some of the most stressful. As high school approaches its end, students get closer and closer to the door of the "real world" and one very daunting word, the future.
As you walk through the hallways of school, it's not hard to notice the impact of stress. Some students walk zombie-like through the hallways, dark circles sunken deep into their faces, textbooks and study guides in one arm, while the other clutches a cup of coffee or an energy drink. Others can be seen frantically studying or chatting about all the work they have to get done and compete to see who got the most sleep. Shockingly, sometimes they won't have slept at all. But why do students do this to themselves? The future.
Students are jumping through hoops all in attempt to get into the best colleges and universities as they became more selective than ever. Each sleepless night, breakdown, and homework-filled weekend is diligently carried out often because of the consequences of grades, a factor that is a key part of admissions.
Here is a quote from Marian Wildes's article on school stress:
"
According to the Department of Education's National Center for Education Statistics, the number of high school graduates increased 24% from 1991 to 2004, and the number is expected to grow another 5% before 2017. That's an additional 700,000 high school graduates queuing up for college admission, while the actual number of colleges has remained the same."
— Marian Wilde
In short, it seems students are more stressed than ever. While balancing school work from their eight classes, students are expected to volunteer, participate in a variety of extracurriculars, prepare for and take SATs and ACTs, explore colleges, review for their APs, and also spend their summers and "breaks" working on school work.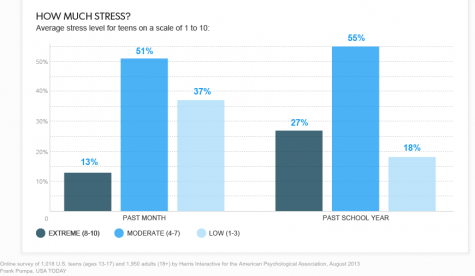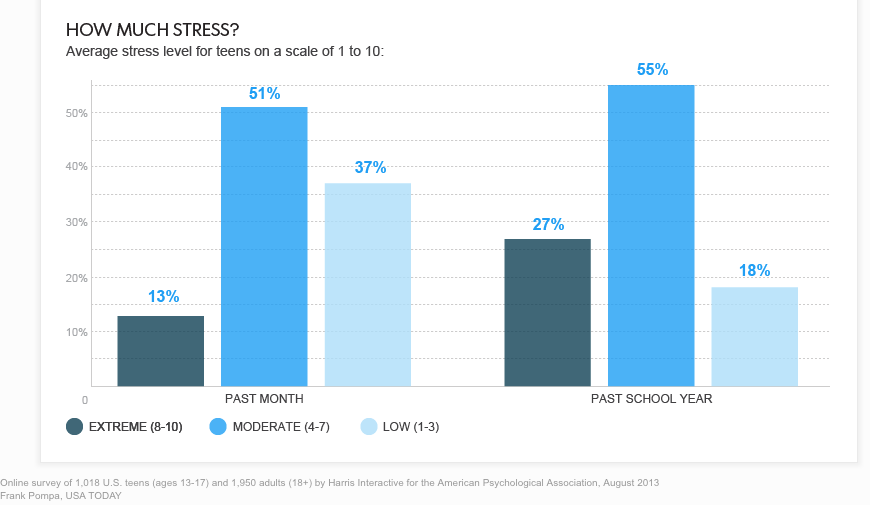 While the solution to all the stress is unclear, it is obvious that something needs to change. As students put their health at risk for test scores and college acceptance, it is hard not to question the current organization of America's education system and its fixation on test scores and competition. When students in a survey had to rank items of importance, it is alarming they are placing success before happiness.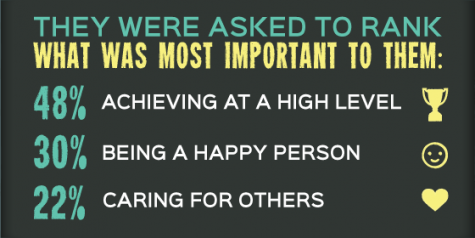 "I am a person who handles stress well in the sense that my mind doesn't recognize stress, although my body does on a subconscious level. However, I would have to say that I have been more stressed during the school year. I do think this age group [high school] is significantly more stressed as I see it everywhere- social media rants, people in the halls, students before tests, during AP week," junior Maria Victoria Paredes said.
There is a point when stress is a motivational factor. However, it has its limits. The Yerkes-Dodson Law of Arousal shows there is an optimal level of performance that can occur with stress. However, many students have stress that goes beyond the healthy range.
While many articles point to extra time spent online being the cause of students' stress, the immense workload and grocery list of future deciding tests and pivotal life decisions seem to be the main cause of debilitating stress levels. Others say stress may be an excuse for teens. I say it's not.
As many seniors are receiving their college acceptance or rejection letters and juniors are working to perform well on tests that decide their admittance fate, stress is a factor now more than ever.