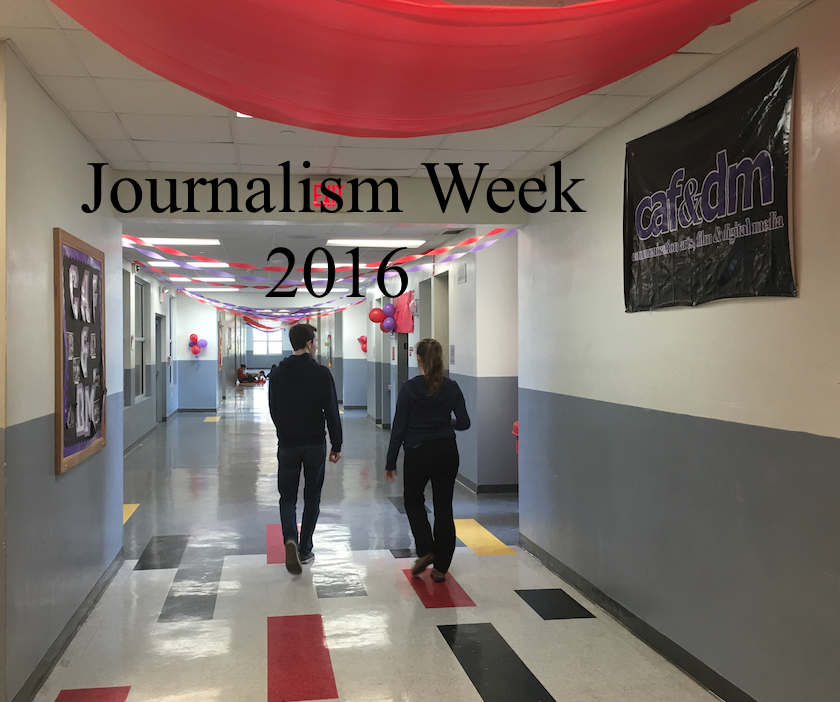 CAF&DM Celebrates Journalism Week 2016
The week of Feb. 1-5 marks the the fifth year that Ms. Zuniga, academy leader for the Communication Arts, Film, and Digital Media (CAF&DM) academy, puts on Journalism Week (J-Week) with the combined efforts of the academy and its publications. Throughout the week, the CAF&DM academy works hard to put together a week spotlighting journalism and the various Gables publications: Catharsis, Cavaleon, CavsConnect, Gables Live! and highlights. 
Day 1:
J-Week opened strong. All around the school, members of the various publications worked hard to create and hang colorful and informational posters and door coverings.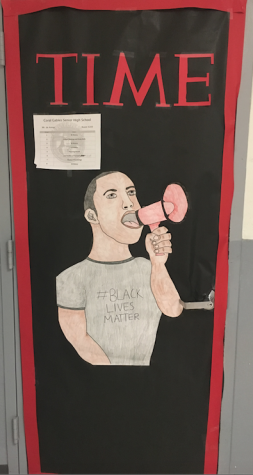 "All publications partake in the preparation of journalism week. They do different things to promote journalism. For example, highlights decorated the hallway on the second floor of the new building this year," Quill and Scroll president and highlights staff writer Eleonor Bauwens said.
Some student favorites included the "Newseum"  featuring a timeline on the second floor of the Ralph Moore Building and the Time magazine cover hanging on Mr. de Armas' door.
"Journalism Week is important because it really shows how far journalism has come. It represents the amount of hard work behind newspapers, news magazines, literary magazines, etcetera. I think it allows us to reflect on how lucky we are to be able to place our thoughts into writing because we have the freedom to do so without fear of punishment," Bauwens said.
The day also featured some trivia questions:
Which publication has been around for the longest?
A. highlights
B. Cavaleon
C. Catharsis
D. CavsConnect
Look around for trivia hanging in classrooms all around school and be sure to check back tomorrow to see more of what J-Week has to offer – CavsConnect will have running coverage of it each day.
Day 2:
J-Week continued to bring Gables into the diverse world of journalism with a scavenger hunt.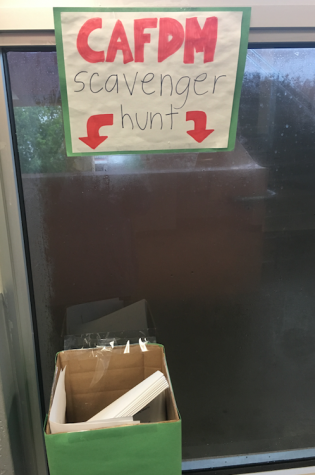 The hunt featured eight questions that you could answer correctly and turn in for a chance to win a prize. Some questions included listing two classrooms that have Journalism themed doors and finding the door that was "fishing for ideas" and naming two ideas being fished for. There was also a question about the origins of yearbook, so be sure to check out the section in the "Newseum" about important years for Gables' publications.
"As part of yearbook I feel like other publications don't really consider us journalists because of how heavily we rely on design; but I think we are still journalists because we do report and record the whole year at Gables. The journalism style we write in is very commemorative; our goal is to capture specific memories through the copy that readers will be able to enjoy for years to come," Cavaleon managing editor Deanna Reyes said.
Trivia continued with a question about a key aspect and potential danger of journalism:  "What is the main difference between libel and slander?"
Tweet any of your answers to @highlightscghs using the hashtags #CAFDMweek and #sfjw. You may be one of the winners chosen daily.
Day 3:
More fun activities carried on into the third day of J-Week.
A CAF&DM photo booth was set up in front of the pavilion where students posed with props against a red backdrop.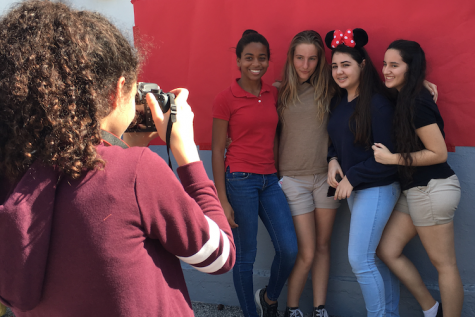 There was also more journalism trivia including:
Which is not a court case involving the first amendment?
A. Tinker vs. Des Moines
B. Bethel School District vs. Fraser
C. Miller vs. Texas
D. Pickering vs. Board of Education
The first amendment is important in protecting freedom of expression.
"Catharsis is an environment in which the staff can not only grow as writers, but grow as people, and freedom of expression is an integral part of that process. We don't practice any censorship in Catharsis and the staff is allowed to write about whatever topics they choose… To practice explicit censorship in Catharsis would contradict the very nature of the magazine and the arts in general, as they are meant to operate as avenues for personal ideas, thoughts, and emotions. Especially for Catharsis, freedom of expression facilities an uncensored, artistically honest depiction of life at Gables and the ideas, thoughts, etc. that being a Gables student entails," Editor-in-Chief of Catharsis Evan Caldwell said.
Tomorrow, festivities continue with the CAF&DM field day so be sure to check back to see how the event goes!
Day 4:
Despite it being Early Release, the day managed to be packed with events.
Of course, trivia questions continued to pop up around the school:
When was the first amendment ratified?
A. 1790
B. 1791
C. 1792
D. 1793
Day 4 was also the day highly awaited by CAF&DM publications and students: field day.
The field adjacent to the school was filled with food and fun.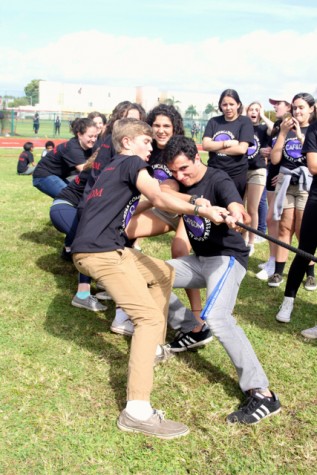 Frisbee, inflatables, cookies, Pei Wei and more activities bonded the CAF&DM academy together.
"Field day was lots of fun. I was the videographer so I didn't do that much of the activities, but … I played frisbee," freshman Ian Linder Sheldon said.
See more pictures from the event below:
The theme of this week involves the importance of journalism and the importance of freedom to the field; broadcast media in no different.
"[Broadcast media] requires a lot of dedication to learn the necessary skills," Linder Sheldon, a member of Gables Live! said. Linder Sheldon has many roles in the group, acting as assistant technical director in the morning, in addition to editing segments and helping teach the incoming freshmen.
If anything was emphasized this week, it was the diversity within journalism and the essentiality of this field as a source for news and inspiration.
Be sure to check back tomorrow to see how J-Week ends and don't forget to pick your favorite CAF&DM door!
Day 5:
On the final day of J-Week, publications took the opportunity to thank people who have gone out of their way to lend a helping hand. Such teachers were given a special breakfast to demonstrate the appreciation of the academy.
Trivia questions remained hanging all around the school:
Which was America's first published newspaper?
A. Atlanta Journal
B. Boston News Letter
C. Publick Occurrences
D. Pennsylvania
The week was a huge success in spreading important information about journalism and spotlighting a hardworking academy.
"Nationals Scholastic Journalism Week is held annually in the month of February. At Gables, we celebrate CAF&DM Week to highlight our students and teachers in the academy. Each publication is in charge of a different activity for the week (Newseum, door decorating, twitter contest, photobooth, etc.). Field Day is definitely the highlight of the week as all CAF&DM students are invited to compete against each other in activities such as a three-legged race, tug-o-war, and more. It's such a fun event that brings all of the Academy students together to foster collaboration and teamwork," Ms. Zuniga said.
Look back to yesterday's post to see highlights from Field Day. Be sure to check out other coverage from this week and vote in the poll for your favorite door.
If you're interested in joining the CAF&DM family and have a passion for journalism, fill out an application for one of Gables' award-winning publications.

Loading ...