Recap: May 9 – 15
Hang on for a minute...we're trying to find some more stories you might like.
International Affairs
"An impeachment process against Brazil's President Dilma Rousseff appears to be back on track after the acting speaker of the lower house revoked his surprise decision to suspend a crucial vote. Speaker Waldir Maranhao did not give any reason for his U-turn, which came less than 24 hours after he had called for a new impeachment vote. The Senate is now expected to vote on Wednesday on an impeachment trial. If Ms Rousseff loses, she will be suspended for the trial's duration. She faces allegations that her government violated fiscal rules, which she says is a common practice in Brazil."
"A U.S. warship sailed within 12 miles of one China's largest artificial islands Tuesday, part of a continuing effort by the Pentagon to demonstrate that the United States remains undeterred by the rapid Chinese military buildup in the South China Sea. The presence of the USS William P. Lawrence, an Arleigh Burke-class guided-missile destroyer, prompted the Chinese military to scramble three fighter jets that monitored the destroyer, along with three Chinese ships, until the American vessel left the area."
"The Sunni terror group ISIS says it's behind a series of attacks in Iraq's capital Wednesday that targeted Shiites and left more than 90 people dead. At least 64 people were killed when a car bomb went off at a market in Baghdad, according to Iraqi police. Another 87 people were wounded in that attack in the largely Shiite neighborhood of Sadr City. […] Later in the day, a suicide bomber wearing an explosive vest detonated in a busy square in the Shiite neighborhood of al-Kadhimiya, killing 17 people and wounding 43 others, two police officials in Baghdad told CNN. A suicide car bomber exploded in the Sunni neighborhood of al-Jamia in western Baghdad, killing 12 people and wounding 31 others. The attackers targeted a checkpoint manned by Shiites."
"Italy has passed legislation legalizing same-sex civil unions. It's the last country in Western Europe to do so. Italy has passed legislation legalizing same-sex civil unions. It's the last country in Western Europe to do so. The measure was approved despite 'strong opposition from the Catholic Church and conservative politicians,' NPR's Sylvia Poggioli tells our Newscast unit. She adds: 'The legislation grants same-sex couples many of the same rights as married couples — the possibility to have the same last name, inheritance, hospital visitation and medical decision-making rights. But it stops short of same-sex marriage…'"
"The army's bomb disposal team has been scrambled to Old Trafford after a suspicious package was discovered inside the ground. The entire stadium has been evacuated and United's match against Bournemouth abandoned after a package was found inside the stadium's north-west quadrant. Now the army's specialist bomb team will investigate what exactly the package is and whether it poses a risk to the public. There are some reports that a controlled explosion could be carried out."
Domestic Affairs
"The United States and North Carolina tangled over transgender rights on Monday, with the Justice Department filing a civil rights lawsuit over the state's so-called bathroom bill and state officials defiantly filing suits against the federal directive to stop the implementation of the controversial legislation. Also, a major player in North Carolina — the state's public university system — defied the governor and legislature and told the Justice Department on Monday it intends to act "in compliance with federal law" as it relates to House Bill 2, known as HB2. The Justice Department seeks declaratory relief and threatens to curtail federal funding to the North Carolina Department of Public Safety and the University of North Carolina."
"President Obama signed a law on Monday making the bison — tens of millions of which once roamed North America — the country's first national mammal. The designation does nothing to threaten the bald eagle's position as the national animal. But the eagle is not a mammal. So, at long last, the nation now has an official one."
"Senator Bernie Sanders of Vermont captured the West Virginia primary on Tuesday, forcing Hillary Clinton to continue a costly and distracting two-front battle: to lock down the Democratic nomination and to take on Donald J. Trump in the general election. Mrs. Clinton has a nearly insurmountable lead in delegates, which Mr. Sanders's victory, one week after he won Indiana, did little to narrow. But by staying in the race, as he has vowed to do until the Democratic convention in Philadelphia in July, Mr. Sanders continues to tug Mrs. Clinton to the left."
"George Zimmerman, who fatally shot unarmed black teenager Trayvon Martin in Florida in 2012 and was acquitted of all charges in the case, said Thursday that he was auctioning off the gun that he says he used in that incident. The 9 mm pistol was initially listed for sale on GunBroker.com, posted by user "GZ1776." By Thursday afternoon, however, the listing for the auction, which was supposed to begin at 11 a.m., was no longer active."
"The Obama administration is planning to issue a sweeping directive telling every public school district in the country to allow transgender students to use the bathrooms that match their gender identity. A letter to school districts will go out Friday, adding to a highly charged debate over transgender rights in the middle of the administration's legal fight with North Carolina over the issue. The declaration — signed by Justice and Education department officials — will describe what schools should do to ensure that none of their students are discriminated against."

About the Contributors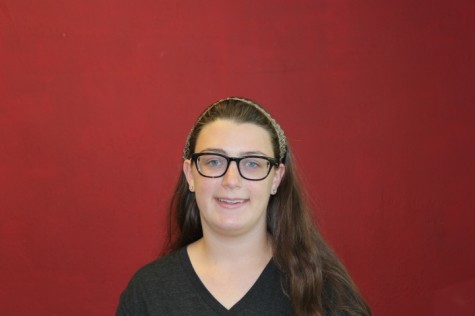 Sophie Feinberg, Editor
Sophie Feinberg is an IB senior excited to be a part of the hardworking team that is CavsConnect. Though soft spoken, she enjoys putting her words...