Bridging the Generational Gap: 57th Grammy Awards Show
Our Rating: A
The 57th Annual Grammy Awards took place on Feb. 8, 2015. It was a night filled with highs and lows on every front.
Like every awards show, there was the preliminary red carpet escapade. The stars walked the red carpet and stopped for interviews. Some of the most talked-about looks included Iggy Azalea's questionable hair-do (or hair-don't), Rihanna's cotton candy-esque dress which was compared to everything from a loofah to an umbrella, and Sia's larger-than-life wig. To see some of their looks, click here!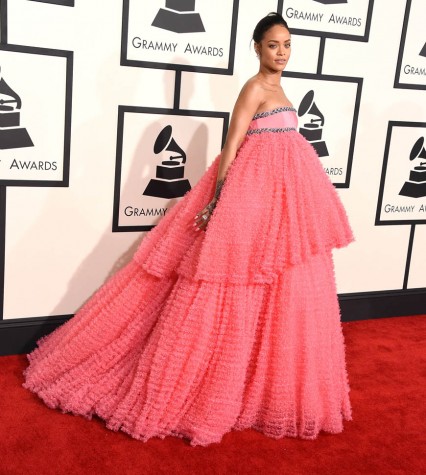 Host LL Cool J opened the show and introduced hard-rock band AC/DC who kicked off the night  with their iconic hit "Highway to Hell" and their new single "Rock or Bust." It was a good performance that got the audience up and moving as they sported be-horned headbands.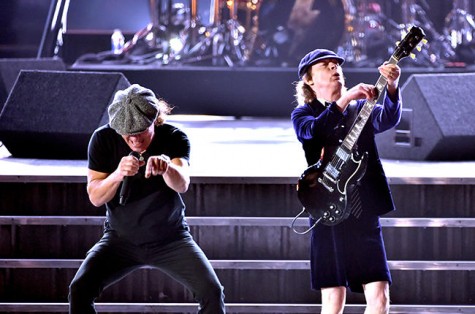 Next, Taylor Swift presented Sam Smith with the Best New Artist award. Not soon after, Anna Kendrick introduced a smoky (literally) performance by Ariana Grande of her song "Just a Little Bit of Your Heart." Jessie J and Tom Jones followed with "You've Lost That Lovin' Feeling" as a tribute to songwriters and Grammy honorees Barry Mann and Cynthia Weil. Both performances were well received.
The standout performers of the night were Katy Perry, Sia, Pharrell Williams, Kanye West with Rihanna & Paul McCartney and Hozier with Annie Lennox. Perry's emotional performance of "By the Grace of God" followed a pre-recorded speech from President Obama against domestic violence and a live testimonial from domestic violence survivor Brooke Axtell. It was moving and had a great message. Sia's set was interesting and featured dancer Maddie Ziegler and SNL comedian Kristen Wiig dancing to "Chandelier." Williams's performance of "Happy" referenced the prominent cases of Trayvon Martin and the slogan "Hands Up, Don't Shoot" protest gesture circulating with Mark Brown in a haunting start that transitioned into the upbeat tune. "FourFiveSeconds" was also highly esteemed with the unique blend of McCartney, Rihanna, and West's styles and voices. Hozier and Lennox singing "Take Me to Church" was chill invoking.
Other singers featured included Ed Sheeran, Miranda Lambert, Madonna, Gwen Stefani and Adam Levine, Lady Gaga and Tony Bennett, Usher, Eric Church, Sam Smith with Mary J. Blige, Juanes (with the Grammy's first Spanish performance), Beyoncé, John Legend and Beck with Coldplay's Chris Martin.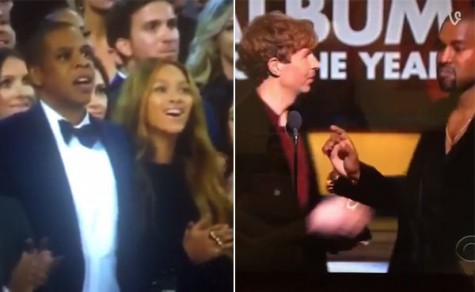 Big winners of the night were Sam Smith with four awards (Best New Artist, Record of the Year, Song of the Year, and Best Pop Vocal Album), Beck with Album of the Year and Best Rock Album, and Pharell Williams and Beyoncé each with three. Beck's winning Album of the Year over Beyoncé was met with controversy, especially when in true Kanye fashion, West almost stormed onto the stage much to the horror of Beyoncé and Jay Z.
Sam Smith and Mary J. Blige returned to perform "Stay With Me" to close the show.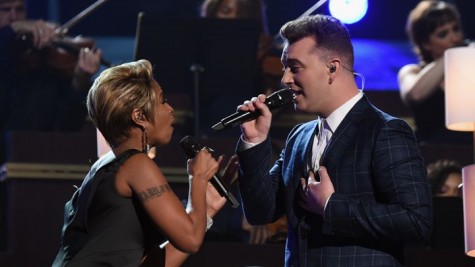 "It was cool to see artists actually use the Grammys, which [is] one of the biggest award shows, to bring attention to ["hands up don't shoot" and domestic violence]. I thought Sam Smith would win a Grammy because he was really big last year. But I was so surprised when he ended up with four," junior Gabriel Marino said.
The show was impressive despite the lowest viewership since 2009. The important messages coupled with the performers' music made for a positive experience. Other songs made the show fun and allowed everyone to take a look back on the music of today and years gone by. However, the debate surrounding Smith's winnings because his music on "Stay With Me" was copied from the Tom Petty and the Heartbreakers song "I Won't Back Down" lowers the magic of his winnings. West's barging in upon Beck's moment also was a lowlight despite the funny reactions it caused. Even with the many upsets in winners, it was an enjoyable show that was still "the biggest social entertainment program of the 2014-2015 season to date."