Recap: January 11 – 17
Hang on for a minute...we're trying to find some more stories you might like.
International Affairs 
"An aid convoy has reached the besieged rebel-held Syrian town of Madaya, bringing vital food and medicines. Distribution will continue through the night to 40,000 people who have been trapped for six months by a government blockade and without aid since October. The UN says it has received credible reports of people dying of starvation. Simultaneously, aid lorries entered two villages besieged by rebel forces in the northern province of Idlib under a deal between the warring parties."
"Iran on Saturday reportedly released Washington Post reporter Jason Rezaian and three other dual-national prisoners. Iranian state television said four dual-nationality prisoners were released, and a person close to Iran's judiciary said Rezaian was among them. The announcement comes as the International Atomic Energy Agency certifies as early as Saturday that Iran, as part of a landmark deal, has fulfilled its commitments to curb its development of a nuclear weapon in exchange for world powers returning $100 billion in frozen assets."
"The people of Taiwan elected their first female President on Saturday — a bookish technocrat who has vowed to put domestic concerns above deepened ties with China, which are increasingly seen here as a poisoned chalice. Tsai Ing-wen, a U.S.- and U.K.-trained lawyer, and leader of the Beijing-skeptic Democratic Progressive Party (DPP), took some 56% of the vote to end eight years of Nationalist Party (Kuomintang or KMT) rule blighted by anemic growth and soaring inequality."
"The United States and European nations lifted oil and financial sanctions on Iran on Saturday and released roughly $100 billion of its assets after international inspectors concluded that the country had followed through on promises to dismantle large sections of its nuclear program. The moves came at the end of a day of high drama that played out in a diplomatic dance across Europe and the Middle East, just hours after Tehran and Washington swapped long-held prisoners."
"Islamic State jihadists have reportedly slaughtered up to 280 people in the Deir ez-Zor province, killing "whole families" for alleged cooperation with the Syrian troops. The killings are said to have taken place a day after Russian humanitarian aid was airdropped in the region. Local residents told Sputnik news agency the massacre happened in al-Bagilya settlement, an area which received Russian airlifted aid earlier."
Domestic Affairs
"President Barack Obama knocked Republican presidential candidates for anti-Muslim rhetoric and accused critics on Tuesday of playing into the hands of Islamic State in a speech aimed at setting an optimistic tone for his last year in office. Obama, delivering his last State of the Union speech to Congress before leaving office next year, said it was fiction to declare the United States was in economic decline or getting weaker on the international stage."
"The U.S. Supreme Court struck down Florida's death sentencing system as unconstitutional on Tuesday, casting doubt on the status of all the state's death sentences. Florida ranks second in the nation in the number of death row inmates, with 390 men and women currently awaiting execution. Florida law allows juries in capital cases to recommend a sentence of death, or life in prison without parole — but it is the judge who is charged with finding facts, and judges can and do frequently disregard the jury's recommendation."
"The Powerball lightning bolt finally struck. Lucky ticket holders in three states — California, Florida and Tennessee — will split the record $1.6 billion Powerball jackpot that lured millions of lottery hopefuls into a frenzied buying spree."
"Planned Parenthood filed a lawsuit Thursday against the anti-abortion activists who secretly taped the group's officials talking about the sale of fetal tissue and released the heavily edited videos last year. The videos sparked a political firestorm in Washington, with Republican lawmakers accusing Planned Parenthood of profiting from the sale and trying unsuccessfully to strip the group of federal funding."
"Water contamination in Flint, Mich, — where the city switched water sources, causing pipe corrosion and ultimately filling the city's water supply with high levels of lead — has prompted President Obama to declare a state of emergency. The move, which was requested by Michigan Gov. Rick Snyder, means FEMA is authorized to provide equipment and resources to the people affected. Federal funding will help cover the cost of providing water, water filters and other items."

About the Contributors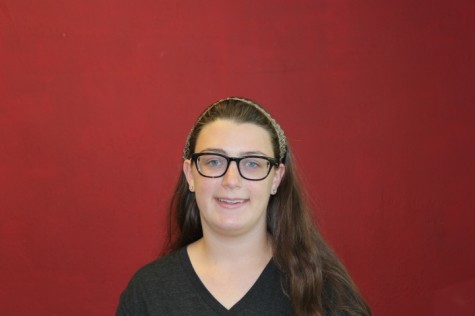 Sophie Feinberg, Editor
Sophie Feinberg is an IB senior excited to be a part of the hardworking team that is CavsConnect. Though soft spoken, she enjoys putting her words...