Recap: May 23 – 29
Hang on for a minute...we're trying to find some more stories you might like.
International Affairs
"President Barack Obama announced Monday that the United States is fully lifting a decades-long ban on the sale of military equipment to Vietnam. In a joint news conference in Hanoi with Vietnamese President Tran Dai Quang, Obama said that the removal of the ban on lethal weapons was part of a deeper defense cooperation with the country and dismissed suggestions it was aimed at countering China's growing strength in the region."
Obama also visited Vietnam and Japan: What to Know About President Obama's Visits to Vietnam and Japan: "President Obama on Monday began his weeklong trip to Asia in Vietnam's capital, Hanoi, where he will spend three days before visiting Japan, as he aims to cement a renewed cooperation with two of the U.S.'s biggest former wartime adversaries and counteract China's growing assertiveness in the region. The visit, part of Obama's "farewell tour" as he prepares to leave office later this year, is his 10th trip to Asia during his eight-year term and a furtherance of his strategy to "pivot" U.S. foreign policy toward the continent."
"Parents rushed to an elementary school in Thailand Monday, where 18 girls were killed overnight in a fire at their school dormitory. "It is still very chaotic here," the school's manager Rewat Wassana told CNN. "We are in the process of identifying bodies, none of the parents can claim their children's bodies yet," he said. It's not clear what caused the fire, which is believed to have started around 11:00 p.m. local time Sunday…"
"Israeli Prime Minister Benjamin Netanyahu reached a deal to expand his conservative coalition Wednesday, appointing lawmaker Avigdor Lieberman to the powerful position of defense minister. The addition of Mr. Lieberman moves the government further to the right at a time when the international community is skeptical about prospects for a two-state solution to the decadeslong Israeli-Palestinian conflict. Mr. Netanyahu, whose coalition has 61 seats in the 120-seat parliament, known as the Knesset, had been seeking to widen his majority by bringing in Mr. Lieberman's ultranationalist Yisrael Beiteinu party."
"Fearing a renewed crisis in Greece that could set off economic shock waves, policy makers across three continents have scrambled to strike a deal to ease the country's debt burden. There have been meetings in the United States, a diplomatic blitz in Europe and talks in Japan. In an agreement announced early Wednesday, Greece won additional pledges of debt relief, but nothing substantial until 2018 at the earliest, and only then if it continues to carry out painful reforms."
"Horrific stories emerged Sunday about shipwrecks that killed more than 700 migrants trying to cross the Mediterranean Sea since Wednesday, according to the United Nations refugee agency. A flotilla of ships from multiple nations, including Italy, Ireland and Germany, rescued 14,000 people at sea last week, according to The Irish Times. One incident involved two overloaded boats Friday, one towing another that didn't have a motor, which smugglers had cut loose when it began to take on water, according to the Italian newspaper La Stampa."
Domestic Affairs
"Kelly Hoggan, the Transportation Security Administration's assistant administrator for the Office of Security Operations, has been removed from his position in the wake of congressional scrutiny. The change was announced Monday night by the House Oversight Committee's official Twitter account."
"Dylann S. Roof, who is accused of killing nine people during a racially motivated assault last June at a Charleston, S.C., church, will face two death penalty trials after the Justice Department said Tuesday that it would seek his execution."
"Democratic presidential candidate Hillary Clinton violated federal records rules through her use of a private email server while she was secretary of state, a State Department audit has concluded. 'At a minimum, Secretary Clinton should have surrendered all emails dealing with Department issues before leaving government service,' says an audit by the State Department Inspector General, obtained by NBC News. 'Because she did not do so, she did not comply with the [State] Department's policies that were implemented in accordance with the Federal Records Act."
"Texas and 10 other states filed suit Wednesday against the Obama administration over its directive on transgender student access to public school facilities, firing the first shot in what is likely to be a protracted and messy legal battle over that guidance. The suit was filed in a Texas federal court in response to the directive handed down to schools earlier this month that said transgender students should be able to use bathrooms and locker rooms that match their gender identity. Texas Attorney General Ken Paxton announced the lawsuit at a Wednesday news conference, saying the directives represent an attempt by the administration to rewrite the law."
"For the first time, researchers have found a person in the United States carrying bacteria resistant to antibiotics of last resort, an alarming development that the top U.S. public health official says could mean "the end of the road" for antibiotics. The antibiotic-resistant strain was found last month in the urine of a 49-year-old Pennsylvania woman. Defense Department researchers determined that she carried a strain of E. coli resistant to the antibiotic colistin, according to a study published Thursday in Antimicrobial Agents and Chemotherapy, a publication of the American Society for Microbiology. The authors wrote that the discovery 'heralds the emergence of a truly pan-drug resistant bacteria.'"
About the Contributors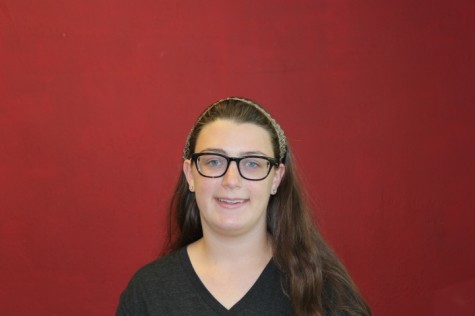 Sophie Feinberg, Editor
Sophie Feinberg is an IB senior excited to be a part of the hardworking team that is CavsConnect. Though soft spoken, she enjoys putting her words...