Recap: March 14 – 20
Hang on for a minute...we're trying to find some more stories you might like.
International Affairs
"Huge crowds have taken to the streets across Brazil calling for President Dilma Rousseff to resign. Opponents blame Ms Rousseff for a severe recession and a corruption scandal also engulfing her predecessor, Luiz Inacio Lula da Silva. She has said she has no intention of resigning but her opponents hope a large turnout on the streets will lead to her impeachment. She faces charges over masking the budget deficit, which she denies."
UPDATE: Brazil: Judge suspends swearing-in of Lula da Silva to Cabinet post: "Brazilian federal judge moved Thursday to block the controversial swearing-in of former President Luiz Inacio Lula da Silva as chief of staff to President Dilma Rousseff — the latest twist in the country's deepening political crisis. "Lula," as the two-time former president is known, was sworn into the Cabinet post amid heated protests by opponents, who say the move is an attempt to shield him from a corruption investigation."
"President Vladimir Putin announced out of the blue on Monday that "the main part" of Russian armed forces in Syria would start to withdraw, telling his diplomats to step up the push for peace as U.N.-mediated talks resumed on ending the five-year-old war. Damascus rejected any suggestion of a rift with Moscow, saying President Bashar al-Assad had agreed on the "reduction" of Russian forces in a telephone call with Putin."
"Myanmar's Parliament elected a confidant of Daw Aung San Suu Kyi as president on Tuesday, ending decades of leadership by the military and its allies. U Htin Kyaw, 69, won with more than half the votes. He was considered almost certain to take the presidency after his nomination last week by Ms. Aung San Suu Kyi's party, the National League for Democracy, which won majorities in both houses of Parliament in elections in the fall."
"What started out as a budget tour to Pyongyang, North Korea's capital, has stretched into an extended stay for 21-year-old University of Virginia student Otto Warmbier. State media reported Wednesday that North Korea's highest court convicted Warmbier of subversion and sentenced him to 15 years of prison and hard labor. The offense? According to an apparent confession, Warmbier tried to steal a propaganda poster from his hotel."
"Paris attacks suspect Salah Abdeslam has been wounded and arrested in a dramatic raid in Brussels after four months on the run. Another man arrested, Monir Ahmed Alaaj, was also on a wanted list, Belgian prosecutors said. Three members of a family accused of harbouring Abdeslam have also been detained."
Domestic Affairs
"The Democratic party moved a lot closer to choosing its nominee on Tuesday night. The Republican party moved a little closer to chaos. Former secretary of state Hillary Clinton has won at least four of the five states where Democrats voted on Tuesday, with victories in Florida, Illinois, Ohio and North Carolina. The race in Missouri against Sen. Bernie Sanders (Vt.) remains too close to call. […] On the Republican side, GOP front-runner Donald Trump won a key contest in Florida — a lopsided victory on the home turf of rival Sen. Marco Rubio, which caused Rubio to declare he was suspending his campaign. That brought Trump all of Florida's 99 Republican delegates, the biggest prize awarded in any state so far."
UPDATE: Hillary Clinton wins Missouri primary, Bernie Sanders concedes: "Vermont Sen. Bernie Sanders says he will not seek a recount of results in Missouri's Democratic primary, conceding defeat to Hillary Clinton. Sanders says in an interview with The Associated Press that it's unlikely the results will affect the awarding of delegates in the state and he would 'prefer to save the taxpayers of Missouri some money.'"
"Federal appeals court judge Merrick Garland is President Obama's pick to fill the Supreme Court seat left vacant by the late Supreme Court Justice Antonin Scalia. The president officially named Garland as a Supreme Court nominee Wednesday as they stood before the media and a large gathering of attendees in the Rose Garden at the White House. Addressing the refusal by Republican leaders in the Senate to consider a Supreme Court nominee, Obama said that in Garland, he had chosen 'a serious man and an exemplary judge.'"
"As SeaWorld ends the controversial breeding of orcas and phases out killer whale shows at its three parks, the changes will come last to the Orlando park, where the death of a trainer started the debate almost six years ago, and the aging whale that killed her may be dying. Bowing to public pressure, SeaWorld Entertainment announced Thursday that it had stopped its orca breeding program, effective immediately, and would replace the theatrical shows with natural orca encounters and programs that will focus on orca enrichment, exercise, and overall health."
"Secretary of State John Kerry said Thursday that the United States has determined that ISIS' action against the Yazidis and other minority groups in Iraq and Syria constitutes genocide. […] This is the first time that the United States has declared a genocide since Darfur in 2004."
"Stocks inched higher on both sides of the Atlantic, leaving major U.S. indexes on pace to notch their fifth straight week of gains. Friday's moves came after the Dow Jones Industrial Average ended higher for a fifth consecutive session, pushing the blue-chip index back into positive territory for the year. After falling sharply at the start of the year, U.S. stocks have surged roughly 12% since their mid-February trough as oil prices rebounded, high-yield spreads tightened and data underscored that the U.S. continues to expand, calming fears of a U.S. recession."
"President Barack Obama arrives in Cuba on Sunday for a historic visit, venturing into what was once enemy territory where a Communist government that vilified the United States for decades has prepared a red-carpet welcome. The three-day trip, the first by a U.S. president in 88 years, was unthinkable until Obama and Cuban President Raul Castro agreed in December 2014 to end an estrangement that began when Cuba's revolution ousted a pro-American government in 1959."

About the Contributors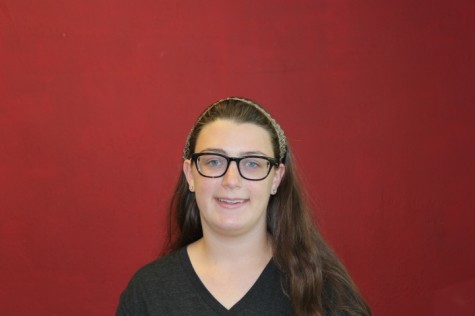 Sophie Feinberg, Editor
Sophie Feinberg is an IB senior excited to be a part of the hardworking team that is CavsConnect. Though soft spoken, she enjoys putting her words...