Senior Gablettes Take Final Bow
April 30 was more than a typical night at Gables; that night, the National Champion Gablettes held their final show of the year, the Gablette Revue. With the show being the last performance for the seniors, they shared bittersweet emotions as they reflected on the show and their years on the team.
"
I plan on leaving my mark on this performance by giving it my all on the stage and making sure my legs don't give out on me because I've had leg issues this year."
— Nicole Vilar
"
Basically, the same thing. I just want to leave my heart on that stage for the last time."
— Sofia Sanz de Acedo
Gablette Coach Ms. Mo Marmesh will be leaving Gables this year, so other seniors had some words for next year's dancers.
"
For next year's team, even though the coaching may be different, they need to keep the Gablette tradition alive and that's what's really important."
— Claudia Perez
Senior Allyssa Dobkins added more.
"
This year's motto was Fearless, Five Banner Dream, and Our Year; but next year, to the seniors, it's also your year and you're going to kill it!"
— Allyssa Dobkins
Finally, they described what being a part of Gablettes was like.
"
If I were to describe Gablettes in one word, I would describe it as a family because that's pretty much what we are. We spend 25 hours a week with each other, or more, and I know I can always come to them for anything."
— Carolina Cabello
Another senior described the experience in a different way.
"
I would say two words: worth it! Because even through all the pain… injuries… no matter all the sweat (and tears) it's all worth it in the end because we win and we're a family!"
— Nina Llado
At 6:30 p.m., the audience gathered to watch the team begin the show as Master of Ceremonies (MC), senior Alexander Duran, introduced the first dance, High School Musical, performed by the seniors. Performances continued with Drop the Game by the juniors, Hanging Tree by the sophomores and Youth by the freshman. The night featured more than 40 dances including those by other dance classes, the Gablette Groupies, the Gablette sweethearts, Sistas with Attitude (SWA) and Gables' Bhangra.
Special and emotional moments included the captain's speeches and solos, the Senior Walk and a dance through memory lane. As the night came to an end, tears flowed as seniors ended their last dance. Everyone took their final bows and huddled into a group hug on Gables' auditorium stage.
About the Contributors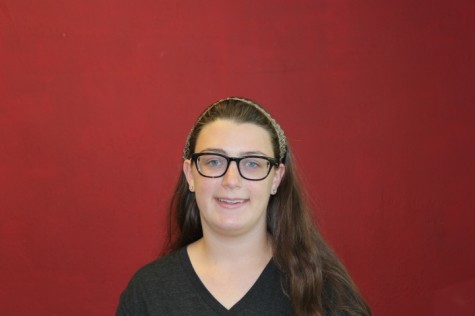 Sophie Feinberg, Editor
Sophie Feinberg is an IB senior excited to be a part of the hardworking team that is CavsConnect. Though soft spoken, she enjoys putting her words...
Camilo Bacca, Photography Editor
Camilo Bacca is a senior in the Visual and Performing Arts Academy at Coral Gables Senior High School. He is a returning this year to the CavsConnect Staff...