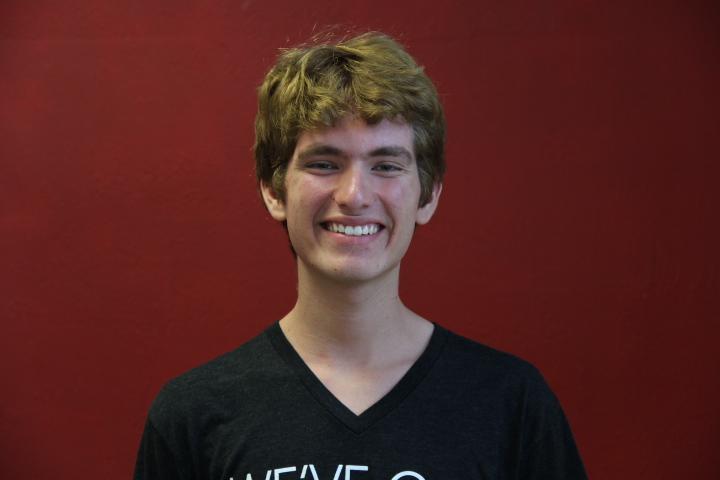 Camilo Bacca is a senior in the Visual and Performing Arts Academy at Coral Gables Senior High School. He is a returning this year to the CavsConnect Staff as the Photography Editor.
Overall, Camilo can be very quiet and reserved or he can be bold and daring, but he loves talking and inspiring others. "Having a voice is not only about learning how to speak. Having a voice means knowing how to listen." He is a bookworm and a die-hard theater fan, and adores all the visual and performing arts. Art is the greatest source of inspiration to him. After graduation, he plans to go out of state for college, and he would love to attend a prestigious university.
In his little free time, you will probably find him curled up next to good book, roaming an art gallery,listing to his music, or watching a play or move. He will read just about anything he can get his hands on, but has developed an unhealthy addiction to Stephen King and Shakespeare. Camilo also is deeply involved in all of the CGHS activities, so it is no surprise to see him running around. He is involved in Creative Writing Club, NEHS, GSA, Gables Players/ Troupe, Art Club, Speech and Debate, and a variety of others extracurriculars. If you ever see him or need help, just stop him and ask him. He will be happy to help and listen. 
Camilo Bacca, Photography Editor
Apr 15, 2016

De-stress for the Test

(Media)

May 22, 2015

Little Cavaliers Graduate "Beatles" Style

(Story)

May 21, 2015

Best Buddies Visits Ben & Jerry's

(Story)

May 01, 2015

Law Students Attend Mock Trial

(Story)

May 01, 2015

Senior Gablettes Take Final Bow

(Story/Media)

Apr 29, 2015

Outstanding Cavaliers Awarded

(Media)

Apr 27, 2015

The Closing Coffeehouse

(Story)

Apr 27, 2015

Class of 2015 Enjoys Their 'Night to Remember'

(Story)

Mar 11, 2015

Mrs. Van Wyk: Coordinator by Day, Clan Leader by Night

(Media)

Mar 09, 2015

Meditation Monday

(Story)

Feb 16, 2015

Gisselle Gonzalez: Persona Grata

(Media)

Feb 08, 2015

Gables is where I want to be: De Armas

(Media)

Dec 20, 2014
Dec 15, 2014

Chorus Caroling Competition

(Story/Media)

Dec 14, 2014

Troupe 0476 IE's Comepetion

(Story)

Dec 14, 2014

CGPA 8th Graders Dissect With Seniors (WARNING: Graphic Content)

(Media)

Dec 10, 2014
Dec 04, 2014

Gables Players Tie Dye

(Story)

Nov 21, 2014

Senior Baseball Players Sign with Colleges

(Media)

Nov 19, 2014

Estudiantes de onceno grado, aquí tienen la información que necesitan para su viaje a Busch Gardens.

(Media)

Oct 28, 2014
Oct 17, 2014

Our True Color: Pink

(Media)

Oct 02, 2014

Tri-M Coffee House

(Story)

Sep 28, 2014

As Far as Traditions Go: Homecoming 2014

(Media)

Sep 25, 2014

Three Ideas to Get a Date to Homecoming

(Media)

Sep 09, 2014

Piggy Bank Campaign

(Story)

Sep 02, 2014

Meet the CAP

(Story/Media)

Jun 05, 2014

What Is In a Name: Vanya and Sonia and Masha and Spike

(Story)

May 28, 2014
May 04, 2014

Prom – An Ending to a New Beginning

(Story)

May 04, 2014

[Gallery] Prom: An Unforgettable Night

(Story/Media)

Apr 10, 2014

Break the Silence!

(Story)

Apr 06, 2014

Thespians Take States

(Story/Media)

Mar 13, 2014

Gala Night's Success

(Story)

Mar 07, 2014

The IMPROV-ement Show

(Story)

Mar 04, 2014

Gala Night: Cooking For a Cause

(Story)

Mar 03, 2014
Mar 03, 2014
Feb 26, 2014

Rotary Art Festival

(Story)

Feb 26, 2014

Striving in Her New Home

(Story/Media)

Feb 17, 2014

Traveling the World One Step at a Time

(Story)

Feb 10, 2014

How To Reject A Valentine

(Story)

Jan 27, 2014

From Out of This World

(Story/Media)

Jan 23, 2014

Girls to Guys: A Mixed Formula?

(Story/Media)

Jan 13, 2014

7 Ways to Stay Sane

(Story)

Dec 24, 2013

Feeling The Gym Blues?

(Story/Media)

Dec 23, 2013

Debate Competiton

(Story/Media)

Dec 18, 2013

All Hail Mr. Coral Gables

(Story)

Dec 16, 2013

Every Person Blood Runs Red

(Story/Media)

Dec 14, 2013

Troupe Performs at Annual Showcase

(Story/Media)

Dec 03, 2013

Coming Soon to an Auditorium Near You

(Story/Media)

Nov 27, 2013

Take Me To A Dark World

(Story)

Nov 08, 2013

Contestants Out For The Posse

(Story/Media)

Oct 28, 2013

Coral Gables' Ally Week Aims to Raise Awareness for LGTB Bullying

(Story/Media)

Oct 24, 2013

Free To Be Me: Gable's GSA

(Story)

Oct 14, 2013

United Way Collections

(Story/Media)

Oct 03, 2013

Budget Cuts: Fact or Fiction?

(Story)

Sep 22, 2013

Twelve Years After The Tragedy

(Story)