De vuelta a clases
El comienzo de un nuevo curso escolar es un evento único para todos los estudiantes. En Coral Gables Senior High tanto las nuevas caras como las viejas se sienten emocionadas con el principio del que será un fabuloso año para todos.
Grandes expectativas, sueños y aspiraciones acompañan a muchos de nuestros alumnos. La gran mayoría vienen cargados de nuevas e innumerables metas, y explícitos objetivos académicos,
"Quiero obtener buenas calificaciones, subir mi GPA, esforzarme al máximo y hacer de este último año en Gables algo único," dijo la estudiante de duodécimo grado Elisa Tano.
El primer día de escuela, sin embargo, no solo provocó entusiasmo y felicidad en la multitud; muchos demostraron su afán por las vacaciones y sus deseos irresistibles de que estas no tuvieran fin,
"Hoy acaba de empezar el colegio y ya extraño mis vacaciones," dijo el alumno  de  duodécimo  grado Julio Leal.
Los estudiantes de noveno grado comienzan a formar parte de la gran familia de Gables y adquieren el espíritu festivo y jubiloso de los viejos alumnos. A pesar del proceso de adaptación a las condiciones del colegio, los horarios, números de clases, tráfico entre cambios de periodo, entre otros inconvenientes, los llamados "freshmen" se sienten orgullosos de ser "cavaliers" y de representar el inmediato futuro de la escuela.
Los deportistas y miembros de asociaciones dentro de la escuela vistieron el lunes 18 de agosto del 2014 sus respectivas camisetas, representando así a su equipo. Las coronas de los futuros graduados de doceavo grado le daban un toque de energía y viveza al panorama.
"Feliz se queda corto. Llevo esperando 3 años con ansiedad, para usar esta corona," dijo el estudiante de duodécimo grado Igor Oleada
Los "seniors" de Gables, apasionados e impetuosos, se proponen dejar huellas para ser bien recordados. Con solo 10 meses por delante para un cambio de vida total, ellos se enfrentan a todo para hacer memorable su paso por Gables.
Después de un extenso primer día, no queda más que disfrutar los próximos 10 meses de curso, aprovechar eficientemente cada minuto y hacer de este curso escolar 2014-2015 un momento inolvidable.
About the Contributor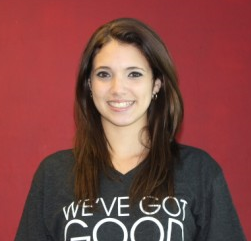 Monica De Varona, Staff Writer
Monica De Varona is a senior in the Visual and Performing Arts Academy at Coral Gables Senior High. She is a very persistent girl and is willing to give...