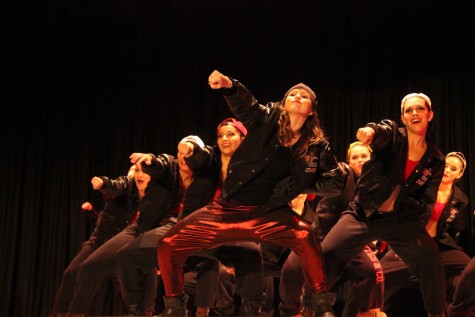 Camilo Bacca and Sophie Feinberg

May 1, 2015
April 30 was more than a typical night at Gables; that night, the National Champion Gablettes held their final show of the year, the Gablette Revue. With the show being the last performance for the seniors, they shared bittersweet emotions as they reflected on the show and their years on the team. Gablette Coach Ms. Mo Marmesh will be leaving Gables this year, so other seniors had some words for next year's dancers. Senior Allyssa Dobkins added more. Finally, they described what being a part of Gablettes was like. Another senior described the experience in a different way. At 6:30 p.m., the audience gathered to watch the team begin the show as Master of Ceremonies (MC), senior Alexander Duran, introduced the first dance, High School Musical, performed by the seniors. Performances continued with Drop the Game by the juniors, Hanging Tree by the sophomores and Youth by the freshman. The night featured more than 40 dances including those by other dance classes, the Gablette Groupies, the Gablette sweethearts, Sistas with Attitude (SWA) and Gables' Bhangra. Special and emotional moments included the captain's speeches and solos, the Senior Walk and a dance through memory lane. As the night came to an end, tears flowed as seniors ended their last dance. ...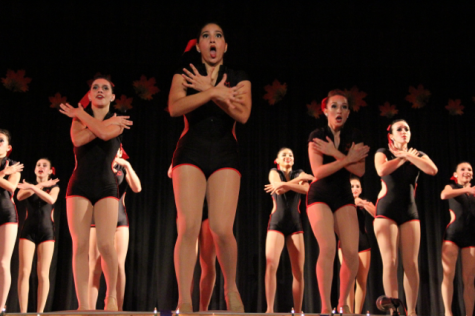 Kelsy Pacheco, Albany Muria- Editors and Camilo Bacca- Photography Editor

November 26, 2014
The annual performance show Fall Frolics took place on Nov. 25, 2014 at 6:30 p.m. in the auditorium. As the lights dimmed and all eyes were focused on the stage, the show finally began. After long hours of practice and hard work, dance groups such as the Gablettes, Bhangra and featured dance classes were ready to take the stage. The show kicked off with a performance by the Gablettes, dancing to 'Must be Love', followed by a Color Guard ensemble to 'Feeling Good'. The senior Gablettes then performed, consecutively followed by the remaining grade levels. "We started working on the techniques since June. Since August, we have been practicing our routines one at a time. Everyone does their part and even though we had to make a few changes everyone came together at the end," senior Allyssa Dobkins said. One of the most loved performances of the night was by the Gablette Groupies dancing to 'We Got the Beat'. The groupies had everyone in the crowd pumped up and ready to cheer on the Gablettes in their next performance. The 3rd and 4th year Gablette members went on with the show and then it was followed by the 1st and 2nd year members. Next up, was Gables' newest Indian dance team: Bhangra, which was recently initiated by sophomores Bhargavi Pochi and Guneet Moihdeen, in hopes of expanding the Indian culture throughout the school. "Bhangra completely blew me away, I have seen them practi...