Angie Lopez: Princess of Poetry
After much practice, student and poet Angie Lopez will be featured in Miami's 10th Piano Slam.
On Feb. 28, the critically acclaimed Piano Slam will be back for its tenth installment in the Adrienne Arsht Center. The Piano Slam has had a long tenth year history of showcasing student poetry and classical music. This year, there is a strong lineup featuring the Trivella Piano Duo, DJ Cardi, and the school's very own Angie Lopez.
The Piano Slam was founded by Carlen Sawyer, executive director of the Dranoff International 2 Piano Foundation and former vice president of the Boys and Girls Clubs. The competition was created with the goal of getting students to listen to classical music, a genre unpopular among teens. Sawyer initially tried to boost classical music's appeal by putting on professional concerts in schools. While this did indeed increase the appeal of Beethoven, Bach and Mozart, Sawyer wanted to achieve a deeper connection. The result was a competition where students would create poems inspired by classical music, and finalists would share them on the Knight Concert Hall.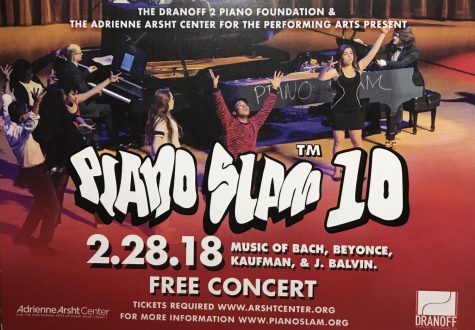 As one of these finalists, junior Angie Lopez will be performing her original poem, which she feels is one of her best.
"Everytime I write, I feel pretty satisfied," Lopez said. "I believe that I get better every time!"
Lopez had first heard about piano slam last year, but decided to submit her poem this year after encouragement from the school's acting teacher Ms. Barrow. As a finalist, she has been attending workshops with professional poets provided by the Dranoff foundation to perfect her performance. While there is no doubt the workshops help Lopez improve, she is hardly an amatuer when it comes to the world of poetry. Lopez has been writing poetry since the age of 12, and is currently a member of the school's literary magazine, Catharsis. As for her chances of winning, Lopez feels confident, but does acknowledge the tough competition.
"I feel like I have a fighting chance… but there are definitely some very strong writers" Lopez said.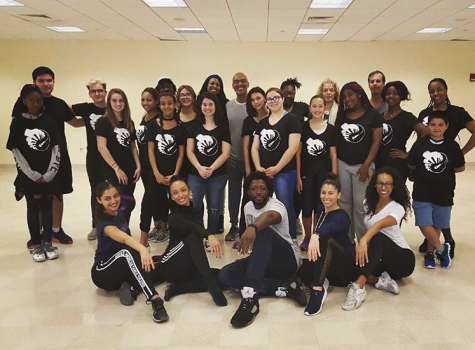 Piano Slam Contributor
Lopez adds that Piano Slam is a completely free event, and encourages students to go and support the event. Although there is only one gables' representative, it is still an amazing opportunity to introduce friends to the world of poetry and music.
Piano Slam's importance in developing interest in music and letting students such as Angie Lopez shine will likely make the event a staple tradition in Miami for many years to come. Superintendent Alberto Carvalho has even supported performances for inspiring many students' musical passions. There is only one disappointing thing that comes to mind when talking about Piano Slam, and that is that Miami will have to wait an entire year to see it again.