Veering into the mindset of a volleyballer
In preparation for a game, the Girls Volleyball team adapts certain habits to be ready for whatever the opposing team spikes at them.
While playing in games, the girl's volleyball team is known for their spirit and positivity, always trying their best not to be discouraged. Their optimistic attitudes have left many wondering how they can be in constant high spirits. The answer lies in their pre-game rituals, which set the stage for their success before a match.
On the bus ride to games, the girls like to listen to their favorite music to shake off any nervous jitters. Songs like "Stronger" by Kanye West, sophomore Celina Richardson's personal favorite, are perfect for boosting the girl's confidence before a game. 
"When I enter the gym, I'll find a nice spot, put my hoodie up, listen to music, take a nap on the court and do that to relax," Richardson, a right-side hitter on varsity, said.
Once they enter the gym, though they have hours to go before the game starts, the team uses this time to their advantage. When playing at a different school, the most evident thing to do is explore. The girls walk around, make TikToks, visit the vending machines and overall familiarize themselves with the place they will be competing in. 
When asked if there's anything in particular done before a game, senior and co-captain of the varsity team Julie Maldonado emphasizes manifesting her way through.
"I tend to have my crystals in my backpack and I tell myself 'Don't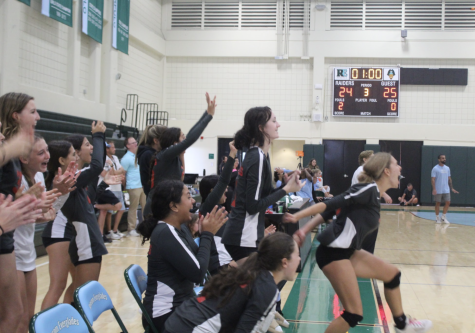 embarrass yourself,' as words of encouragement to myself," Maldonado said.
Before they put on their knee pads and shoes, the players initiate the ritual of styling each other's hair, ranging from a high ponytail to a low braid. The captain of the JV team, freshman Lucia Rodenberg, favors getting her hair braided into a low ponytail by freshman Corina McDonal. Throughout all these steps, the Cavalier girl's volleyball team prioritizes getting into a positive mindset. 
Regarding their attire for the games, in addition to their sleek jerseys, the girls add their own touch to their uniforms. Many of them wear their self-proclaimed "lucky socks" on game days, with Rodenberg revealing she prefers Under Armour ankle socks; other girls prefer Under Armour high socks.
"I prefer black Nike mid-fits because they are not too short to where they bother my ankle but not too long to where they bother my knee pads or anything shoes," sophomore outside hitter on J.V. Valentina Tomas said. 
To play well, the girls cannot function on an empty stomach and much less if they do not fuel themselves with their favorite foods. Most of the girls have an energy or protein bar while others eat candy for a sugar boost. Freshman Elizabeth Hardie, libero of JV, likes to bring a thermos of pasta and is one of the only girls who brings prepared food. 
"For games I usually have chocolate chip Clif Bar and lemon-lime Gatorade," Rodenberg said.
Their first game of the season was against Ransom Everglades High School on Aug. 24. Entering the Ransom gym, the atmosphere was lively and left the team excited to kick off their season, with music motivating players for their respective matches. The J.V. team played first, so they began their typical "peppering," practice, where two or more players pass the ball to each other and try to keep it going without losing control. Both teams do this thirty minutes before a game, along with, stretches and serving drills.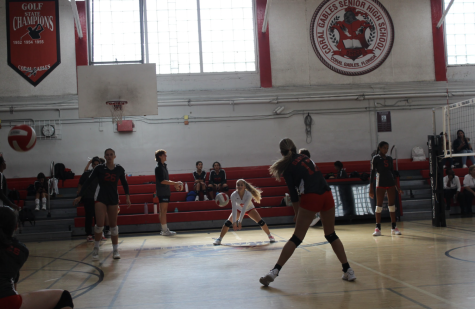 Once they are on the court, they began a very important tradition,  the chants that they shout to support their teammates . When a game starts and an athlete from
Gables goes to serve, their teammates chant "Serve it up (name of server)! Serve it up!".When the opposite team could not receive the serve correctly or didn't attempt to receive the ball, it is called an ace, where the team shouts, "Ace, RELOAD!" Another chant is when a timeout is called from the other team, in which the girls will say "T-O OH OH OH."  When the other team is serving and the girls want to make them nervous, a popular way to do so is by shouting "S-I -S-I-D-SI D-E-O-U-T, " which is "side-out," otherwise meaning serve out/ miss the serve. If a player on the opposing team hits the ball twice or if the ball that the setter sets spins, Gables will shout "Double Trouble!"
In the end, the girls hustle and have good rallies, whether they win or lose, they always celebrate and encourage each other by regrouping into a circle. Feeling like they are a well-rounded team, the girls are awaiting an amazing season and hope to go to districts.
Leave a Comment
Your donation will support the student journalists of Coral Gables Senior High School. Your contribution will help us cover our annual website hosting costs.
About the Contributors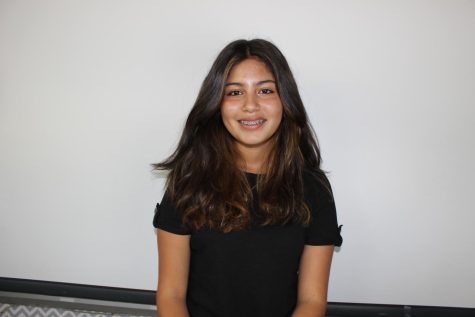 Sela Pena, Highlights Newsmagazine Staff Writer
Sela Pena is a sophomore in the IB program at Coral Gables, this is her first year in the publication. She loves being involved in school, and looks forward...