A Rock Star Rookie: Patricia Passwaters
Patricia Passwaters, one of the rookie teachers of the year, expresses her joy of receiving such an honor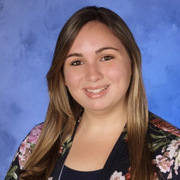 Within and out of the classroom, teachers often spend hours educating their students and ensuring that they get the best quality education. As a result of such performance, there are many awards that recognize those who prove their excellence in the field of education. At Gables specifically, the Teacher of the Year award is given annually to two teachers who have demonstrated such distinction and dedication toward helping their students. The Rookie Teacher of the Year is given during a teacher's first five years in the classroom.
            Recently, Language Arts teacher Patricia Passwaters was awarded the Rookie Teacher of the Year distinction, as she has shown nothing but determination from when she started working at Gables in 2019. Passwaters is part of the Communication, Arts, Film and Digital Media (CAF&DM) academy. Along with overseeing CavsConnect and CavsTV, which are two of the many publications Gables has to offer, Passwaters also teaches English 1, Critical Thinking and Research. Additionally, Passwaters is an alumni of Gables, being a part of the graduating class of 2014.  
            "I didn't initially take an interest in studying education, but I always knew that I wanted to be a teacher, [where I would eventually] come back to teach at my alma mater," Passwaters said. 
            While attending Gables, Passwaters was always surrounded by a great support system, which is something she continuously attempts to do for her students. As an educator, she believes that the most important thing is to be compassionate and understanding toward students.  
            "My teachers were always there to guide, encourage and inspire me," Passwaters said. "It's important to have set rules that students should follow during class but the most important thing is to let them know that I am on their team and I want them to succeed."
            Being able to teach at her alma mater, Passwaters always feels secure and comfortable.  
            "Gables has been in my family for a long time. My mom, uncles and cousins all graduated from Gables, therefore I decided to attend. Soon enough, it became my second home," Passwaters said. 
            As a teacher, Passwaters is constantly eager to wake up in the morning and teach her students. 
            "My favorite part [of teaching] is the people," Passwaters said. "I mentioned that as a student, I had a great support system. As an employee, that support system has only grown." 
            Although Passwaters had many difficulties in teaching within her first year, as she did not have the initial internship experience many teachers have, she was able to overcome those challenges and become the educator she is today. 
            "My first year I was a substitute for a teacher who had left on maternity leave. Everything was a learning process, but I had amazing co-workers who were always there to guide me," Passwaters said. 
            Throughout these experiences and learning opportunities, Passwaters was able to improve herself as a teacher, leading to her winning the Rookie Teacher of the Year. 
            "I felt extremely special that Mr. Costa was the principal to hire me because he was my principal and was able to watch me grow," Passwaters said. "I felt like this just made it all more special."
View Comments(1)
Your donation will support the student journalists of Coral Gables Senior High School. Your contribution will help us cover our annual website hosting costs.