The dashing Dasher & Crank
Wynwood ice cream shop Dasher & Crank is filled with eye-catching flavors, along with its enduring backgrounds.
The trendy and vibrantly designed Dasher & Crank is an ice cream shop located in Wynwood that offers exquisite ice cream flavors and a great time.
"The story behind the shop's name is representative of their incentives: 'Dasher' reflects creativity, as they rotate their flavors weekly," Manager Simone Ricci said. "While 'Crank' demonstrates to their customers that they crank their exotic flavoring every so often into something more exciting each time."
"The art and color coordination attracted me instantly once I walked into the shop. Dasher & Crank is very Instagram worthy with a chill ambiance, we even provide board games for all to make it a cozier comfortable space for everyone," employee Astrid Garcia said.
The shop accommodates customers who are vegan and gluten-free.  Many prefer to use almond milk, coconut or soy in their ice cream flavors. Almost all flavors are made with their famous coconut milk base from Thailand. Due to growing health trends, Dasher & Crank tried expanding that industry for a wider audience, yet still kept basic flavors like chocolate with cow milk and cream for those who don't like coconut milk either.
 Additionally, the shop delivers on its continuous mission to expand one's flavor palette, offering flavors such as "Yoko Matcha," "Ube," "Coco Mocha Chip" and "Salty Beach." To top off, the unique toppings options include graham crackers and even sea salt which is added in the "Salty Beach" flavor. 
The owner Daniel Levine wanted to make sure the vividness of the ice cream was reflected in all shapes and forms in Dasher & Crank. The shop has a photo-friendly aspect to it. There's a wall with the background of unique art structures like colorful wings to stand in front of, two main walls with pure graphical designs, and walls filled with graffiti by the matcha bar. 
"Dasher and Crank is unique besides its exotic ice cream flavors due to it being unconventional. It's not just considered an ice cream shop, it is a huge place to rent for parties, has a coffee and matcha bar, and its unique details overall," manager Simone Ricci said.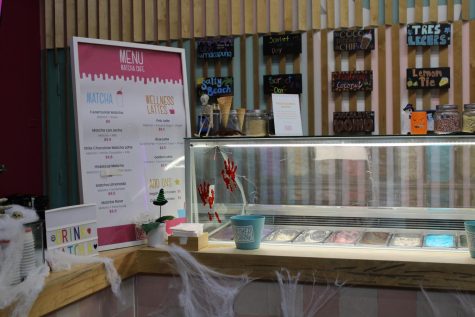 Dasher & Crank also serves many teas and drinks, as they offer a matcha bar inside the store. They have all sorts of matcha lattes such as hibiscus matcha lattes, white chocolate matcha lattes, and specially infused wellness lattes involving syrups such as beetroot, butterfly pea, and turmeric which all provide antioxidant benefits. 
 Service options include cups, cones up to three scoops, ice cream sandwiches with their own cookies, pints, sundaes and shakes all being available for reasonable prices. The drinks are priced between $7 to $10, and all ice creams are between $5 to $6. As they have new flavors weekly, the shop creates smaller batches of each flavor to ensure quality and avoid being wasteful.
Dasher & Crank's different options overall expand the horizon of what an ice cream shop can be. Whether it be through its unique flavors or the notable setting it's definitely the place to be.
Leave a Comment
Your donation will support the student journalists of Coral Gables Senior High School. Your contribution will help us cover our annual website hosting costs.