Fun times in the Fundimension center
A unique entertainment experience for people of all ages where creativity and imagination, meet interactive games and attractions for parents and children to share a day of fun together.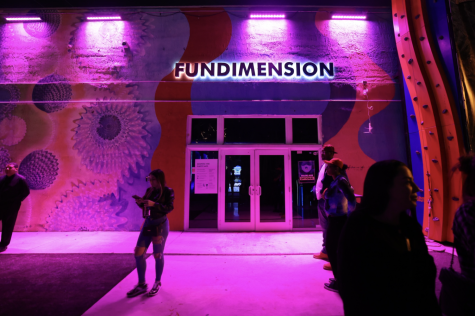 The Fundimension amusement center was built with the idea of combining entertaining and engaging attractions for families of all ages and sizes. Offering a variety of arcade and indoor playgrounds games made for all ages. The complex was originally created five years ago by Joyce Frohman who saw how much her son Vary  enjoyed going to arcade games, but was frustrated that there wasn't a place that combined arcades with more physically engaging games. 
    Located in Wynwood, 2129 NW 1st court Miami, FL 33127, the Fundimension amusement center is home to different arcade games.
     "The business is working really well, people from different parts of the world come here," Giselle the manager on site said.
The center is very reputated and attracts visitors from all around the globe. She also said, "The space is especially busy during the summer, end of the school year, and during the school breaks". Looking to escape the stress of school, students are usually found there spending time with their friends.
     The points you earn from game play are called tickets and will be added to a redemption card offered at the entrance booth. It works as unlimited money on a game card. Tickets can be won on any arcade game and can be used to buy prizes. The more you have, the bigger the prize. You can either pay for unlimited hours of game time, but it does not include tickets. There is no need to reserve, just walk in and have fun!
     Start by the virtual reality arcade where more than 20 adventurous games await. The arcade's most recent addition: "King Kong skull island" is perfect for those who love virtual reality as players can experience what it feels like to be in the world of Kong and discover all the animals and exotic plants that live there. The price ranges from $6 for three minutes to $13 for three games in a row. 
     Furthermore, thrill seekers can move on to discover the ax throwing lanes. Sessions are between one to three hours long, which include lessons from professional throwing coaches. It is possible to book online and reserve your spot to ensure availability. As this activity books very quickly
The most popular attraction at Fundimension is the laser tag space. Even with an amassed popularity, it still has a very short line. area for all ages allowing players to enter a world of fantasy, the center offers a 3,500 square foot high tech arena with music, fog, LED lighting, special effects and best of all, laser guns. Rush behind fantasy pillars, from level to level, and through the enemy territory in order to attack their base. A physical and intellectual challenge, FunDimension ensures their players are equipped to have fun and escape reality. The first game is priced at $9, while costumers and play three games for $21. 
     When organizing a birthday party or even an axe throwing party, reservations are possible and encouraged to ensure the best experience. As a apart of their package, customers are given a separate room to spend their birthday in privacy. It is even possible to rent an area and host a party or private event.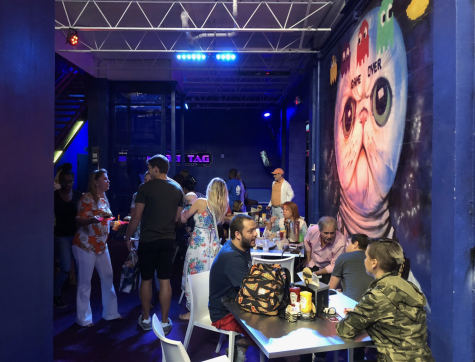 The FunDimension also offers summer camps, no-school day camps, field trips, charity, and fundraising events. It is best to go there during a day off or weekend and experience the wonders of an amusement center at its finest. 
      Once all the activities are over, the restaurant, The Galley, is a dining spot in the complex, which serves delicious food. For only a small price. For example: a water bottle cost $1 and a soda $2. The Galley also offers comfortable seating, free Wi-Fi and a large screen TV . The result is a boutique-style indoor family entertainment center with delicious food, sodas, and lounge all in one. 
Leave a Comment
Your donation will support the student journalists of Coral Gables Senior High School. Your contribution will help us cover our annual website hosting costs.