Holiday Recipes
These recipes will certainly bring the holiday spirit into your home!
Want to read more about holiday recipes and activities? Make sure to click here to read highlights issue 3, volume 61 where more information can be found.
Pecan Snowflake Cookies
Ingredients:
1 cup pecans

1 cup confectioners' sugar, divided into ¾ cup and ¼ cup

1 cup (2 sticks) unsalted cold butter, cut into small pieces

1 tsp. pure vanilla extract

2 cups. all-purpose flour spooned and leveled, plus more for working

½ tsp. kosher salt

½ tsp. ground cinnamon
Instructions: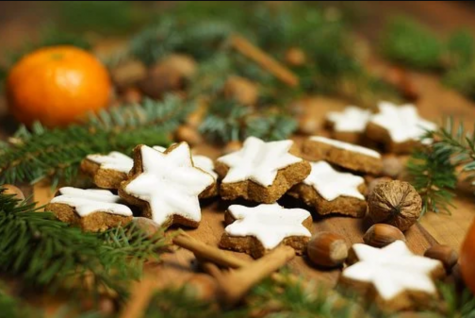 Preheat the oven to 350°Fahrenheit.

Line two baking sheets with parchment paper.

Pulse pecans and ¾ cup of confectioners' sugar in a food processor until finely ground, about 10 to 12 times. 

Add butter and vanilla. Pulse until smooth, about 14 to 16 times. 

Add flour, salt and cinnamon. Process until combined. 

Remove the dough and place it between two pieces of parchment paper, dusted with flour.

Roll the dough between parchment paper to ¼-inch thickness. 

Place the dough in plastic wrap dusted with flour and close tightly.

Place the dough into the freezer to chill until firm, 30 minutes or keep it in the refrigerator for up to two days.

Once the dough is done chilling remove it and place it onto a floured surface.  

Using a floured snowflake-shaped cookie cutter, cut out cookies and place on prepared baking sheets, spacing 1 ½  inches apart. 

Bake until lightly golden brown around the edges, (approximately seven to 10 minutes). 

Cool on baking sheets then transfer the cookies to wire racks. 

Dust with the remaining ¼ cup confectioners' sugar.

Serve and enjoy!
Spiced Cashew Brittle
Ingredients: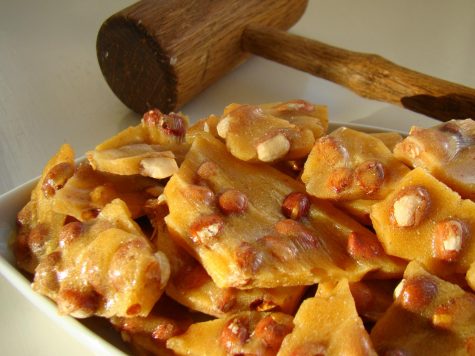 1 ½ cups whole raw cashews 

1 cup of sugar

½ cup light corn syrup 

1 stick unsalted butter (cut into tablespoons) 

¼ cup of water

½ teaspoon baking soda

¼ teaspoon cayenne pepper
Instructions:
Preheat the oven to 325°Fahrenheit.

Spread the cashews on a small baking sheet and toast for 10 minutes, taking out halfway through and stir once. Keep the cashews warm once they are done toasting.

Line a rimmed baking sheet with buttered parchment paper.

In a saucepan, bring the sugar, corn syrup, butter and water to boil.

Cook over moderately high heat and stir until a deep amber toffee forms; approximately 10 minutes.

Remove from heat.

Whisk in baking soda and cayenne until it begins to bubble up.

Using a wooden spoon, stir in the warm cashews.

Pour the hot candy onto the baking sheet and with a spatula, spread it as thinly as possible.

Let the brittle cool completely and then break into large shards.

Serve and enjoy!
Chocolate Crunch Bark
Ingredients:
8 ounces bittersweet chocolate (finely chopped)

½ cups Rice Krispies or feuilletine
Instructions:
Line a baking sheet with parchment paper.

Set a heatproof bowl over (not in) a saucepan of simmering water, melt ⅔ of the chocolate.

Stir until the chocolate reaches 130°Fahrenheit.

Remove the bowl from the heat from and stir in the remaining chocolate until melted and the temperature drops to 85°Fahrenheit.

Return the bowl to the saucepan and warm the chocolate to 90°Fahrenheit, stirring.

Remove it from the heat.

Fold the Rice Krispies in.

Spread the mixture on the parchment in a ¼-inch-thick layer.

Let harden completely, then break into large shards.

Serve and enjoy!