Bon Appetite from Cafe Bastille!
Café Bastille serves a variety of Parisian inspired dishes perfect for every palate.
    Café Bastille brings Parisian cuisine to South Florida's doorstep. Starting off their journey by falling in love, Paris owners Benjamin and Estelle bought a preexisting small café. They decided to transform the original Café Bastille from a neighborhood favorite to a café more reminiscent of a Parisian style. This young couple's love story successfully flourished into one of Miami's hottest culinary establishments, and Café Bastille continues to satisfy its customers in an innovative yet authentic manner. 
     Café Bastille offers a Parisian style break from all of Miami's madness. Located at 248 SE 1st St., when entering the café, guests are immediately greeted with a warm and cozy atmosphere, co-owner Estelle said. With its warm tone, fairy lights and furniture in shades of green, it is hard not to feel welcomed. Every customer has the choice of sitting in a classic wooden chair or a comfortable green-toned sofa booth. This sense of being welcomed ties into why Café Bastille prides itself not by being a French restaurant but by serving comfort food the French style, server Laura said.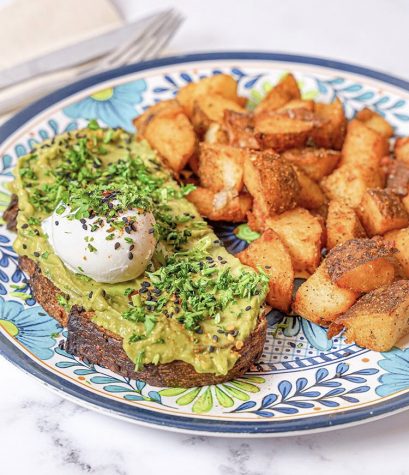 From its warm, flaky croissants to crispy avocado toast with perfectly poached eggs, Café Bastille has a dish for everyone. For those egg-lovers of Miami, Café Bastille has various styles of the egg up to offer that range from the Parisian omelette to the Bastille omelette with its delicious ratatouille and fresh goat cheese to eggs benedict. Additionally, the menu offers several other items, including the classic waffles, croissants, breakfast potatoes, seasonal fruits and numerous other foods.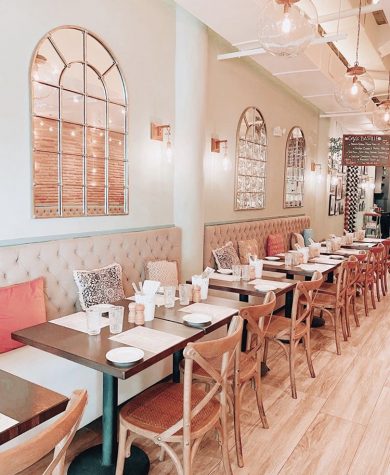 In addition to serving breakfast, a variety of different salads, burgers and pasta are offered. These  dishes range anywhere from Curry Chicken Alfredo ($17) to a Green Salad with Lemon Vinaigrette ($13). For people who prefer fish over meat, the Salmon burger is served alongside golden French fries and a salad.  As with other French restaurants, Café Bastille takes tradition very seriously. Indeed, among the plethora of crepes presented, the most popular include the Grande Bouffe composed of chicken, mushrooms and spinach, the Complete which contains country ham, Dijon mustard and a sunny side up egg and the Provençale, which contains ratatouille and sundried tomato pesto. 
     In the middle of fast-paced Miami, Café Bastille sits in all its glory to satisfy every civilian's need for Parisian cuisine. From fluffy egg omelets to crispy crepes, this café offers a variety of dishes and a diverse menu to fit one's cravings.
Leave a Comment
Your donation will support the student journalists of Coral Gables Senior High School. Your contribution will help us cover our annual website hosting costs.