The Potato Corner, doing potatoes the right way!
Whether it be French fries, tater tots or baked potatoes, there is something at the Potato Corner for all to enjoy.
     The bright fluorescent light covers every inch of the small Potato Corner Kiosk located in Southland Mall. Potato Corner's popularity is seen throughout the area, as one can spot numerous people admiring clothing items carrying their Potato Corner mini fry buckets. Whether hankering for curly fries or a baked potato, the Potato Corner satisfies any potato loving guest. 
      The menu at the Potato Corner ranges anywhere from  $5-11  for a full meal. The different fried potato forms that are offered include tater tots, curly fries, waffle fries, sweet potato fries, original fries and jojo chips. Thinly sliced, these special potatoes come in a variety of sizes, with jumbo being smallest, followed by mega and giga. The smallest of the sizes come out to be $5, whereas the largest cost $9. Once customers have decided on the shape and size of the fry,  picking a topping is next, ranging from barbecue, cheddar and chili barbecue, to garlic and parmesan. 
      For those seeking a healthier option, the Potato Corner  provides plates great for anyone wanting to maintain their diet. Baked potatoes, a crowd favorite,  can be served either plain or topped with sour cream, onion and chili cheese. The jumbo costs $5, mega costs $6 and giga costs $7.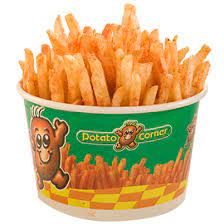 A range of chicken items are also available to order. The chicken tenders are the perfect combination of crunchy breading on the outside and soft, savory chicken on the inside. The chicken poppers are very similar to a popcorn chicken, bite-sized fried chicken with a delicious exterior. The bucket of wings is the perfect combination of sauce to chicken, the outside coated with tasty barbeque sauce and the interior a grilled chicken wing.
     "The fries are good with the chili barbeque… because I like spicy food," employee Ashley Perez said. "Most customers order the chicken combo with the traditional fry and medium drink." 
     Perez can be seen tending to both the customers and the fryer. She would talk to the customers, pour the requested fries into the empty fryer and set the timer as she went to take more orders or add the toppings onto the already warmed food items.
     "The menu items that interest me most are the bucket of chicken and the baked potato with chili cheese," senior Chase Weiner said.
     Walking by the Potato Corner, most people can be seen conversing with their family, eating and enjoying themselves. Be prepared to be left standing at times because of the lack of seating around the potato corner. Head over to the Potato Corner, and if possible bring the whole family; there is some potato form that everyone can enjoy.
Leave a Comment
Your donation will support the student journalists of Coral Gables Senior High School. Your contribution will help us cover our annual website hosting costs.