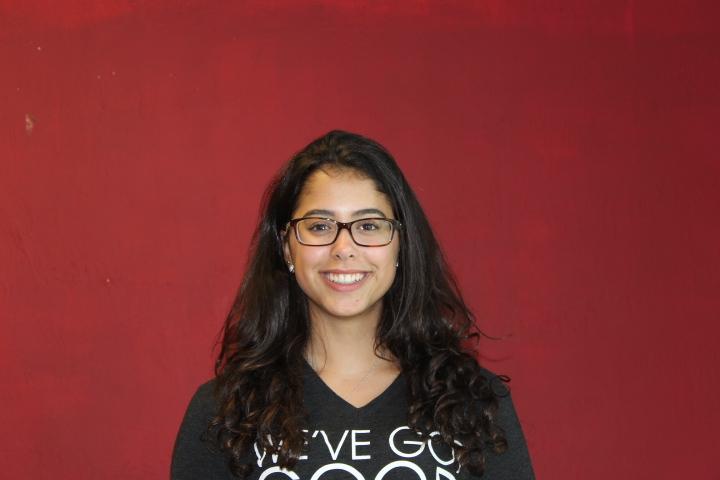 Finally considered a part of the IB family, junior Karla Santoyo always reaches for the gold. She plays an active role in in the newest club National Spanish Honor Society as historian along with being bulletin editor of Key Club. Her strong-willed dedication is what makes her who she is.This year her goal is simple: balance all oh her plate equally yet effectively.
At first glance, you'd see a girl with her head held high, books in hands, and with the typical glasses, but if you were to take the time to know who she was, her unique personality-full of sarcasm and very vivacious-is what gives her a different outlook as a person.
Karla has a love for adventure and is always optimistic. Aside from her annual trips to the extravagant Caribbean island of the Dominican Republic, she's also traveled to the city that never sleeps (NYC), the capital (D.C), and even went to visit the David by Micheangelo.
She enjoys listening to music and spending time with her family and friends. In addition, she has a hobby of photography because she believes those precious moments are worth capturing. For her, pictures recreate those feelings and that moment once lived.Concealed is Karla's passion for dancing.Since the age of 5, Karla has been enrolled in over three variations of dance ranging from the elegant and graceful form of ballet to the spicy Latin style of merengue.
Always with a smile on her face,she believes laughter will always be the best medicine.When things turn sour, add a little sugar to make it sweet.
Further interested? Have any questions? Feel free to leave message at
[email protected]
Karla Santoyo, Editor-in-Chief
Apr 27, 2015

Class of 2015 Enjoys Their 'Night to Remember'

(Story)

Apr 04, 2015

NSHS: Representing Hispanic Culture

(Story)

Mar 01, 2015

JROTC Drill Team Aims for the Top

(Story)

Feb 18, 2015

Athlete of the Week: Anthony Valdes

(Story/Media)

Feb 14, 2015

Prosthetics: One Step Closer to Reality

(Story)

Feb 03, 2015

Interesting Cars On Campus

(Story)

Jan 19, 2015

"How Do You Go About Voting?"

(Story)

Dec 10, 2014

Transgender Acceptance

(Media)

Dec 09, 2014

Science Enters a New Level of Stability

(Story)

Dec 08, 2014

La feria del libro

(Media)

Dec 04, 2014

The Key to Service Awaits

(Story)

Nov 12, 2014

Conquistando la capital

(Story)

Oct 28, 2014

Behind the Scenes: Our New MC

(Story/Media)

Oct 11, 2014

Wrong Place, Wrong Time

(Story/Media)

Sep 21, 2014

Interested in Joining Key Club?

(Story)

Sep 12, 2014

Update: College Tour

(Story)

May 25, 2014

Calls For a Celebration

(Story)

May 22, 2014

A Donation to Science

(Story)

Apr 13, 2014

Un día lleno de diversión

(Story)

Apr 04, 2014

The Fair! Be There!

(Story/Media)

Feb 28, 2014

What Is A Cavalier? As told by Patricia Passwaters

(Story)

Jan 16, 2014

War of the Tablets

(Story)

Nov 30, 2013

La tormenta se acerca

(Story)

Sep 30, 2013

La feria de los clubs: regresa mejor que nunca

(Story)