JROTC Drill Team Aims for the Top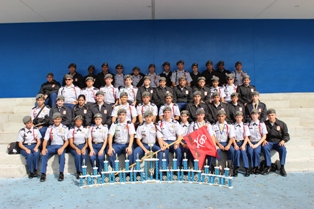 The JROTC Drill Team placed second overall at the Miami Northwestern Drill Meet on Feb. 21. They beat out 17 other schools by taking home 6 first place trophies, 2 second place trophies and 6 third place trophies.
"Since the beginning of the year, they really have evolved. They beat various schools that we had been in competition with. Our next step is to go to the state qualifications at North Miami Beach Senior High School in order to make it to the next level," Major Vidal Chavez said.
With the routine already set, Gables' distinctive drill team has been practicing everyday since its last competition. While competing, cadets are required to execute military movements with extreme precision; fidgeting can easily cause judges to deduct points. When practicing, the team members mimic competitions because they believe that is the most effective way to get prepared. Without wasting a single second, they plan to achieve a placement that would allow them to qualify for states: first place, that is.
"I'm doing practice as you compete, which means that we do a full run-through with no laughing and everything serious. We are working on perfecting, doing everything over and over again until we get it together, it looks sharp and is perfect," senior Alexis Cutler said.
In order to perfect their movements, the team must fix every single flaw at hand. Team members admitted that some of their greatest weaknesses were taking practice seriously and trusting each other at competitions. Despite this, the team still succeeds when competing.
"The only way to excel at the state level is to make sure our practice is perfect. But with a little faith, and a lot of hard work, Gables is number one again and it's going to stay that way for a while," senior Battalion Commander Anthony Amador said.
State Qualifications, the last drill meet of the county, will be on March 14 at North Miami Beach from 8:00 a.m. to 2:00 p.m., and Gables' JROTC will easily make it through. With loads of practice under their belt, the team is expected to do extremely well and attain high qualifications to make it to States.
The following students received trophies at the Miami Northwestern Meet:
1st Place:
David Beltran
Jose Cardenas
Jason Gomez
Elizabeth Espina
Alexis Cutler (x3)
2nd Place:
Manuel Garcia
Jason Gomez
Ana Garcia
3rd Place:
Moises Romano
Alfredo Ballester
Stephanie Bermudez
Maria Quiroz
Alexandra Reyes
Alexis Cutler
Ana Garcia