The Fair! Be There!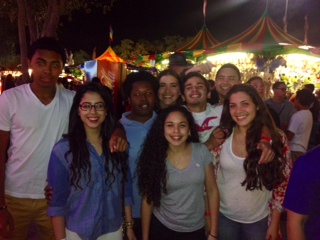 Rate:B-
Turkey legs, cotton candy, and carnival games all leading up to that huge teddy bear you are forced to drag once you win -oh and let's not forget the clowns- become a part of the fair. An amusement park always needs its circus around that leads up to those lines of laughter. This fair is simply one of a kind; it brings together not just the traditional circus and magic acts, but in addition has various expositions laid out full of creative projects. Containing various exhibition grounds, it's still packed with the stinky zoo and the mouth-watering fat food along with the exciting thrill of hundreds of rides.
Miami-Dade's Fair & Expo Center once again was a great success in bringing joy to the public. Open from March 13-30, the fair becomes that two-week event you need to experience at least once a year. With over 86 acres, the fair comprises of livestock competitions, live concerts, the circus as well as the zoo, and even some blockbuster shows. However, the immense size of the fair seems to dissatisfy some people.
"I thought it was so big it became uncomfortable and contained huge lines. The atmosphere was nice itself, but nothing out of the ordinary," sophomore Barbara Jimenez said.
It is not only a fun experience for all ages, but also a great way to spend time with friends, which means not hanging out in the usual place. This amusement park is seasonal, which becomes one of the contributing factors to its high attendance rate. The fair as well as any other place in the city is a way to create lasting memories.
"I have an unforgettable experience every time I go, and it's a thrill to know that it comes back every year," senior Gretchen Joan said.
Although there seems to be a various array of rides, in reality there are numerous rides with similar focus and different names: those that drop instantaneous and those that spin. The delicious food will always be an important staple of the fair. It ranges from mouth-watering treats of candy apples to meaty sausages and curly fries.
"My favorite part [of the fair] will always be the warm, soft, sweet, and delicious cinnamon buns," freshman Mariam Ahumada said.
The delectable food, the electrifying rides, the artistic expositions and the unforgettable memories are definitely perks to keep in mind when next year's Fair Expo comes around.
Address: 10901 SW 24 St • Miami, FL 33165
Prices:
Genral Admission: $12
P*O*P (Pay One Price) Unlimited Ride Cards :Monday-Sunday $25 online only, Monday-Friday $25 at the Fairgrounds, Saturday-Sunday $35 at the Fairgrounds.
For more information, visit here.