Interesting Cars On Campus
Driving becomes a priority when trying to get around the city, and after the average teenager gets their permit, they are just a few steps away from getting their license. The need to buy your own car and become a fully independent adult approaches quickly for high school students. Cars vary from manufacturers to style to interior design; it all depends on the driver's taste.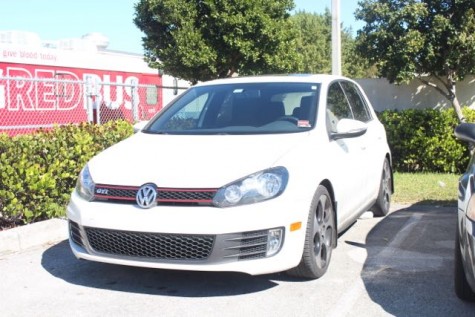 Senior Guillaume Lecocq is the proud owner of a Volkswagen GTI 2010, a perfect fit for rally racing, which he plans to dedicate his time to in a few years. This 4-cylinder, 2.0 L turbo with a manual transmission guarantees a smooth ride. Although driving stick shift can be a disadvantage in times of traffic, the Volkswagen GTI has great performance and handling for sharp turns.
"The car can be described as nervous, comfortable and awesome. Nervous because it's like a ticking time bomb that will do anything right when asked, such as taking a tight turn or something," Lecocq said.
Our Rating: B+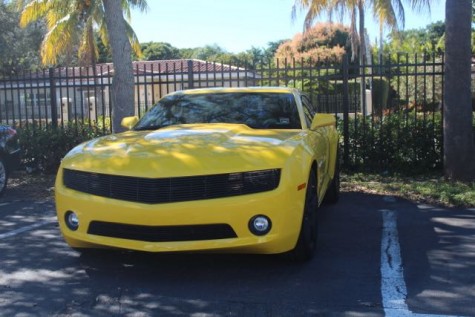 The transformer copycat, Bumblebee, shines bright as it sits in the student parking lot. Senior Nestor Justiniani adds some spice to the manly beast by blacking out the windows and personally attaching an aftermarket T-Rex Billet Grille. Although the blind spot may be a major issue, this V-6 automatic has 6 speed manual paddle shifters to best control the car's speed. Due to the car's antique yet sporty design, style points are boosted.
"Back in 2011, I thought the Camaro [was the right fit for me] because of the Transformers movie that had just come out and I had really liked the sporty look," Justiniani said.
Our Rating: A-
"Yes, her name is Bertha because she is very loud and can eat almost anything in her path," senior Elihu Diaz said.
Although this model is from 1991, Bertha can be described as a strong independent woman. She proudly demonstrates her dominance above other cars mainly through her wheels, which are intimidatingly larger than the average. Bertha, a sports-utility vehicle (SUV), has a dark blue coat, removable top and even fold-down windshields. Jeep Wranglers are for those individuals who seek adventure and enjoy the great outdoors. Senior Elihu Diaz believes the best feature of his wrangler has to be the removable doors and roof.
"The lack of coverage while driving along the chaotic winds gives me a feeling of Y.O.L.O. and power," Diaz said.
Our Rating: B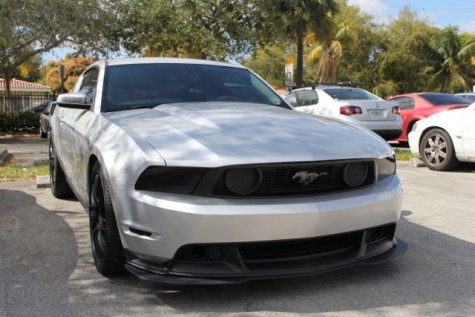 Senior Ryan Maya owns "bae" in brilliant silver with 410 motor horsepower. Both loud, fast and an iconic Ford lineup, the Ford Mustang has red leather interior seats that practically scream "Look at me!". Competing with his older brother's Dodge Challenger, Maya had to get a muscle car that was faster and stronger. Due to its V-8, this Mustang is always hungry for gas. With great comfort, aesthetics and aggressive looks, as well as a sound induction tube, this car is solely for those who have a passion for sports and are Mustang faithful.
"Driving with style is achieved through bae," Maya said.
Our Rating: A
Keep your eyes open for these stylish cars on campus! Maybe even take a tour of the parking lot; it's guaranteed that you'll find some interesting cars owned by our very own Cavaliers.