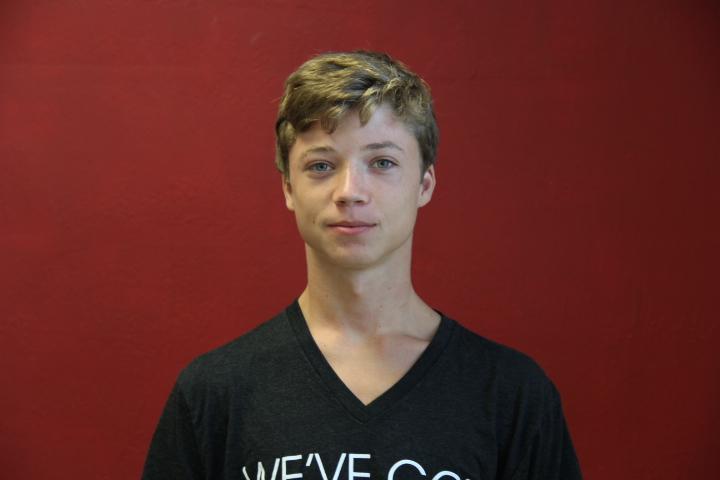 Bryce Scanlon is an adventurous CAF & DM junior at Coral Gables High School who can't wait to try new things and explore the world. He was born in Dorking, England and moved to Miami when he was in first grade. Since living in Miami, he has enjoyed the hot weather with his three siblings, his twin sister, his dog, cat, and hedgehog.
Since the beginning of his freshman year, he knew that he wanted to be involved in high school, and therefore became part of the school's swimming and water polo team, a member of student activities, and a member of the Support Our Sports club. As his year's in high school progress he wishes to become even more involved in extra curricular activities and maybe even take on leadership positions in some of them.
In his free time, he enjoys hanging out with friends and watching movies. When he grows up and has traveled the world, he would like to become a banker.
Bryce Scanlon, Photographer
Feb 03, 2016

Pick Your Favorite CAF&DM Door

(Story)

Jan 28, 2016

Is the PSAT Worth It?

(Story)

Jan 19, 2016

The Corruption of Child Soldiers

(Story)

Jan 19, 2016

Upcoming Tv Premieres

(Story)

Jan 19, 2016

Christmas Stocking Stuffer's

(Story)

Jan 19, 2016
Jan 19, 2016

Health Benefits of Tea

(Story)

Jan 19, 2016

Student Government Elections

(Story)

Jan 19, 2016

Surviving a weekend of $10

(Story)

Jan 19, 2016

Television Throwbacks

(Story)

Nov 20, 2015

Cavs Beat Out Explorers in Varsity Basketball

(Story)

Oct 26, 2015

Students Attend Ethical Governance Day Presentations

(Story)

Oct 17, 2015

Cavaliers Defeat Coral Park Rams, 42-0

(Story)

Oct 03, 2015

Gables vs. Miami High Homecoming Game, 30-0

(Story)

Sep 09, 2015

Coral Gables Vs. Miami High Girls Volleyball

(Story)

Sep 04, 2015

Gables VS. South Dade Pep Rally

(Story)

Sep 01, 2015

Cavaliers Take on Ferguson

(Story)

May 05, 2015

Chanelle 'Coco' Wilson signs with Miami-Dade College Softball!

(Story)

Apr 29, 2015

Outstanding Cavaliers Awarded

(Story)

Feb 26, 2015

Baseball: Coral Gables Cavaliers vs. Columbus Explorers

(Story/Media)

Feb 03, 2015

Interesting Cars On Campus

(Media)

Jan 19, 2015

"How Do You Go About Voting?"

(Media)

Dec 20, 2014
Dec 17, 2014

Annual Winter Chorus Concert

(Story)

Dec 01, 2014

Fraga: Always a Cavalier

(Media)

Nov 26, 2014

Carver Tours Gables

(Story)

Nov 24, 2014

Blood Drive November 2014

(Story)

Nov 02, 2014
Oct 28, 2014

Neal Shusterman Visits Gables!

(Story/Media)

Oct 23, 2014

Race for the Cure

(Media)

Oct 08, 2014

The Start of Something New

(Media)

Sep 29, 2014
Sep 29, 2014
Sep 17, 2014
Sep 08, 2014

Freshmen Get Tablets

(Media)

Sep 08, 2014
May 20, 2014

Another Successful Year: 19th Annual Baptist Health 5K

(Story)

Feb 20, 2014

Cavaliers Clash with the Wolverines

(Story)

Jan 31, 2014

Put A Ring On It: Class of 2015

(Story)

Jan 23, 2014

Ways To Increase Your Metabolism

(Story/Media)