Freshmen Get Tablets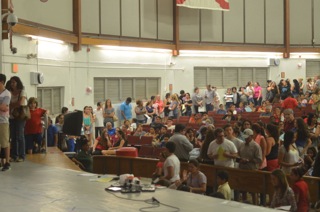 Freshmen have been anticipating tablet distribution for almost a month now. On Sept. 2, Gables held a large distribution meeting in the auditorium. However, what was supposed to be a smooth and streamlined process resulted in an inefficient and difficult occurrence.
Students and parents were organized to receive the equipment based on the section they were sitting in. The first group of parents were called and lined up, but they quickly realized that they were being skipped. This created an immense line running throughout the entire auditorium. Parents were infuriated by this and began to complain to the administrators. Principal Costa proceeded to dismiss his original plan and approached the situation differently by calling up the parents in alphabetical order. When they were told to return to their seats, their anger grew even more, to a point where parents began to yell, scowl, and even use foul language. Several of them even left the assembly because they were disgusted by the way it was organized. No matter what Principal Costa did to please the parents, nothing seemed to satisfy them.
"I was at the front of the line when the principal told us all to go back. It kind of bothered me because the line was really long. The assembly lasted until 8:30 and I barely had time for homework," freshman Juliana Lievano said.
This news has been circulating Gables and there are a variety of opinions about it. Many say that the administrators did everything in their power to organize this event and make it run as smooth as possible. Not only were there organization issues, but also some students were not even able to receive their tablets at the assembly, due to equipment shortages, and had to be called the next day to pick them up.
"Obviously the first time you do something you're [going to] learn from your mistakes, but I think that the administration did a great job handling the situation," math teacher and baseball coach Mr. Wisser said.
A second distribution assembly was held the following day, Sept. 3. This time around, it was a much smoother process, due to the fact that parents were assigned numbers and called up accordingly. The administration that attended these assemblies came to a conclusion that it would be the most effective thing to do.
"The assembly the second day was actually pretty easy going. I heard that the day before, it was a big mess," Gables parent Gilda Dulcey said.
This technological advancement is just another step forward for the school that will hopefully enhance the learning experience for students as well. Despite this misfortune, administrators were able to handle the situation very well. Gables staff, parents and students are very confident that these tablets will be a great asset to classrooms across campus.