Athlete of the Week: Anthony Valdes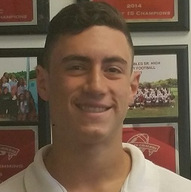 Senior Baseball Outfielder Anthony Valdes went three for six last week at the plate in two games. He also made the game-winning hit in the bottom of the eighth inning against Mater Academy at last year's Class 6A State Championship. He is quite the player and has shocked all of his teammates with his abilities.
Q: When did you start playing?
A: When I was four years old.
Q: What inspired you to start playing?
A: My whole family has always been playing, so I just kept the tradition going.
Baseball Coach Wisser has a few words to say about the talented player:
"I'm extremely proud of Anthony Valdes for being named player of the week. It exemplifies what we have talked about so far this season that it won't always be our top guy that is going to come up for the big hit. Anthony has been a crucial part of our program for the last three years and it obviously has paid off. In the first week, for him to come up with a big hit early on, he obviously wins the ball game for us. It shows again what we talked about, what we preached and what it's about all around. Again, extremely happy for him; he's worked hard and has earned every bit of it."
****Back to Anthony Valdes****
Q: Who is your inspiration?
A: My grandpa; he was really good in baseball and played for the national team in Cuba.
Q: Do you know the name of the team?
A: Cuban National Team.
Q: What is your favorite baseball team or player?
A: Boston Red Sox. My favorite player is Juan Pierre.
Q: Why is he your favorite player?
A: I don't know; since I was little, I liked him. Maybe it's just the way he plays the game.
Q: What's your number on the baseball team?
A: I'm number 15.
Q: What college did you get signed for recently?
A: Stillman College.
Q: Are you going to continue playing over there?
A: Yes.
Q: Do you play any other sports?
A: Well yes, I messed around a little bit with football in middle school, and in Ponce [Middle School] I played in a Turkey Bowl.