The Results Are In!
On Feb. 19, students from all grade levels took time out of their days to vote for their 2019-2020 student government. Students waited outside of the Activities room (9219) in the Ralph Moore building and chose who they believed would be the best option for each position. Prior to voting day, candidates campaigned and spread the word about elections through several social media platforms. Throughout the week, students talked amongst themselves and voiced their questions for each of the candidates. Below, are the representatives that the Coral Gables Senior High student body chose for each position.
---
Student Council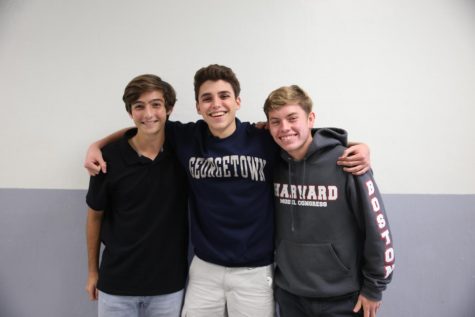 President: Alexander Sutton
International Baccalaureate (IB) junior Alexander Sutton decided to run for Student Council President because he has gotten to meet many wonderful people during his time at Gables and felt compelled to go further than just casually striking up a conversation in the hallway; he wanted to represent them. Sutton's favorite part of running for office was the campaigning aspect of the election process. "Election week was such an exciting period of time because the atmosphere was so anticipatory," Sutton said. Winning caused a whirlwind of emotions for Sutton. Once the excitement died down, the pressure of the expectations that would arise from holding such a high position kicked in, but he is most certainly prepared for what is to come. His ideas for next year are already blooming: his main goals are to focus on hosting a Homecoming dance, a tradition that has fallen short in the past, and to bring back CavCrash, the former talent show.
Vice President: William Fay
IB junior William "Billy" Fay chose to run because it would give him the opportunity to become more involved in school and its activities. In the previous year, he was nominated for Student Council Treasurer. Working with the student council board allowed him to gain the necessary experience of being Vice-President. "Winning is an awesome feeling, and when I heard my name announced, I felt a massive weight lift off my shoulders," Fay said.
Secretary: August Field
August Field is an IB junior who decided to run for Secretary because he wanted to increase his involvement with Student Activities and give back to the Gables community. He enjoyed campaigning and the process of coming up with slogans for posters. "It was nice to win because it is something I really want to do and it was a great experience running against other great candidates and peers," Field said. For next year, he plans to work hard for the student body and ensure that everyone has a great experience.
---
Class of 2020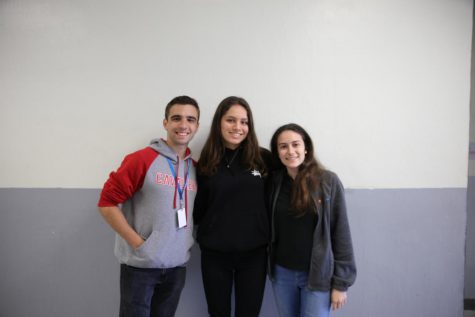 President: Daniella Berrospi
Running for student government has been a goal for IB junior Daniella Berrospi since her freshman year. For her, campaigning pushed her outside of her comfort zone and gave her the opportunity of meeting many new people. Originally, she found the whole experience to be slightly scary but realized that people consider the candidates' qualifications, of which she has many to offer. "When I won, I felt as if the whole weight of the sun escaped my shoulders," junior Daniella Berrospi said. She hopes to make Gables more inclusive, have better treat days and have an overall superb senior year.
Vice President: Daniel Toll
Running for a position on the board has always been an interest IB junior Daniel Toll has had. He enjoys being actively involved in school activities and by running for Senior Class Vice-President, he saw an opportunity to further increase his involvement in the Gables High community. "Especially since I am going to be graduating next year, I really wanted to make a final push to represent the school in a positive manner and to enrich my high school experience in doing so," Toll said. Going through the campaigning process was an enjoyable experience for Toll, considering many of his friends were running for either his position or one of the others. When the winners for the board had been announced, he was not present at the school because he was conducting CavsConnect interviews at Ponce de Leon Middle School. He received the wonderful news through the various messages sent by his friends congratulating him. As far as plans for next year, Toll has discussed with the other election winners about Homecoming and hopes the board can work towards his goal of holding it at a venue with a cool and interesting theme that entices the student body to attend.
Secretary: Adriana Meijaard
Ever since her freshman year, IB junior Adriana Meijaard has been thoroughly involved in various activities and clubs. Currently, she is a member of several honor societies like the International Baccalaureate Honor Society and National Honor Society and is on the board of Future Business Leaders of America. For the past three years, she has been treasurer for the class of 2020 but decided to make a change and run for Senior Class Secretary. Because she ran unopposed, there was no need for her to campaign, but she is nonetheless prepared for the work that comes with senior year. "Next year I hope to bring change since it is our senior year," junior Adriana Meijaard said. Some of her goals for next year are to make the best senior gear possible and to ensure that all events run smoothly.
---
Class of 2021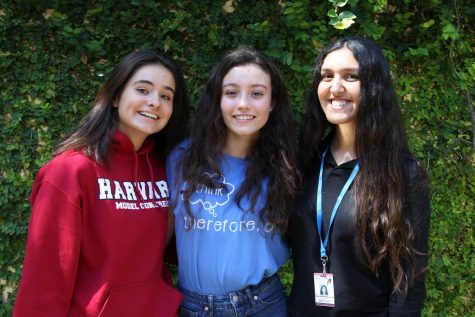 President: Sofia Rebull
After serving as the secretary for the Class of 2021, IB sophomore Sofia Rebull decided to run for president. Being the Junior Class President, she will be very involved by doing polls, managing the junior Remind and maintaining the junior class' social medias. "It felt great to win because all my hard work during my campaign paid off," sophomore Sofia Rebull said.
Vice President: Sara Rabell
Ever since her freshman year, IB sophomore Sara Rabell has been involved in school activities and has always been interested in being a part of student government. For the past two years, she has loved the experience and decided to run again. Running unopposed made the campaigning process less stressful for Rabell, but she believes that the most important part is that students exercise their power to vote regardless of who they choose. For next year, she plans to get students' opinions for what they would like to see more of at Gables High and try to implement them.
Secretary: Aya Hamza
This is IB sophomore Aya Hamza's first year at Gables as she transferred from Coral Reef High at the start of the new school year. However, that did not stop her from running for the Junior Class Board, which she hopes to serve on effectively. Campaigning did not come as a challenge because of her work with political campaigns outside of school. Hamza has taken pleasure in the positive reinforcement from her friends and the pride of hard work. When she found out she won, Hamza felt proud and thankful to the Class of 2021 for choosing to put their faith in her.
---
Class of 2022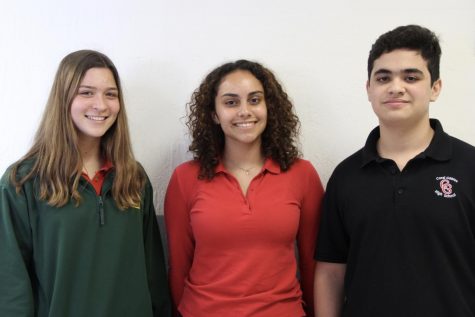 President: Nataly Leiva
IB freshman Nataly Leiva decided to run because she enjoys being involved in school and getting to collaborate with others. Alongside her friends, she had fun making posters for her campaign. Leiva did not find the election process to be as stressful as she had imagined. Winning was a happy surprise for her, and she felt proud of herself and thankful for those who supported her. For next year, she wants to increase the number of fun activities available to sophomores, organize more treat days, make the best class shirts and ensure that everyone enjoys the year.
Vice President: Emma Hardie
Being involved in school activities and having a role in the decisions made for the Class of 2022 is something IB freshman Emma Hardie thoroughly enjoys. She enjoyed running for Sophomore Vice-President because it gave her the opportunity to meet new people as she introduced herself for her campaign. Hardie felt a sense of relief after hearing her name called over the speaker. "I hope to keep up for the next two years because I love spending my time in high school as class Vice President," Hardie said. For next year, she would like to assist with the planning of school activities, the dissemination of information and the resolution of any concerns her classmates might have.
Secretary: David Kuper
Currently, IB freshman David Cooper is the Class Secretary and decided to run to continue his work next year. The campaigning process was a very fun one for him because Cooper enjoys talking to new people. "I am so happy I won because I enjoy helping the student body and hope to see a future in politics," freshman David Cooper said. For next year, he hopes to continue his work and continue to grow.
---
These are your Student Council and respective Class Boards for the next school year! As these students showed through their campaign, they are more than excited to represent the student body of Coral Gables High to the best of their abilities. Congratulations to all winners!