Gables Players and Troupe Announce Their New Board
On May 10, the school's Gables Players club held their final meeting of the year in the little theater. Alongside the new theatrical additions to Gables Players' annual schedule, this final meeting featured performances by current members and Improv Troupe. The meeting kicked off with a performance by senior Jay Busteed. Busteed performed a self-written piece titled The Sea Air in Your Lungs that she had written about her first love, specifically when it was at its peak.
"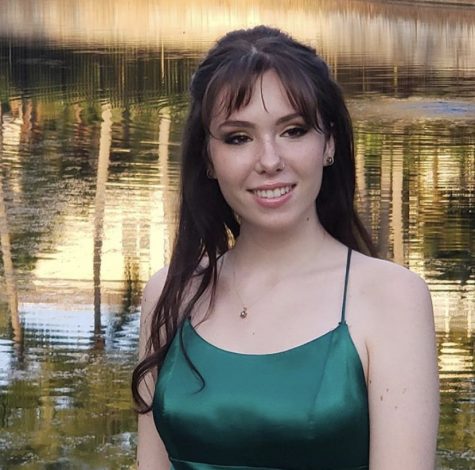 I think it is very therapeutic to read poetry to an audience. It is kind of a way of transferring your emotions to others. I was very wary about performing it at first just because I wrote it while we were still together and while I was stupid in love but I guess you can pull lessons from everything.
— senior Jay Busteed
The following performance was a comical parody of an infomercial done by seniors Ethan Tolpin, Timothy Lamb and Isabella D'Ottone alongside juniors Erick Diaz and Bridget Babani. Advertising a modified broom, Tolpin enthusiastically showcased each of the product's features while Diaz and D'Ottone listened. Following a design failure, Tolpin lost both his hands as the others frantically ran to his aid. Tolpin then began to bleed out and dies after claiming that selling brooms would be the only way to save his deceased daughter. This revelation inspires D'Ottone to push the audience to buy brooms as his daughter, Babani, comes out and proves that the purchase of the modified broom could bring life back to the deceased. As broom sales rocket, Tolpin is revived and the segment is concluded with rejoicing.
Improv Troupe performed their game called "Sound Effects" in which two members are performing a scene whilst two audience members do the effects for them.
Junior Phoenix Pierre and senior DJ Lopez performed a duet of Bruno Mars' Count On Me. Their voices blended nicely together and gave the audience an astounding performance. It was followed by a performance from sophomore Diana Lope. She performed her rendition of the song "I'm Not Afraid of Anything" from the musical Songs For a New World. The performances came to a close with juniors Bridget Babani and Makayla Bell singing "All of Me" by John Legend.
At the end of all the performances, Gables Players was prepared to announce the new board for the club and Troupe 0476. All the current members on the board went up on stage to introduce the new members. Ms. Barrow, the theater teacher, and club sponsor began to hand a card to each person on stage to reveal the name of who their position is being passed on to.
---
President: Jorge Valero
Junior Jorge Valero was announced as president of the Gables Players club and the school's Thespian Troupe by senior Isabella D'Ottone. A few of his responsibilities involve: working events, establishing the rules for the club, putting projects into action and planning events with Ivan Cajina, the Vice President, and the other members of the board.
"I feel super stoked to finally be president of a group of people and art I admire so much," junior Jorge Valero said. For next year, he is looking forward to leading the Large Group musical number with juniors Makayla Bell and Phoenix Pierre.
Vice President: Ivan Cajina
Senior Marcel Paba gave a small speech as he introduced junior Ivan Cajina as the new Vice President for the 2019-2020 school year. A few of the responsibilities he will take on are: to look out for everyone and work alongside the other board members as well as reinforce and improve Troupe 0476. "I feel honored to be the new VP for next year, it was always my goal to be able to better this lovely troupe, and, being VP, I now have the ability to do that," junior Ivan Cajina said. What he is most looking forward to is being able to work with everybody and making next year an incredible one.
First Lieutenant: Makayla Bell
"DJ, this year's First Lieutenant, was someone who I really grew close to this past year. She inspired me so much, so I have big shoes to fill, but I wouldn't have it any other way," junior Makayla Bell said. Receiving this position was super exciting for her as she has been involved with Troupe as a fan for two years and being a part of it for one. As First Lieutenant, her job is to be the official "hype man" for Troupe as well as ensure that things don't get out of hand. Bell will also take on the responsibility of ensuring that everyone is having a good time, being productive and feeling included.
Secretary: Kylie Coulombe
Kylie Coulombe, a junior, has spent the last three years devoting a large amount of time and effort towards theater. As of now, she has taken charge of repainting the back closet of the class and the costume closet. "I am really excited to continue to help with the upkeep of the theater and mostly to have the space to practice my art. Troupe is such a lovely, safe space and I am very thankful to be a part of it," junior Kylie Coulombe said. As secretary, her responsibilities revolve around club members and recording who attends each meeting. During Troupe performances, she gets to shout "who the hell are we?" before the famous chant they collectively do. For the 2019-2020 school year, Coulombe is looking forward to providing a comfortable and loving space where people have the ability to express themselves as well as to grow as artists.
Treasurer: Erick Diaz
"I feel really honored to be the treasurer for Troupe, I have always wanted to be a part of the official board of Troupe considering how much influence it has had on my high school life, and I want to have that same influence on others," junior Erick Diaz said. As Treasurer, he is in charge of the money that goes into Troupe activities and shirts. Overall, he is looking forward to helping Troupe move forward next year. He has always loved helping in any way possible and that will not be changing next year!
Historian: Van Galex
"I'm very excited to take up this position for the second year in a row," junior Van Galex said.
As the historian, Galex is in charge of capturing all important events hosted by Gables Players and the school's Thespian Troupe. This includes productions, rehearsals, gatherings and meetings among other things. In addition, Galex is given access to and responsibility for the organizations' social media accounts, which he can use to showcase any media gathered throughout performances.
Librarians: Cristina Kairalla and Adrian Vidal
For Juniors Cristina Kairalla and Adrian Vidal, being the Librarians for next year's board is an amazing feeling and knowing that they are in charge of something is exciting for them. Their responsibility is to keep track of where everything is in Ms. Barrow's office and ensure it is always clean. That is what they are mainly looking forward to, having a clean space at all times.
Social Media Manager: Ariadne Herrera
Junior Ariadne Herrera is the first to ever be given the position of Social Media Manager considering it has never existed. "Van Galex and I will be working on a lot of exciting projects to make Troupe and Gables Players' social media presence more defined, and I'm really excited," junior Ariadne Herrera said. Her responsibilities are to increase the social media presence of both Gables Players and Troupe. Herrera is most looking forward to working together with Troupe to ensure that their social media will thrive and serve as a positive representation.
Junior Council: Arianna Peña, Phoenix Pierre, Lia Rodriguez, Estefany Busto, Vanessa Grau, and Jessica Da Silvia
The Junior Council is tasked with helping out the board with any issues or renovations that are made throughout the year. They also ensure that the board is not getting overwhelmed with anything at hand. They are all excited to be a part of the Council for Troupe next year and look forward to helping out in the theater.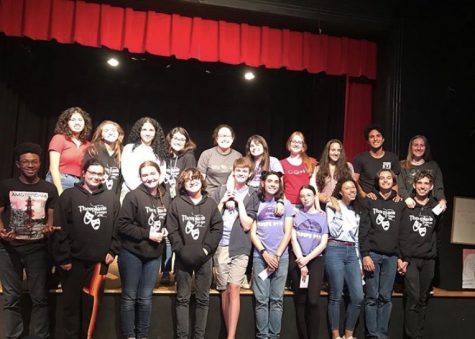 ---
Gables Players and Troupe have an amazing board filled with hardworking and dedicated students. Coral Gables Senior High cannot wait to see what they bring to the clubs! Make sure to attend one of their meetings or performances next school year.