Behind the Clubs: A Preview into Club Fair 2019
As club day quickly approaches, the notable clubs of Coral Gables Senior High school have begun preparing their eye-catching activities and games. Students will have the opportunity to walk through the booths and interact with the club's board members during their lunch period.
Gables Earth
The Gables Earth club is sponsored by the International Baccalaureate Chemistry teacher, Ms. Kiely. This club strives to make a difference in our community by conducting weekly recycling projects. Their goal is to better the community little by little with these small but creative recycling projects for Gables students to participate in.
Due to the new construction, the Gables Earth booth will be in the breezeway leading up to the gym.  Gables Earth's board members will be offering treats for those who stop by to learn about their club.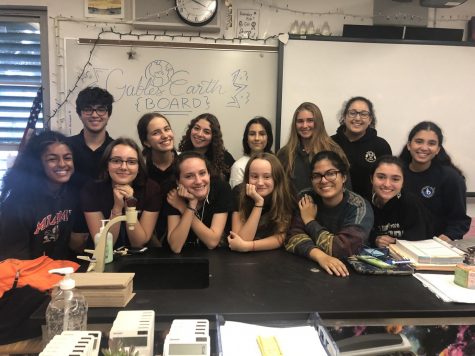 This year, Gables Earth will be having two activities that students can participate in to win a variety of prizes such as T-shirts from Gables Earth, reusable water bottles as an alternative to single-use plastic water bottles and other sustainable materials.
"One of the activities will be like a bean bag toss, but instead, students will be throwing different types of recyclables into the correct bin and the other one is more like trivia," Gables Earth sponsor Ms. Kiely said.
As of now, they are in the process of finalizing the two activities they want to use.
Wizards Club
The Wizards Club stands for: Weekly Interactive Zone for Arts, Recreation and Design. The Wizards had their first meeting on Aug. 29, where about 90 students gathered for a successful back-to school welcome.
"It is generally a nerd culture or game creation and programming club. It is also mainly a place for students from different passionate subcultures to disconnect from the pressures of life and school," Wizards Club sponsor Mr. de Armas said.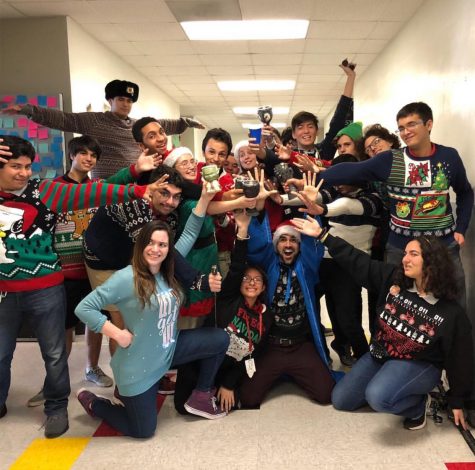 During Club Fair, Wizards usually read student's fortunes and because it has always been a crowd-pleaser, they plan to do it again this year. For those who are interested in joining Wizards, you can look forward to no club fees and lots of exciting meetings. During those meetings, there are four classrooms dedicated to competing in all sorts of game tournaments, drawing classes, anime films, trading card game battles, cult film discussions, book clubs, graphic novel trading and a wide variety of board games. Not to mention, everyone present will take turns playing Dungeons and Dragons!
Best Buddies
As a club, Best Buddies does all they can to create a safe and inclusive school environment for Gables's special needs students. While it may be more difficult for some of the special needs community to excel in high school extracurricular activities such as sports, academics and other after-school clubs, Best Buddies is a club built entirely around them.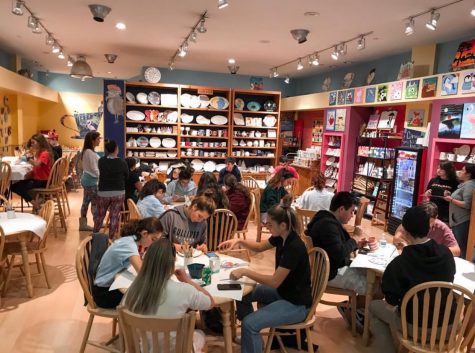 Through this particular club, not only does the relationship between our school's special needs students and other students greatly improve, but it also allows all students to have the opportunity to join one of the most welcoming, interactive clubs on campus.
"As this is my last year at Gables, I can look back at Best Buddies as the club I have enjoyed being a part of the most. I look forward to having another awesome year with all the amazing people that make up this great club," senior, and Best Buddies vice president, August Field said.
Every year, around 200 Cavaliers sign up to be apart of Best Buddies. They meet once a month to discuss their monthly calendars filled with upcoming events. These activities allow for the buddies to better their friendships and have some fun while doing so.
Best Buddies enjoy to celebrate the holidays with small themed parties, and they usually go on field trips to Color Me Mine where they spend the day bonding together. Typically during Club Fair, the Best Buddies members set up a fun and interactive activity that all of the students can participate in, such as musical chairs.
---
It is no secret that Gables offers many different after school activities, so when Club Fair comes around, do not be afraid to step out of your comfort zone and sign up for the clubs that call out to you! Clubs like Best Buddies, Gables Earth, and Wizards are just a few of the many clubs that await your visit on Sep. 13 during both lunches throughout the breezeway and gymnasium area. Be sure to check them all out!