Troupe 0476's Final Showcase
On Thursday, May 2, Troupe put on their final showcase of the year, in which they performed eighteen pieces. Prior to rehearsals and the show, the class auditioned a variety of pieces that Mrs. Barrow, the theatre teacher, chose from to create the setlist. Overall, there were two acts, each with nine performances with a brief intermission dividing the two of them.
The first act opened up with an incredible dance by Ivana Barbaris and DJ to the song "Savage". Following it was Midsummer Night's Dream by Shakespeare, performed by seniors Isabella D'Ottone, Anna De La O, Marcel Paba, and junior Adrian Vidal.  A comedic scene from John Mulaney and Nick Kroll's The Oh Hello Show was then performed by seniors Ethan Tolpin and Ivan Perez. In it, they went back and forth presenting "Theatre Rules" to follow. To switch it up, the next performance featured seniors Timothy Lamb and Bryan Mejia's rendition of "More Than Words".
Micro Management, a scene from The Office, was performed by juniors Lia Rodriguez, Adrian Vidal, and Bridget Babani. The comical scene referred to Michael Scott attempting to fix Dwight and Jim's customer reviews by having them practice a client phone call. The sixth piece from the showcase was Phyllis: Xenophobia. This was performed by Van Galex, Trinidad McGraw and Julissa Lugo. It portrayed the comedic story of two siblings and the death of their mother.
Courtney Webster, a sophomore, did her own rendition of Billie Eilish's I Wish You Were Gay. The stage was simplistic which aided in making her the main focus, as she sang and played her ukulele.  Afterward, juniors Ivan Cajina, Erick Diaz, Adrian Vidal, Jorge Valero, and senior Lucianne Vivas performed Career Day. To close up the first act, all the seniors in Troupe performed the song Super Troupers from Mamma Mia. The brief intermission allowed the audience to talk amongst themselves about the show thus far. It also gave time for the performers to prepare for their next act.
Following the intermission, the second act commenced with a film titled Tired, created by Troupe's very own Ariadne Herrera. It is not customary for there to be films in their showcases, but this was an exception. It was followed by a song from the musical Falsettos called The Baseball Game. This was performed by Diana Lopez, Jorge Valero, Makayla Bell, Erick Diaz, Lucianne Vivas, Ivan Cajina and Adrian Vidal.
The next scene was written by Katerina Valdes and Isabella Martell. It was titled La Factoria del Cheesecake in which a group of Hispanic friends gets introduced to Charlotte and drama ensues. For the fourth piece, there was a performance of the song Drama by Neal Salgado, Phoenix Pierre, Makayla Bell, Marcel Paba, Yoel Rodriguez, Nayelis Cardenas, Bryan Mejia, and Diana Lopez.
Originally, Angie Lopez and Kylie Coulombe were supposed to perform a scene titled The Closing Argument. However, due to Coulombe's recent concussion, Lopez performed a spoken word she had written for her instead. Following it was Bryan Mejia's rendition of the song Carper Crawlers by Genesis.  Anger Management would come afterwards, in which Julier Capulet and Ophelia are discussing their anger towards being dead. It was performed by juniors Cristina Kairalla and Nayelis Cardenas.
"It's kind of like our "last hoorah" of the year. We are all a really big family and a huge support system so knowing that this is our last performance together was a bit heartbreaking, yet warming at the same time. The relationships created in this room can't ever be recreated," junior Lia Rodriguez said.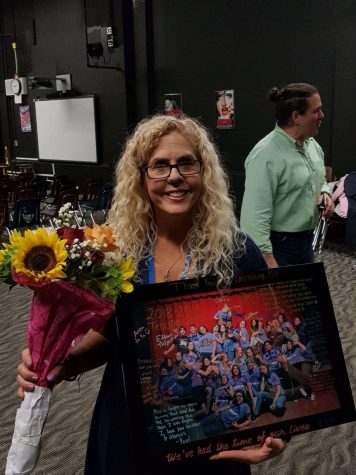 Act Two came to a close with the song The Time of My Life performed by every member in Troupe. After the bows, three members in Troupe presented the seniors with awards that corresponded with their personalities. To finalize their final showcase of the year, Isabella D'Ottone gave an emotional speech as the President, thanking everyone in the class and Ms. Barrow.
"My experience with the final showcase this year was truly amazing. I was backstage for most of the acts and could hear what was going on and I thought it was beautiful being able to hear what everyone was performing. Being able to perform one final time with my friends was amazing," senior Lucianne Vivas said.
Throughout the year, Troupe 0476 has given it their all in every performance and competition. They have accomplished so much and exhibited heaps of talent. Their showcases have been a series of comedies, emotional scenes, dramas, songs, and so much more. Be sure to keep up with them next school year and watch them perform!
About the Writer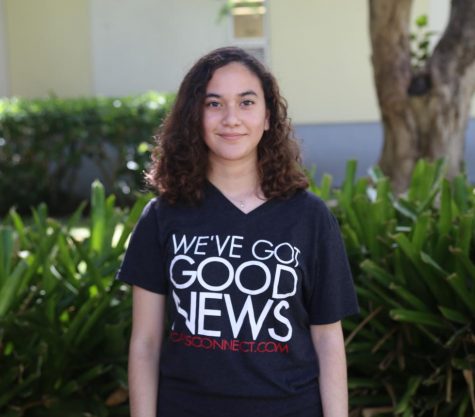 Jefrany D'catry, Staff Writer
Jefrany D'Catry is a junior in the International Baccalaureate (IB) program and is very excited to be joining CavsConnect as a staff writer. Feeling slightly...