A New World For Freshmen
As freshmen make the switch from middle to high school, two freshmen share their tips on how they will manage this transition
     Year after year, freshmen transition from middle to high school. This daunting task exposes them to a radical change in scenery, having to discover a brand new campus, new teachers and classmates. In the age of COVID-19, students practice social distancing, limit peer contact and are forced to restrict social interactions as well. While all of these constraints make a smooth transition less straightforward, many in the class of 2024 remain hopeful that the school will provide successful high school years down the line. Two of them, Audrey Noval and Manuel Espinoza, reveal their apprehensions and concerns transitioning, all while yearning for a successful year.
     Academy of Finance student Audrey Noval hopes for the best in the upcoming year. Having gone to Coral Gables Preparatory Academy in middle school, Noval understands the intimidating school's population, exceeding 3,500 students, staff and administration. Although more than two thirds of the student body have opted for My School Online (MSO) due to COVID-19 safety risks and concerns, Noval feels overwhelmed by the estimated 1,200 students present on the school campus.
     "Going back to school makes me excited, but at the same time really nervous. Especially with such a large school, I might get overwhelmed and lost," Noval said.
     However, Noval can count on her peers for support and guidance during the first few weeks adapting to this environment. Both upperclassmen and underclassmen have agreed to help, and the increased social exchanges compared to distance learning will hopefully allow for new friends and acquaintances. Additionally, if sports are to resume under strict health regulations, joining the girl's volleyball team will provide an opportunity for additional guidance.
     "Not only will going to school give me increased personal interactions through smaller groups, but playing athletic sports like volleyball and meeting new friends and teachers will be more accessible," Noval said.
     Nevertheless, amid the many challenges standing in her way, Noval is determined to overcome these obstacles and experience a successful freshman year.
     Another freshman, Manuel Espinoza, is anticipating a successful year amid the strenuous conditions. For him, a brick and mortar education presents more advantages than distance learning, in not only acquiring and retaining more information, but also becoming accustomed to the layout of the school. 
     "When it comes to virtual learning, I liked how you can learn from the comforts of your own home, however, it can also lead to easy distractions. When it comes to physical school, it might not be ideal at first considering how you have to wear a mask, but I believe that you can learn better in all subjects and aspects of school," Espinoza said.
     Espinoza knows freshman year is a time to explore new horizons, gain independence and grow as a person. Reconnecting with old friends is something he is looking forward to, as the end of 8th grade was unfortunately cut off by COVID-19. Indeed, having friends to count on to answer questions and inquiries is crucial in high school, and Espinoza is confident his ease of communicating will form new relationships.
     "For this upcoming year, I just want to enjoy every moment I have as a freshman, because the hard truth is, one day, we all have to move on to what comes next in our lives. Along with that, I would like to make friends that I can hang out with as soon as the pandemic is over," Espinoza said.
     As a gateway to form closer connections with people that have similar interests as him, Espinoza has also joined a few clubs, such the International Baccalaureate Honor Society (IBHS). Among many other clubs, it offers welcoming events as a means of incorporating freshmen. Indeed, their Adopt-A-Freshman Event, held on a monthly basis through Zoom, focuses on multi-grade communication, through the use of arts, crafts and trivia games.
     "These monthly events are meant to be like little mixer events so that freshmen can meet one another and upperclassmen as well," Adopt-A-Freshman secretary Audrey Simon said.  
     The transition from middle to high school is intimidating and challenging. However, with support from upperclassmen, new friends and involvement in activities and clubs, this task is much more manageable.
Leave a Comment
About the Contributor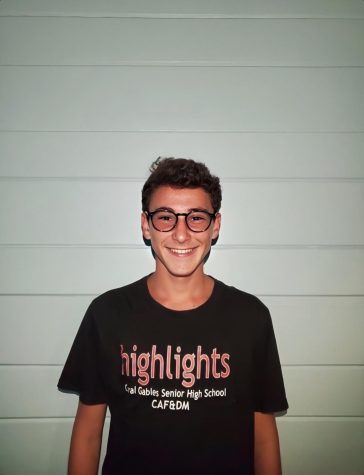 Gregoire Winston, highlights newsmagazine Co-Online Editor
Gregoire Winston is a junior in the International Baccalaureate program at Coral Gables Senior High. This is his third year on the highlights staff, but...