Troupe 0476's IE Showcase
On Monday, Dec. 17, Troupe put on their Individual Event (IE) showcase, during which they performed nineteen pieces. The majority of these pieces had been sent to the District IE Festival that spanned two weekends and ended on Saturday, Dec. 15. The competition features a variety of events: Publicity, Monologue, Duet Acting, Ensemble Acting, Solo Musical, Duet Musical, Small Group Musical and Large Group Musical, among others.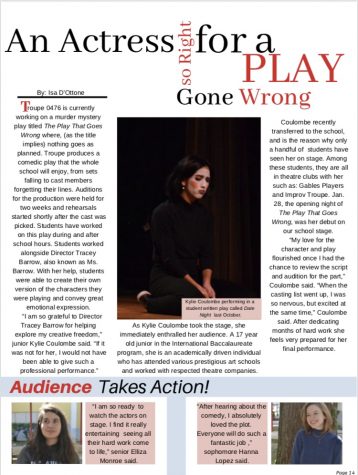 Van Galex, a junior in the International Baccalaureate program, competed in the Publicity event. He designed posters, playbills, promotional projects, a features and news article and the designated budget. Galex promoted his publicity event through social media. The tickets used for the IE Showcase were the ones from his competition. He enjoyed participating as it allowed him to get closer to the other members and grow from the experience. Galex says that his dedication to the arts is what kept him going through the two months of preparation.
The first act of the show opened with juniors Jorge Valero, Ivan Cajina and Erick Diaz's take on "Sincerely Me" from the musical Dear Evan Hansen. It consisted of ten performances with four songs and six acting scenes. The "Book Club" scene was the only one to not go to the competition but was put on by sophomores Katerina Valdes and McCall Horton, juniors Bridget Babbani, Lia Rodriguez, Julissa Lugo, Ariadne Herrera and Isabella Martell and senior Trinity McGraw.
Senior Anna De La O competed in playwriting ensemble acting with "Dentity Crisis" by Christopher Duran. She was also a cast member of "The Humans,"a student-directed scene. For this act, she, alongside the others, rehearsed for a little over a month. De la O wrote the play nearly a year before.
"Competition was so much fun! There was so much inter and intra-troupe positivity on the second day of competition," senior Anna de la O said.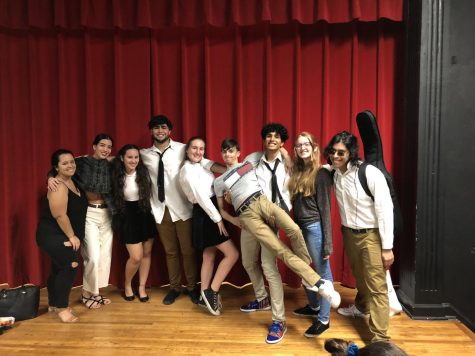 The second act commenced with "What the Heck I Gotta Do?" performed by seniors Marcel Paba, Yoel Rodriguez, Bryan Mejia and Ivanna Barberis and junior Phoenix Pierre. It was followed by a comedy scene titled "Reflex Action".
Their closing number was "The School Song" which was their Large Group Musical performed at the competition the week before. Troupe had been rehearsing for approximately an hour per week for six weeks prior.
"In a way, we knew we would place amazingly because of our hard work and we are proud of all the effort we put into it," junior Arianna Rodriguez said.
The students in Troupe earned various Superiors for the pieces. This year, seventeen of them will be heading to States in Tampa, Florida. Keep an eye out for any future performances and showcases they will do! Their shows are ones that you will not forget.