Indie and Hip:Gables Bhangra
Coral Gables has always been home to a variety of different dance styles, but until this very year there was one very culturally important dance team missing – Gables Bhangra.
The challenge to start the Punjab-styled dance team at Gables began with a couple of very passionate girls, most notably sophomore Bhargavi Pochi. Beginning at a young age, Pochi was surrounded by the style of dance and came to love watching others perform it. It was not until the beginning of November that she finally decided that she wanted to try it herself, and made the decision to compete, alongside five other girls, at the Indian Regional and Cultural Center Bhangra competition here in Miami.
"We didn't place in the competition, but I honestly think that we did pretty well. I feel like all of us really connected onstage, and seeing all the other experienced teams compete really helped as an inspiration for new choreography," Pochi said.
Shortly after, Pochi and fellow sophomore Guneet Moihdeen decided that a bhangra styled dance team would be an amazing addition to Gables, and they started to work towards making it an official team. In the short months since Gables Bhangra was created, the girls involved have already performed at one of the school's events, where they showcased their talents for the very first time.
"Fall Frolics was definitely a great experience, because we felt for the very first time that we were becoming an official Gables dance team. It was of course very nerve-wracking being the newbies, but I think we did great for our first performance," member Tania Nieto.
Even though Bhangra has the disadvantage of being a lesser known style of dance, its unique and cultural aspects have ensured Gables Bhangra a spot among the other dance teams here at the school. Not to mention that the passionate and persistent attitude of the team members will ensure the team's success and continuance even after the club founders have graduated.
Sophomore Guneet Moihdeen commented on the topic:
Starting any club at a high school has its challenges. Luckily for Gables Bhangra, its members some very dedicated and passionate people that will ensure the club's success throughout the rest of this school year and years to come.
About the Contributors
Mariam Ahumada, Staff Writer
Mariam Ahumada, an outgoing senior, is part of the IB program at Coral Gables Senior High School. She is eager to embark on her third, and last year,...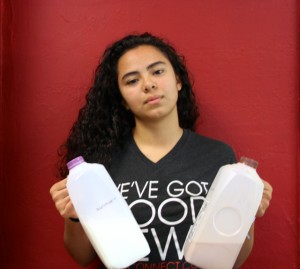 Kelsy Pacheco, Sports Editor
Kelsy Pacheco is a junior in the IB program at Coral Gables and cannot wait to see what this year awaits. She is happy to once again join the CavsConnect...