Espectáculo de Herencia Hispana
Hang on for a minute...we're trying to find some more stories you might like.
El pasado martes 2 de noviembre, los estudiantes de Coral Gables Senior High celebraron el mes de la Herencia Hispana al presentar un espectáculo en el auditorio. Los estudiantes de diversos grados y grupos fueron invitados a disfrutar del evento presentado por estudiantes que querían celebrar la cultura hispana.
El show en si fue organizado por La Sociedad Honoraria Hispánica  (SNHS) y La Sociedad Honoraria Francesa (FHS). La principal organizadora fue Madame Rouit. Las esperanzas e intenciones de los estudiantes involucrados eran difundir la cultura hispana a través de la risa y el talento.
El espectáculo contó con muchos de los estudiantes talentosos de nuestra escuela. El espectáculo tuvo una variación en los actos presentados. Hubo bailes por las Gablettes, que bailaron a la canción "Bulería," creando que la atmósfera del auditorio creciera a aplausos y gritos al momento que salieron. Hubo otros bailes protagonizados por estudiantes, como el de Senior Kenrik Chirinos que realizó una pieza en solitario. Después, Seniors Isabella D'Ottone, Danayse Lopez, y Sabrina Samon bailaron al ritmo de diferentes estilos de música a lo largo de su actuación. Su objetivo era incorporar varias técnicas reconocidas por la comunidad española para representar plenamente sus raíces hispanas.
"Tenemos muchos alumnos aquí en la escuela que tienen tremendo talento y el show fue organizado y ejecutado para enseñar estos talentos y más importante, el orgullo hispano a todos los estudiantes que estaban interesados en asistir al show," dijo Madame Rouit.
El coro de la escuela canto "A La Nananita Nana" escrito y compuesto por José Ramon Gomis. El coro también cantó la canción "Porque Dios ha nacido." Pero lo más inesperado de la tarde fue cuando el Sr. Sánchez-Madrigal, maestro de clases de español, salió con el Combo 23 y cantó "Guantanamera." En el momento que el Sr. Sánchez-Madrigal salió con su guitarra, los estudiantes empezaron a gritar y aplaudir de alegría y sorpresa al verlo cantar.
"Mi parte favorita fue cuando el Sr.Sanchez-Madrigal salió con su guitarra y empezó a tocar y cantar. Fue totalmente inesperado," junior Alejandro Vento dijo.
Junior Ariadne Herrera presentó un poema sobre sus raíces cubanas y como han sido afectadas por las presiones socioculturales encontradas en los Estados Unidos, específicamente, en Miami. Herrera dejó al público en shock, denunciando la conformidad social de muchos hispanos y declarando que deberían ser orgullosos de la herencia hispana en vez de esconderla.
También hubo varios actos de estudiantes cantando sus interpretaciones de canciones hispanas. Alanis Lago cantó "Corre Corre," una canción vastamente reconocida por el público hispano por sus referencias al amor joven. Estudiante Katherine Battle cantó "Bésame," dejando la audiencia en un estado de nostalgia.
Lo más gracioso del show fueron los actos de teatro improvisados por un grupo de teatro de la escuela. Los estudiantes Van Galex, Lia Rodriguez, Adrian Vidal, Erick Diaz, y Jorge Valero usaron sus talentos teátricos para crear escenas en el momento, que hablaron de la cultura hispana y como es crecer en un hogar hispano. Sus actos dejaron al público llorando de risas.
Al final del espectáculo antes que sonara la campana, Madame Rouit salió para darles una ronda de aplauso a los estudiantes involucrados en la planificación del evento y a los estudiantes que realizaron sus talentos y el público que se comportó excepcionalmente bien.  El espectáculo, gracias a la planificación de un equipo determinado, quedo maravilloso. Los actos fueron cautivantes y nunca faltó la energía de los presentadores o los estudiantes.

About the Writer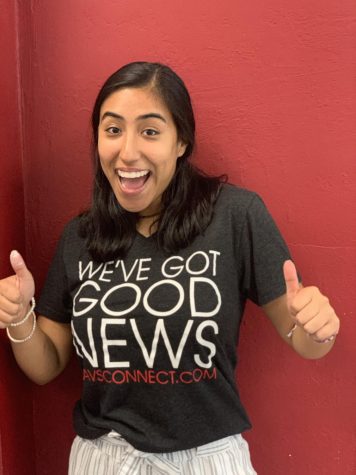 Jesse Zambrano, Spotlights Editor
Jesse Zambrano is a senior in the International Baccalaureate (IB) program. When she arrived to the US, it was clear to Zambrano how important it was to...