Nuevo programa de yoga en Gables
---
El pasado Martes 2 de octubre, el nuevo programa de Yoga, AIM, dio su primera junta tras el termino de las clases en el salón 2109. Los estudiantes que acudieron tuvieron la oportunidad de practicar esta disciplina que les beneficia regulando sus emociones y ejercitando el cuerpo.
"Creo que es importante el participar en este tipo de actividades, especialmente para los estudiantes, ya que se enfrentan a situaciones de estrés todo el tiempo […] la yoga en particular, es una buena forma para respirar y relajarse, " nos compartió sophomore Chloe Grant.
AIM es un programa que ha instruido clases de yoga en diferentes lugares y para diferentes edades, sin embargo se enfoca más en jóvenes que en adultos y niños. Está encabezado por la maestra Virginia Ansaldi, quien en años pasados impartió la clase de AP ciencias ambientales. Simultáneamente, apoyaba a los equipos y clubs deportivos de la escuela como Cavalier Nation, Gablettes, Color Guard, JROTC y la banda de distinción, dándoles clases de yoga.
"He dado clases de yoga por casi cinco años, en Gables sin embargo, han sido exclusivamente para equipos atléticos o diferentes programas […] ya que habían otros estudiantes interesados, decidí crear una organización donde toda la escuela pueda participar," nos explico Ms. Virginia.
Este año, sin embargo, ofrece el programa AIM como club después de clases todos los martes y jueves de 3:00 a 4:00 de la tarde, invitando a  todos los estudiantes de Gables. Su objetivo es no solo proveerles con una herramienta para gestionar sus emociones y lidiar con el estrés al que se enfrentan día a día en la escuela pero también un método para conectarse con personas de diferentes profesiones. De esta forma los estudiantes se vuelven conscientes sobre carreras que les podría interesar estudiar en el futuro, haciendo del proceso de elección uno menos agobiante.
"El Programa AIM es una buena forma para apoyar a los estudiantes a concentrarse realmente es sus futuras carreras. Y el yoga es una buena herramienta para lograrlo. Pienso que todos deben de probar tomar clases de yoga, pues los beneficios son duraderos, " dijo junior Chloe Casaudoumecq.
Sin embargo, mientras que las clases de yoga están abiertas para todo el que quiera participar, las discusiones sobre como ser mejores estudiantes y sobre las aspiraciones individuales de cada quien, son de espacio limitado aceptando únicamente 15 estudiantes por semestre.
Todos necesitamos una forma para evitar el estrés, en la escuela nos dan esta gran oportunidad para lograrlo. ¿Qué esperas para aprovecharla?
About the Contributor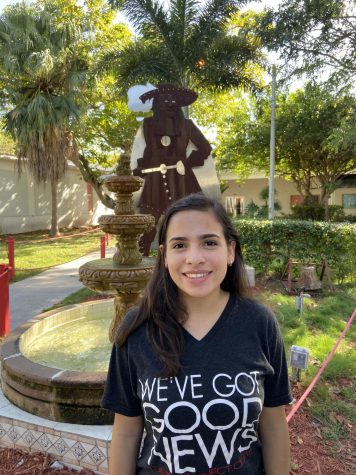 Jimena Romero, Staff Writer
Jimena Romero is a dedicated senior enrolled in the International Baccalaureate career-related program. She is now starting her third year as a CavsConnect...