Model United Nations Team Revisits the Swamp
While most students prefer to spend their weekends relaxing with family and friends, the Coral Gables Model United Nations (MUN) team traveled to Gainesville to compete in the 15th annual GatorMUN conference. At the conference, students represented an assigned country or individual within a given committee modeled after a real-life organization in the United Nations, and debated issues pertinent to the given committee. Among the usual committees represented, there are conference specific ones that can vary widely such as the Trojan War or Disneyland Oahu. The conference undoubtedly gave our Gables team the opportunity to fine tune their debating and public speaking skills while enjoying a weekend with their fellow classmates.
A total of twelve students made the trek to Gainesville, departing from school at 6:30 AM on Friday. After arriving and taking a quick lunch break, the students attended opening ceremonies. The students were then led to their respective committee rooms, all of which are classrooms in the University of Florida. Gables was represented in the majority of the committee's including North Atlantic Treaty Organization (NATO), World Health Organization (WHO), Trojan War and European Parliament. The first day of conference is always understandably nerve racking for students, seeing as delegates come from all across the United States to compete. Despite this, our Gables team had nothing but positive things to say about their first committee session.
"During the conference I represented Liberal Winnepig North in the the Canadian House of Commons. This committee was unlike anything I had ever done before but nonetheless taught me about issues surrounding Canada such as NAFTA and terrorism" junior Alain Perez said.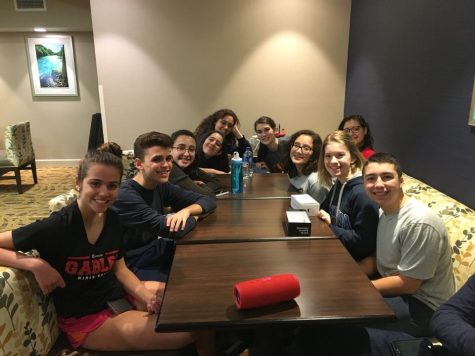 As the conference unfolded, debate evidently became more intense, with the total committee session time on Saturday totaling a whopping nine hours. In the NATO committee, Article five of the NATO charter was discussed in great detail, while in the WHO committee, debate sparked about prevention and treatment of tuberculosis. After such a grueling day of conference, the GatorMUN organizers planned a Delegate Social. However, Gables students had their own plans on how to spend their Saturday evening. Following the last committee session, the team returned to the hotel to eat irresistible Midnight Cookies and play board games.
"The conference helped me better understand global alliances and the idea of using diplomacy to solve international affairs," junior Cristian Ochoa said
The final day of committee was a short two and half hour session, rounding out the conference with unusual resolutions, such as the legalization of all drugs being passed in the Canadian House of Commons. Closing ceremonies took place shortly after the final committee session with the much anticipated awards ceremony. From the Gables team, Pablo Hanono won the award for Best Position Paper representing Canada in NATO. On the long bus ride back, students had the opportunity to reflect not only on their performance but on the lasting memories that were made.