Politicare: Priorizando la salud mental y física
Hang on for a minute...we're trying to find some more stories you might like.
El jueves 14 de marzo el club de activismo político y compromiso civil (PACE) organizó su primer Politicare. Un evento con la intención de educar los estudiantes sobre temas relacionados a la salud mental y física, PACE invitó a profesionales y expertos en estos temas para hablarle a los estudiantes sobre ellos.
Se le dedicó una gran cantidad de esfuerzo a organizar el evento; desde crear los carteles a organizar los horarios, los miembros de  PACE  y su patrocinadora, Ms. Lezcano, trabajaron incansablemente para asegurarse que todo estuviera listo. Asegurarse que hubieran voluntarios para Politicare también fue una parte importante, ya que PACE quería individuos que pudieran conectar la salud y la política y capturar la atención de los estudiantes. El evento se separó en tres sesiones de una hora, con una sesión consistiendo de 30 minutos de una sesión informativa y una sesión de 30 minutos de diversión. En general, cada sesión tenía un tema que se conectaba a la actividad divertida realizada después.
Para empezar el evento, invitada y nutricionista Gabriela Alfonso habló sobre la importancia de tomar decisiones informadas en cuanto tu dieta. Como nutricionista deportiva en Florida International University (FIU), ha tenido mucha experiencia trabajando con personas independientemente de su edad y condición física. Su energía mantuvo a la audiencia viva e interesada y su presentación incluyó un aspecto interactivo para verdaderamente conectar a la audiencia con lo que estaba diciendo. Respondió las preguntas de la audiencia con entusiasmo y todos pudieron aprender algo nuevo. Después de haber estado sentados un buen rato, los estudiantes pudieron participar en una clase de kickboxing dirigida por Melanie Baez, una instructora que da clases en todo Miami. Le enseño a los estudiantes unos pasos básicos y dirigió esta clase con alta energía, moviéndose al ritmo de la música.
La segunda sesión empezó con un discurso motivador y perspicaz por Scott Galamore, un psicólogo que se enfoca en el camino hacia el éxito. Galamore habló de la importancia de la concienciación en un mundo agitado y cómo mantenerse fiel a sí mismo te conducirá en una dirección positiva. Para la sección de diversión, PACE dirigió una actividad relacionada corrección política y la importancia de ser cuidadoso con lo que dices y como lo dices. Palabras relacionadas a la salud menta y física fueron discutidas, y como ser políticamente correcto e inofensivo cuando intentando de describir ciertas situaciones.
"El orador me dio una gran oportunidad para reflexionar sobre lo que yo estoy haciendo para lograr una mentalidad positiva en la vida. La sesión de corrección política fue entretenida pero igualmente informativa," dijo sophomore Chloe Grant.
Después de una breve pausa para el almuerzo, comenzó la tercera y última parte del evento. El tema de esta sesión fue la concienciación y como manejar tu tiempo en high school. La entrenadora de vida Loubna Noureddin enfatizó la importancia de organizar  tus prioridades y organizar tus obligaciones de una manera que te dé tiempo para hacer lo que te gustaría. Noureddin usó ejemplos de personas con que había trabajado anteriormente y las citó como un ejemplo de como un simple cambio puede ayudarte en todos aspectos de la vida. Para concluir esta sesión, instructora de yoga Virginia Ansaldi guió los estudiantes en los principios de yoga basics para reforzar la importancia de la atención plena de la cual se había hablado poco antes. Entre los estiramientos y los diferentes poses, Ansaldi conectó lo Noureddin dijo con los movimientos físicos. Ahora, más concentrados que nunca, los estudiantes se fueron sintiéndose más energéticos para organizarse y mejorar sus vidas.
"Realizar el primer Politicare fue una gran experiencia. Con todo el trabajo que hicimos, pudimos hacer realidad nuestro sueño y no podía estar más orgullosa. Tengo la esperanza de que el próximo año volveremos a tener sesiones igualmente geniales y espero que PACE pueda organizar más eventos en el futuro," dijo freshman Jana Faour.
PACE estuvo muy satisfecho en saber que su arduo trabajo había dado sus frutos, y espera regresar el próximo año con un Politicare aún más fuerte. Esperan poder permitir la discusión de temas que son relevantes para los estudiantes y poder ayudar a la comunidad, un consejo a la vez.

About the Writer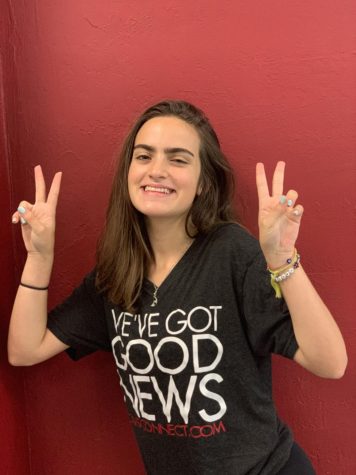 Ana Capiro, Spanish, Student Life and Copy Editor
Ana Capiro is a senior in the International Baccalaureate (IB) program, and can't wait to start her third year in CavsConnect as the site's Spanish, Student...