Harvard Model Congress 2018
On Feb. 21, 32 Gables students gathered in Terminal D of Miami International Airport, anxious for their trip to begin. Accompanied by Mrs. Landsea and Mr. Nelson, these sophomores, juniors and seniors would be going on an unforgettable trip to experience the "largest congressional simulation conference in the world."
Led by Harvard students, Harvard Model Congress (HMC) is a simulation of all the various entities that govern the United States of America. Students are allowed the experience to participate in debate, both moderated and unmoderated, in hopes of creating laws on issues that are current and important. All participants chose a certain committee to be a part of prior to the conference and anxiously awaited their departure date to arrive. Depending on the role assigned in either a specific house committee, a senate committee or a special program, such as the Supreme Court, students had to research the topics given to them and analyze solutions that could be implemented. Each student was also assigned a specific politician whose views and ideas they had to represent throughout the simulation, despite personal opinions. With 38 committees, participants have the freedom to choose what interested them most.
After departing from Miami and arriving in Boston, students spent their first few hours eating and exploring the Prudential Center, which they would be very familiar with by the end of their trip. Once everyone was settled in their rooms, students walked to the historical center of Boston where they ate dinner at Faneuil Hall and had dessert at Mike's Pastries, known as the "home of the cannoli." Worn out from their long day, students took the metro (the "T," as Bostonians refer to it) back to the Marriott and got some rest.
Their second day in Boston began with a conference by Robby Mook, Hillary Clinton's campaign manager during the 2016 elections. Political strategist Mook spoke to the students about his beginnings in politics and his journey in such a cutthroat atmosphere. Mook focused on engaging the students in dialogue about realizing goals in politics, focusing specifically on the issue of gun control. He and the students brainstormed ways to keep the public and the media interested on such an important issue until the next election, when votes have the power to change who resides in office. Students enjoyed Mook's energy and interest in what they had to say and appreciated the valuable information on how to strategize in order to meet goals. Later that same day, Harvard Model Congress officially began with the opening ceremony. In between the end of the ceremony and the beginning of committee, Gables students rushed outside in their business attire to see the snow falling, many for the first time.
"Being able to meet people who share the same values as you and work with them to pass congressional acts is a really great experience. Furthermore, the reality of many of the situations at hand makes it much more immersive," sophomore William Fay said.
The rest of Thursday evening was spent in committee, debating and writing bills. Students debated topics such as physician assisted suicide, the statehood of the District of Columbia, parental leave, the removal of confederate monuments and cybersecurity, to name a few. Each committee would go topic by topic, engaging in bipartisan debate regarding the legality, morality and solutions of each issue. After doing so, participants within each committee would enact bills with the purpose of addressing the issue at hand however their politician sees fit. Usually, multiple bills were proposed and voted on, with only some passing.
"It was my second year attending HMC. I enjoyed it even more than the first time because of all the work I had to do for my committee, District Court. I learned all about the procedures and works of mock trial," junior Audrey Weigel said.
Friday morning, students had the privilege of attending classes at Harvard. They could choose from economics, macroeconomics, physical science, religion and chemistry classes. After sitting through the classes, the students took the metro back to the Prudential Center where they spent the rest of the day in conference. Saturday was the longest day of conference for students as they spent around 8 hours finalizing their bills and resolutions to proceed into voting. After many hours as their politician persona, students got a chance to relax and have fun at an ice cream social. All of the participants gathered in a large ballroom to eat ice cream, socialize and dance.
The students' trip was concluded on Sunday, Feb. 26, with the closing ceremony. Beatriz Murino, the first female prime minister in all of Latin America, spoke about her experiences in a politics as a woman and the importance of political involvement among the youth. Gables junior Nikita Leus gave a passionate speech at the ceremony, detailing her work throughout Hillary Clinton's campaign and its role in furthering her involvement in politics. She also brought up the issue of gun violence, discussing its importance, regardless of political affiliation. Awards were given out to delegates that stood out, among those Gables students. Senior Leila Iskandarani, senior Adriana Baumann and junior Natalia Torres received honorable mentions and junior Alejandra Orozco received best delegate.
After five days of learning, debate, making bills and, most importantly, having fun, the students went back to Miami having had an unforgettable trip.
Leave a Comment
Your donation will support the student journalists of Coral Gables Senior High School. Your contribution will help us cover our annual website hosting costs.
About the Contributor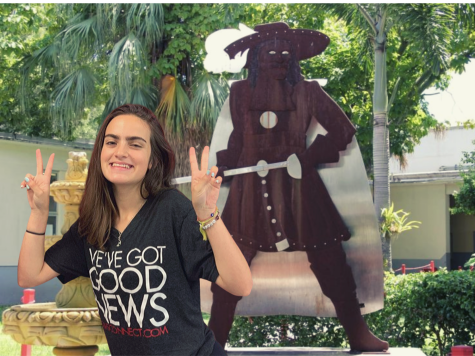 Ana Capiro, Spanish, Student Life and Copy Editor
Ana Capiro is a senior in the International Baccalaureate (IB) program, and can't wait to start her third year in CavsConnect as the site's Spanish, Student...