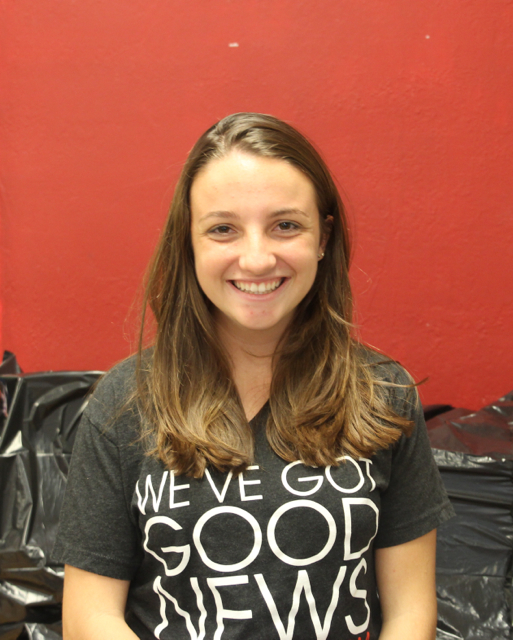 Annie Farrell is a senior in the International Baccalaureate (IB) program at Coral Gables Senior High School. A seasoned Cavalier, Annie is involved in all corners of Gables. Apart from being a Copy Editor for CavsConnect, Annie is also Senior Class President, NHS Club Liaison and captain of the cross country team. She is also a member of IBHS, Gables Earth, and the varsity track & field team. Outside of Gables, Annie is involved with Girl Scouts and the Youth Advisory Committee for The Children's Trust of Miami-Dade County.
Annie is extremely organized, dedicated and hard-working. She is currently trying to channeling these qualities into the application process for college, where she dreams of finding a major that combines her passions for the natural sciences, politics and advocacy.
Whenever Annie is not organizing activities for her senior class or writing college essays, she enjoys relaxing at home with her two cats, Oliver and Sammy Davis Jr. Annie also tries to spend as much of her free time as she can out on beautiful Biscayne Bay. Her ideal weekend is spent on her family's boat, fishing and swimming off the coast of Miami, then at home, reading a book alongside her soft sidekicks.
Annie is looking forward to graduation, but is eager to tackle the school year and make some quality memories with long-time friends.
Annie Farrell, Copy Editor
Apr 19, 2017

Countdown to Graduation 2017

(Story)

Apr 06, 2017

Senior Spirit Week 2017

(Story/Media)

Mar 14, 2017

GRAD BASH 2017 IMPORTANT INFORMATION

(Story)

Feb 09, 2017

Senior Picnic Superlative Nominations

(Story/Media)

Jan 24, 2017

Senior Picnic Field Trip Forms

(Story)

Jan 18, 2017

Take Your Child to Work Day 2017

(Story)

Jan 04, 2017

QUIZ: What Does the Second Semester Have in Store for You?

(Story)

Nov 10, 2016

Senior Gear Collections (Part 2)

(Story/Media)

Oct 11, 2016

Senior Magazine List as of 10/11/16

(Story)

Sep 16, 2016

Homecoming Spirit Week

(Media)

Sep 16, 2016

SENIORS: Important Grad Bash Information!

(Story)

Aug 31, 2016

Senior Magazine Kickoff 2016-17

(Story/Media)

Aug 25, 2016

Senior Summer Magazine List

(Story)

Aug 17, 2016

Senior Gear Order Forms

(Story/Media)

Jan 25, 2016

Junior Ring Ceremony Information

(Story)

Dec 11, 2015

Junior Treat Day List 12/15/15

(Story)

Sep 29, 2015

Which Club Is the Best Fit for You?

(Story)

Sep 16, 2015

In-State College Tour Field Trip Form

(Story)

Jun 10, 2015

2015 IN STATE College Tour Important Info

(Story)

Jun 07, 2015

Class of 2015 Reaches New Destinations

(Story)

May 25, 2015

A Student of Two Sciences: Stepping and Coding

(Story/Media)

May 19, 2015

Silver Knight Nominees Share Service Projects

(Story)

Apr 25, 2015

Which New Emoji Are You?

(Story)

Apr 17, 2015

Waffles and Soccer Transcend Language and Culture for One Student

(Story)

Apr 08, 2015

2015 Prom Nominations Promo

(Story/Media)

Mar 30, 2015

How Well Do You Know Gables Scenery?

(Story)

Mar 16, 2015

2015 Out-of-State College Bios

(Story/Media)

Mar 14, 2015

Shake Shack vs. Five Guys

(Story/Media)

Mar 11, 2015

Which Gables Faculty Member Are You?

(Story)

Jan 24, 2015

Dietitian: Jennifer Caceres

(Story)

Jan 08, 2015

Yik Yak: Keeping it Local

(Story)

Dec 10, 2014

QuestBridge Scholar: Marcos Balsera

(Story)

Nov 22, 2014

The Home Stretch: Posse Scholarships

(Story/Media)

Nov 18, 2014

Girls Cross Country Braves States

(Story)

Oct 21, 2014

Miami's Top 4 Creepiest Places to Visit before Halloween

(Story)

Oct 18, 2014
Oct 05, 2014

Dancing His Way into the Spotlight

(Story/Media)

Sep 16, 2014

What Are You Listening To?

(Story)

Sep 07, 2014

Julene Valmaña: Field Hockey?

(Story)

Sep 03, 2014

Was Censorship Justified in James Foley's Case?

(Story/Media)

Aug 23, 2014

Just TRY and Catch Up: Cross Country Pre-Season

(Story/Media)

May 24, 2014

SNAP to a New Beat: 4 Snaps

(Story/Media)

May 07, 2014
May 06, 2014

Brown and Caldwell Scholarship Recipients

(Story)

Apr 29, 2014

A Guide to Twitter and Instagram Etiquette

(Story/Media)

Apr 17, 2014

Promposal Forecast: High Pressure

(Story)

Apr 14, 2014

Stop N' Shop Sandwiches

(Story/Media)

Apr 04, 2014

Want Free Money? Click Here!

(Story/Media)

Mar 19, 2014

Eat the Cavaliers' Dust!

(Story/Media)

Mar 18, 2014

#Throwback Toys and Games

(Story/Media)

Mar 08, 2014

11 Must Do's before Graduating

(Story/Media)

Mar 03, 2014

How to Get Your Learner's Permit

(Story/Media)

Feb 25, 2014

Seeing Double

(Story/Media)

Feb 14, 2014

Run, Prancer, Run!

(Story/Media)

Feb 09, 2014

Sophomore Election Runoff

(Story/Media)

Feb 06, 2014

On Your Mark, Get Set…Track Season!

(Story/Media)

Jan 28, 2014

Pre-Workout Warm Ups and Stretches

(Story)