Promposal Forecast: High Pressure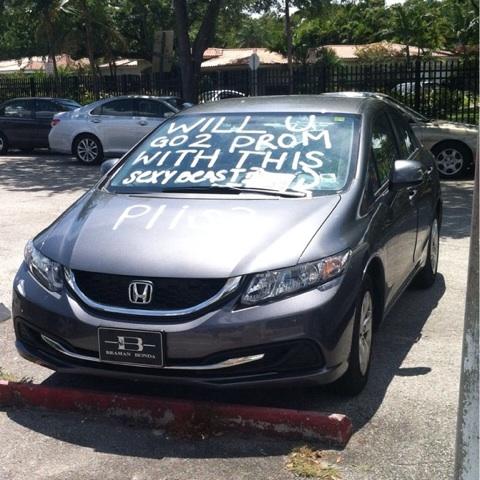 Brace yourselves, it's prom season!
The time has come to be on your toes as 'The Night to Remember' closely approaches. In addition to the pent-up tension of upcoming AP and EOC exams, students are also anticipating an awe-inspiring promposal.
Why all the suspense? Well, in view of all of the extraordinary homecoming proposals that transpired near the beginning of the school year, we're in for some spectacles. Thrilling precedents were set, and we all can't wait to see someone try and top them.
Many students, including senior Javier Fernandez, set the bar remarkably high during homecoming season. No one fails to recall when he popped the question in front of the entire school at the Pink Pep Rally, complete with banner and all.
When asked what he was planning for his promposal, Fernandez responded, "It's going to be something simple and very amusing (to me at least). Stay tuned."
It's chivalrous proposals like Fernandez's that have raised everyone's expectations for looming promposals. With such high expectations, it is no wonder there is immense pressure being felt by students to plan a phenomenal promposal. Nonetheless, they prevail and continue to shock us with their creative schemes.
"I was supposed to order ice cream with the proposal on the cup, but I didn't order ice cream so Cam came out from the back of the ice cream shop instead to ask me. It wasn't as planned, but it was still really sweet (no pun intended) and awesome!" sophomore Gabrielle Saliamonas said about her unexpected promposal from senior Cameron Dennis.
While getting the chance to see a jaw-dropping promposal can be entertaining, don't fret over going all out. Taking the old-fashioned route will still be sure to earn you some Prince Charming points. In any case, your prom night will no doubt be one of enchanted proportions.