For a Love of Literacy: NEHS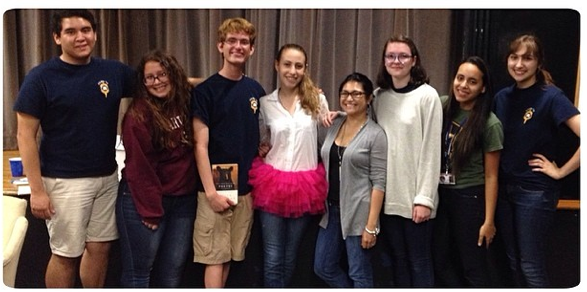 National English Honor Society (NEHS) is a relatively new club at Gables dedicated to spreading service and literacy throughout the community. The club began its revival under English teacher Mrs. Vidal's wings a few years ago. However, after Mrs. Vidal left Gables last year, Ms. Armentero, a new English teacher, generously took over sponsorship of the club. 
"When Ms. Vidal left, she made sure we had another sponsor to pick up the club once she was gone and got Ms. Armenteros for us. I don't really feel much has changed with the club since Ms. Vidal left, although we do miss her sarcasm," senior NEHS President Maggie Rivers said.
To be a member of the national honor society, you must maintain an 'A' average in English classes and a 3.00 overall grade point average. Along with service activities, the club also hosts monthly poetry slams in the little theater where students read their own work or a favorite piece by another writer. In true literary fashion, the winner is awarded a watermelon.
"Through Poetry Slams I have seen a lot of funny, interesting, and thought-provoking art from a variety of different students. The event creates such a nice, warm environment where everyone is really supportive and appreciative of each other's art. Winners get a watermelon, the club's unofficial mascot. The watermelon was adopted by NEHS years back when the club was revived. It is meant to represent that we don't really know what the heck we're doing and it comes from the scene in Dirty Dancing where Baby carries the watermelon to the party," Rivers said. 
NEHS's current board is:
President: Maggie Rivers
Vice President: 

Daniela Carrera

Secretary: 

Maria Estrada

Treasurer: 

Joseph Villafane

Historian: C

amilo Bacca

Member Events Coordinator: Bliss Aruj

Community Service Coordinator: Monica Dominguez
The board hopes to make NEHS a more involved club this year.
"I feel like in the past few years EHS has been mostly about Poetry Slams, which are undoubtedly an event very important to our club, but I don't want it to be the only thing we do. So, we've planned out a least one member activity and one community service event for each month. Our community service usually attempts to be culture based, so service like reading to the Little Cavs, running book drives, or volunteering for art fairs is what we tend to do," Rivers said.
The NEHS motto is "Gelast Sceal Mid Are" (yuh-lahst shal mid ahr-uh). When translated, this old English phrase means 'Duty Goes with Honor.' "It affirms and celebrates an obligation to use one's gifts in service to others," according to the NEHS website. In this fashion, NEHS looks to the school and beyond to spread a love for prose and poetry and a love for service.