It's About Us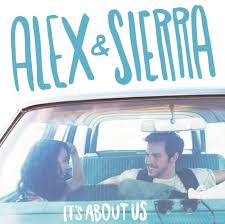 Album: It's About Us
Artists: Alex and Sierra
Genre: Pop
Release Date: Oct. 27, 2014
Our Rating: A
In 2013, two lovebirds walked onto last season's X-Factor USA stage as nervous and bubbly as ever. These two lovebirds, also college students majoring in music, are Alex Kinsey and Sierra Deaton, both from Orlando, Florida. Although nervous on stage at first, after a few awkward compliments and laughs, Alex and Sierra sang a sassy and sultry rendition of "Toxic," by the timelessly famous Britney Spears. Of course, after their fresh and energetic performance, the two caught Simon Cowell's eye, and he mentored them. At the end of the X-Factor season, they won the competition, and became the first group in X-factor history to ever be number one.
"
"I love Alex and Sierra's new album 'It's About Us.' It's so cute, and I love the lyrics!"
— junior Emily Hernandez
"Little Do You Know"
This slow and sensitive song begins with the gentle playing of the lower notes on the piano, with almost no notes before Sierra begins singing her heart out. The lyrics of the song are: "Little do you know, how I'm breaking while you fall asleep… Little do you know I'm trying to pick myself up piece by piece." The lyrics, though a tad morbid, but still romantic, show the intense love Sierra has for Alex, and once Alex begins singing on his own, you see his promise to her: "I'll wait, I'll wait, I'll love you like you've never felt the pain… Love is here an here to stay so lay your head on me." Later in the song, the tempo picks up and their beautiful voices blend together with their seamless harmony that is enough to give you chills.
"Scarecrow"
An upbeat tune accompanied by Alex and Sierra singing responsively, this song makes you smile every time you hear it. "Scarecrow" is the album's number one song out of 13 songs; it is more than just a pop song; it's two people being in love. It is living in love, including all the little failures and imperfections, moments of loneliness, and moments when you have to trust that the scarecrow still loves you. The song is about love being "here for good," even when you're seeing "empty fields and lonely trees."
"I Love You"
"I love you" are three words everyone wants to hear. Written by Harry Styles from One Direction, this love song is set with a less depressing tone. Alex begins the song with a little intro from the piano as he sings about meeting a beautiful girl, that even now, still takes his breath away. In the chorus of the song, Alex's voice is overlapped with other pitches of his own voice while singing the lovely lines "I Love You." Later in the song, Sierra is singing and repeating the same thing that Alex had sung, saying how she fell in love with a beautiful boy. Soon she is accompanied with a violin and some percussion instruments for a fun, upbeat, pop-like rhythm almost anyone can enjoy.
It's About Us, available on iTunes and on the Google play-store for $9.99, is a beautiful love and adventure filled album that you won't want to quit listening to!
Tracklist:
Scarecrow {3:26}
Give Me Something {3:12}
Bumper Cars {4:00}
Almost Home {3:23}
Here We Go {3:23}
It's About Us (Interlude) {1:01}
Little Do You Know {3:05}
Cheating {2:27}
Just Kids {3:25}
I Love You {3:49}
Broken Frame {3:40}
Back To You {3:52}
All For you {3:11}