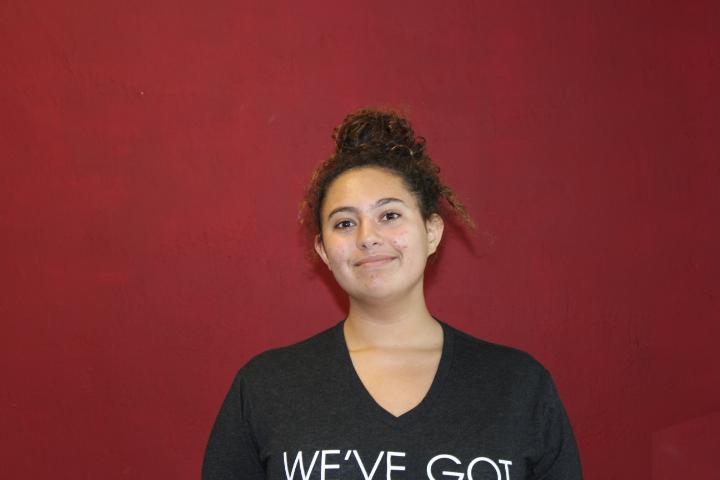 Samantha Valero (Also known as Sam, Cookie, and Kitten) is  a freshman in the CAF&DM academy in Coral Gables Seinor High. Samantha is involved in the Cavaliers Chorus, and trust me, you'll know when she's in that class! If you ask her friends about her, they'll tell you about her bubbly, energetic and sassy attitude.
If you bump into her outside the school walls, you'll never find her detatched from her headphones. Like few people, she literally stands in the clouds, so much for fitting in (note the sarcasm).
Samantha may seem like she is all smiles and laughs, right? Well, when it comes time to be serious (acedemics, writing, singing, or anything remotley important) you won't have to worry one bit about that!
Overall, Samantha is a kind, hardworking, silly and unique addition to CavsConnect.
Samantha Valero, Staff Writer
Jun 02, 2015

The Summer I Gave up Boys

(Story)

May 15, 2015

Little White Lies by Katie Dale

(Story)

May 06, 2015

Police Begin Using Eye Scans

(Story/Media)

Apr 28, 2015

Yoko's: Where the Fish Just Keep Swimming

(Story)

Apr 13, 2015
Apr 10, 2015

How to Deal with Zayn Malik Leaving 1D

(Story)

Mar 25, 2015
Mar 24, 2015

4 Ways to Study Effectively

(Story/Media)

Feb 28, 2015
Feb 18, 2015

SECME Competition

(Story)

Feb 15, 2015

Heart Thoughts

(Story/Media)

Feb 13, 2015

X (Deluxe Edition)

(Story)

Feb 11, 2015

Valentine's Day Playlists

(Story/Media)

Feb 08, 2015

Athletic Trainer: Shannon Singleton

(Story)

Jan 27, 2015
Jan 16, 2015

San Ignacio College Visits Gables

(Story)

Jan 15, 2015

Tragic Suicide of Transgender Teen Leelah Alcorn

(Story)

Dec 19, 2014

Holiday Treat Recipes

(Story/Media)

Dec 16, 2014

Top 7 Holiday Jams!

(Story)

Dec 03, 2014

Joshua Zambrano – District Runner-Up for Wrestling

(Story)

Nov 16, 2014

Cavaliers Notch A Victory in the 1st Round of the Playoffs

(Story)

Nov 09, 2014

Cavaliers Keep Turkey Bowl Trophy!

(Story)

Nov 06, 2014

Lime, and Not the Fruit

(Story)

Oct 28, 2014

Cavaliers Light Up Coral Park in Blowout Game!

(Story/Media)

Oct 11, 2014

Cavaliers Fought Hard in a Close Match

(Story)

Oct 03, 2014

Gables Cavaliers Rush to Victory Against South Miami Cobras

(Story/Media)

Sep 21, 2014
Aug 28, 2014

An Icy Sensation: ALS Ice Bucket Challenge

(Story)